Marilyn L. Moy MD
Adjunct Assistant Professor, Pulmonary, Allergy, Sleep & Critical Care Medicine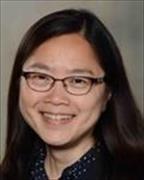 Sections
Pulmonary, Allergy, Sleep & Critical Care Medicine
Biography
Marilyn L. Moy, M.D., M.Sc., Associate Professor of Medicine, Harvard Medical School, is a Staff Pulmonary Physician at VA Boston Healthcare System. She is Medical Director of the Pulmonary Rehabilitation Program, accredited by the American Association of Cardiovascular and Pulmonary Rehabilitation. Dr. Moy studies the role of physical activity (PA) in the risk stratification of COPD, technology-based interventions to promote PA, and the biological mechanisms underlying the beneficial effects of PA on COPD outcomes. Her work has contributed to the field of telehealth medicine.

Dr. Moy is internationally recognized as an expert in Pulmonary Rehabilitation. She was the 2016-2017 Chair of the Program Committee of the Rehabilitation Assembly of the American Thoracic Society. She has been an invited speaker at the European Respiratory Congress in Munich, Germany and Amsterdam, Holland. She serves on the Research Advocacy Committee of the ATS.

As the Principal Investigator on VA and NIH funded grants, Dr. Moy published one of the first papers demonstrating that low PA is associated with increased risk for acute exacerbations in COPD. Dr. Moy has developed a novel internet-mediated, pedometer based intervention to promote PA in COPD. Her work was recognized with the 2017 Massachusetts Pulmonary Section award for best clinical research abstract. Dr. Moy also examines biological mechanisms including the relationship between PA and telomere length, and the epigenetic changes associated with improvements in PA. Dr. Moy is VA Boston's 2017 nominee for the Presidential Early Career Award for Scientists and Engineers.

Dr. Moy is a Co-Investigator for a pragmatic trial examining a PA coaching intervention (PCORI), and a trial on the efficacy of Tai Chi to maintain benefits after conventional pulmonary rehabilitation in COPD (NIH-NCCIH). Dr. Moy has been the site-PI for NHLBI clinical trials.
Websites
Education
Medicine, MD, Harvard Medical School, 1992
Epidemiology, MSc, Harvard School of Public Health, 2000
Biology, AB, Radcliffe College, 1988
Publications
Published on 10/1/2022
Wan ES, Polak M, Goldstein RL, Lazzari AA, Kantorowski A, Garshick E, Moy ML. Physical Activity, Exercise Capacity, and Body Composition in U.S. Veterans with Chronic Obstructive Pulmonary Disease. Ann Am Thorac Soc. 2022 Oct; 19(10):1669-1676. PMID: 35536690.
Published on 9/1/2022
Robinson SA, Moy ML, Richardson CR, Ney JP. Cost savings associated with a web-based physical activity intervention for COPD. Am J Manag Care. 2022 Sep; 28(9):445-451. PMID: 36121358.
Published on 6/1/2022
Bamonti PM, Robinson SA, Wan ES, Moy ML. Improving Physiological, Physical, and Psychological Health Outcomes: A Narrative Review in US Veterans with COPD. Int J Chron Obstruct Pulmon Dis. 2022; 17:1269-1283. PMID: 35677347.
Published on 2/9/2022
Robinson SA, Moy ML. Promoting Exercise Training Remotely. Life (Basel). 2022 Feb 09; 12(2). PMID: 35207549.
Published on 2/4/2022
Cruz Rivera PN, Goldstein RL, Polak M, Lazzari AA, Moy ML, Wan ES. Performance of bioelectrical impedance analysis compared to dual X-ray absorptiometry (DXA) in Veterans with COPD. Sci Rep. 2022 02 04; 12(1):1946. PMID: 35121763.
Published on 1/29/2022
Busenkell E, Collins CM, Moy ML, Hart JE, Grady ST, Coull BA, Schwartz JD, Koutrakis P, Garshick E. Modification of associations between indoor particulate matter and systemic inflammation in individuals with COPD. Environ Res. 2022 Jun; 209:112802. PMID: 35101396.
Published on 11/29/2021
Bamonti PM, Boyle JT, Goodwin CL, Wan ES, Silberbogen AK, Finer EB, Moy ML. Predictors of Outpatient Pulmonary Rehabilitation Uptake, Adherence, Completion, and Treatment Response Among Male U.S. Veterans With Chronic Obstructive Pulmonary Disease. Arch Phys Med Rehabil. 2022 Jun; 103(6):1113-1121.e1. PMID: 34856155.
Published on 11/8/2021
Mongiardo MA, Robinson SA, Finer EB, Cruz Rivera PN, Goldstein RL, Moy ML. The Effect of a web-based physical activity intervention on COPD knowledge: A secondary cohort study. Respir Med. 2021 12; 190:106677. PMID: 34775350.
Published on 11/8/2021
Bamonti PM, Wiener CH, Weiskittle RE, Goodwin CL, Silberbogen AK, Finer EB, Moy ML. The Impact of Depression and Exercise Self-Efficacy on Benefits of Pulmonary Rehabilitation in Veterans with COPD. Behav Med. 2023 Jan-Mar; 49(1):72-82. PMID: 34743677.
Published on 10/28/2021
Demeyer H, Mohan D, Burtin C, Vaes AW, Heasley M, Bowler RP, Casaburi R, Cooper CB, Corriol-Rohou S, Frei A, Hamilton A, Hopkinson NS, Karlsson N, Man WD, Moy ML, Pitta F, Polkey MI, Puhan M, Rennard SI, Rochester CL, Rossiter HB, Sciurba F, Singh S, Tal-Singer R, Vogiatzis I, Watz H, Lummel RV, Wyatt J, Merrill DD, Spruit MA, Garcia-Aymerich J, Troosters T. Objectively Measured Physical Activity in Patients with COPD: Recommendations from an International Task Force on Physical Activity. Chronic Obstr Pulm Dis. 2021 Oct 28; 8(4):528-550. PMID: 34433239.
View full list of 66 publications.