Maria Trojanowska PhD
Professor, Rheumatology
Director , Arthritis & Autoimmune Diseases Research Center
75 E. Newton St | (617) 638-4318

trojanme@bu.edu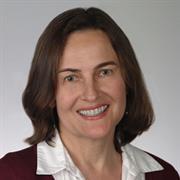 Centers
Arthritis & Autoimmune Diseases Research Center
BU-BMC Cancer Center
Pulmonary Center
Evans Center for Interdisciplinary Biomedical Research
Biography
Dr. Trojanowska's research is aimed at understanding the molecular and cellular mechanisms that regulate ECM synthesis in healthy tissues and in pathological conditions such as fibrosis and tumorigenesis. The majority of her studies focus on the pathogenesis of scleroderma, an autoimmune disease characterized by vascular abnormalities and a prominent fibrosis of the skin. Her laboratory uses molecular and cellular approaches and various experimental models to elucidate the mechanisms responsible for uncontrolled ECM deposition and vessel degeneration in scleroderma. The second area of investigation is related to activation of tumor stroma. These studies examine the molecular mechanisms that mediate controlled regulation of ECM turnover in healthy connective tissue and are responsible for dysregulation of this process during tumorigenesis. Recent studies together with Dr. Lafyatis are examining the role of ER stress in systemic sclerosis.
Other Positions
Websites
Education
PhD, Polish Academy of Sciences, 1980
MSc, University of Warsaw, 1973
Publications
Published on 7/25/2022
Caporarello N, Lee J, Pham TX, Jones DL, Guan J, Link PA, Meridew JA, Marden G, Yamashita T, Osborne CA, Bhagwate AV, Huang SK, Nicosia RF, Tschumperlin DJ, Trojanowska M, Ligresti G. Dysfunctional ERG signaling drives pulmonary vascular aging and persistent fibrosis. Nat Commun. 2022 Jul 25; 13(1):4170. PMID: 35879310.
Published on 5/30/2022
Huang M, Smith A, Watson M, Bhandari R, Baugh LM, Ivanovska I, Watkins T, Lang I, Trojanowska M, Black LD, Pioli PA, Garlick J, Whitfield ML. Self-Assembled Human Skin Equivalents Model Macrophage Activation of Cutaneous Fibrogenesis in Systemic Sclerosis. Arthritis Rheumatol. 2022 Jul; 74(7):1245-1256. PMID: 35212485.
Published on 9/21/2021
Ferdous A, Singh S, Luo Y, Abedin MJ, Jiang N, Perry CE, Evers BM, Gillette TG, Kyba M, Trojanowska M, Hill JA. Fli1 Promotes Vascular Morphogenesis by Regulating Endothelial Potential of Multipotent Myogenic Progenitors. Circ Res. 2021 10 29; 129(10):949-964. PMID: 34544261.
Published on 5/27/2021
Lenna S, Tan FK, Trojanowska M. Letter of Retraction. J Immunol. 2021 06 01; 206(11):2763. PMID: 34045319.
Published on 5/8/2021
Miura S, Watanabe Y, Saigusa R, Yamashita T, Nakamura K, Hirabayashi M, Miyagawa T, Yoshizaki A, Trojanowska M, Sato S, Asano Y. Fli1 deficiency suppresses RALDH1 activity of dermal dendritic cells and related induction of regulatory T cells: a possible role in scleroderma. Arthritis Res Ther. 2021 05 08; 23(1):137. PMID: 33964960.
Published on 4/19/2021
Farina A, Rosato E, York M, Gewurz BE, Trojanowska M, Farina GA. Innate Immune Modulation Induced by EBV Lytic Infection Promotes Endothelial Cell Inflammation and Vascular Injury in Scleroderma. Front Immunol. 2021; 12:651013. PMID: 33953718.
Published on 10/30/2020
Nakamura K, Taniguchi T, Hirabayashi M, Yamashita T, Saigusa R, Miura S, Takahashi T, Toyama T, Ichimura Y, Yoshizaki A, Trojanowska M, Fujiu K, Nagai R, Sato S, Asano Y. Altered Properties of Endothelial Cells and Mesenchymal Stem Cells Underlying the Development of Scleroderma-like Vasculopathy in KLF5+/- ;Fli-1+/- Mice. Arthritis Rheumatol. 2020 12; 72(12):2136-2146. PMID: 32627966.
Published on 10/9/2020
Mazzotta C, Marden G, Farina A, Bujor A, Trojanowski MA, Trojanowska M. FLI1 and ERG protein degradation is regulated via Cathepsin B lysosomal pathway in human dermal microvascular endothelial cells. Microcirculation. 2021 01; 28(1):e12660. PMID: 32979864.
Published on 7/31/2020
Marden G, Wan Q, Wilks J, Nevin K, Feeney M, Wisniacki N, Trojanowski M, Bujor A, Stawski L, Trojanowska M. The role of the oncostatin M/OSM receptor ß axis in activating dermal microvascular endothelial cells in systemic sclerosis. Arthritis Res Ther. 2020 07 31; 22(1):179. PMID: 32736577.
Published on 5/19/2020
Bujor AM, El Adili F, Parvez A, Marden G, Trojanowska M. Fli1 Downregulation in Scleroderma Myeloid Cells Has Profibrotic and Proinflammatory Effects. Front Immunol. 2020; 11:800. PMID: 32508810.
View full list of 175 publications.