Maria Isabel Ramirez PhD
Adjunct Associate Professor, Pulmonary, Allergy, Sleep & Critical Care Medicine
Graduate Faculty (Primary Mentor of Grad Students)
72 E. Concord Street | (617) 638-8264

mramirez@bu.edu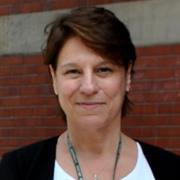 Sections
Pulmonary, Allergy, Sleep & Critical Care Medicine
Centers
Center for Regenerative Medicine
BU-BMC Cancer Center
Evans Center for Interdisciplinary Biomedical Research
Biography
The main goal of the research in our lab is to identify and understand genetic and epigenetic mechanisms of gene regulation driving the differentiation of distinct epithelial cell lineages during development, and the potential alteration of these mechanisms in lung disease. Correct spatial and temporal patterns of gene expression during lung development are critical for the formation of a functional lung ready for the first breath at birth. In adults, patterns of gene expression also have to be maintained to preserve a healthy lung. Dissecting these basic mechanisms in development will provide the basis to accurately differentiate embryonic stem cells into lung epithelial cell lineages in vitro, to improve fetal lung maturation and to understand altered cell phenotypes in lung disease.
Websites
Education
PhD, University of Buenos Aires, 1992
Chemistry, PhD, Universidad de Buenos Aires, 1992
BS, University of Buenos Aires, 1985
Publications
Published on 9/26/2018
Kathuria H, Millien G, McNally L, Gower AC, Tagne JB, Cao Y, Ramirez MI. NKX2-1-AS1 negatively regulates CD274/PD-L1, cell-cell interaction genes, and limits human lung carcinoma cell migration. Sci Rep. 2018 09 26; 8(1):14418. PMID: 30258080.
Published on 6/16/2018
Millien G, Cao Y, O'Hara CJ, Tagne JB, Hinds A, Williams MC, Ramirez MI, Kathuria H. ETS1 regulates Twist1 transcription in a KrasG12D/Lkb1-/- metastatic lung tumor model of non-small cell lung cancer. Clin Exp Metastasis. 2018 03; 35(3):149-165. PMID: 29909489.
Published on 9/1/2016
Kamata H, Yamamoto K, Wasserman GA, Zabinski MC, Yuen CK, Lung WY, Gower AC, Belkina AC, Ramirez MI, Deng JC, Quinton LJ, Jones MR, Mizgerd JP. Epithelial Cell-Derived Secreted and Transmembrane 1a Signals to Activated Neutrophils during Pneumococcal Pneumonia. Am J Respir Cell Mol Biol. 2016 Sep; 55(3):407-18. PMID: 27064756.
Published on 5/7/2015
Krishnan H, Retzbach EP, Ramirez MI, Liu T, Li H, Miller WT, Goldberg GS. PKA and CDK5 can phosphorylate specific serines on the intracellular domain of podoplanin (PDPN) to inhibit cell motility. Exp Cell Res. 2015 Jul 1; 335(1):115-22. PMID: 25959509.
Published on 4/2/2015
Wilson AA, Ying L, Liesa M, Segeritz CP, Mills JA, Shen SS, Jean J, Lonza GC, Liberti DC, Lang AH, Nazaire J, Gower AC, Müeller FJ, Mehta P, Ordóñez A, Lomas DA, Vallier L, Murphy GJ, Mostoslavsky G, Spira A, Shirihai OS, Ramirez MI, Gadue P, Kotton DN. Emergence of a stage-dependent human liver disease signature with directed differentiation of alpha-1 antitrypsin-deficient iPS cells. Stem Cell Reports. 2015 May 12; 4(5):873-85. PMID: 25843048.
Published on 2/13/2015
Tagne JB, Mohtar OR, Campbell JD, Lakshminarayanan M, Huang J, Hinds AC, Lu J, Ramirez MI. Transcription factor and microRNA interactions in lung cells: an inhibitory link between NK2 homeobox 1, miR-200c and the developmental and oncogenic factors Nfib and Myb. Respir Res. 2015; 16:22. PMID: 25763778.
Published on 12/27/2013
Varma S, Mahavadi P, Sasikumar S, Cushing L, Hyland T, Rosser AE, Riccardi D, Lu J, Kalin TV, Kalinichenko VV, Guenther A, Ramirez MI, Pardo A, Selman M, Warburton D. Grainyhead-like 2 (GRHL2) distribution reveals novel pathophysiological differences between human idiopathic pulmonary fibrosis and mouse models of pulmonary fibrosis. Am J Physiol Lung Cell Mol Physiol. 2014 Mar 1; 306(5):L405-19. PMID: 24375798.
Published on 3/25/2013
Krishnan H, Ochoa-Alvarez JA, Shen Y, Nevel E, Lakshminarayanan M, Williams MC, Ramirez MI, Miller WT, Goldberg GS. Serines in the intracellular tail of podoplanin (PDPN) regulate cell motility. J Biol Chem. 2013 Apr 26; 288(17):12215-21. PMID: 23530051.
Published on 9/6/2012
Varma S, Cao Y, Tagne JB, Lakshminarayanan M, Li J, Friedman TB, Morell RJ, Warburton D, Kotton DN, Ramirez MI. The transcription factors Grainyhead-like 2 and NK2-homeobox 1 form a regulatory loop that coordinates lung epithelial cell morphogenesis and differentiation. J Biol Chem. 2012 Oct 26; 287(44):37282-95. PMID: 22955271.
Published on 7/27/2012
Yamamoto K, Ferrari JD, Cao Y, Ramirez MI, Jones MR, Quinton LJ, Mizgerd JP. Type I alveolar epithelial cells mount innate immune responses during pneumococcal pneumonia. J Immunol. 2012 Sep 1; 189(5):2450-9. PMID: 22844121.
View full list of 38 publications.