Margot Rogers MD
Assistant Professor, General Internal Medicine
801 Massachusetts Ave | (617) 414-5951

burnsm@bu.edu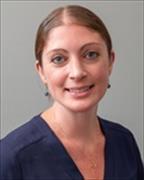 Sections
General Internal Medicine
Biography
Dr. Rogers, MD is a practicing Internist in Roxbury, MA. Dr. Rogers graduated from Albany Medical College in 2016. She completed a residency at Boston Medical Center and is currently affiliated with Boston Medical Center.
Education
Medicine, MD, Albany Medical College, 2016
Neuroscience/Neurology, BA, Middlebury College, 2010
Publications
Published on 3/9/2015
Ramkissoon SH, Bi WL, Schumacher SE, Ramkissoon LA, Haidar S, Knoff D, Dubuc A, Brown L, Burns M, Cryan JB, Abedalthagafi M, Kang YJ, Schultz N, Reardon DA, Lee EQ, Rinne ML, Norden AD, Nayak L, Ruland S, Doherty LM, LaFrankie DC, Horvath M, Aizer AA, Russo A, Arvold ND, Claus EB, Al-Mefty O, Johnson MD, Golby AJ, Dunn IF, Chiocca EA, Trippa L, Santagata S, Folkerth RD, Kantoff P, Rollins BJ, Lindeman NI, Wen PY, Ligon AH, Beroukhim R, Alexander BM, Ligon KL. Clinical implementation of integrated whole-genome copy number and mutation profiling for glioblastoma. Neuro Oncol. 2015 Oct; 17(10):1344-55. PMID: 25754088.
View full list of 1 publications.