Marcello Panagia MD, PhD
Voluntary Assistant Professor, Cardiovascular Medicine
Voluntary Assistant Professor, Body Imaging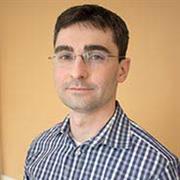 Sections
Cardiovascular Medicine
Centers
Whitaker Cardiovascular Institute
Education
Medicine-Internal, MD, Columbia University College of Physicians and Surgeons, 2006
Biochemistry, DPhil, University of Oxford, 2004
Microbiology, BSc, University Manitoba, 1998
Publications
Published on 1/31/2023
Croteau D, Baka T, Young S, He H, Chambers JM, Qin F, Panagia M, Pimentel DR, Balschi JA, Colucci WS, Luptak I. SGLT2 inhibitor ertugliflozin decreases elevated intracellular sodium, and improves energetics and contractile function in diabetic cardiomyopathy. Biomed Pharmacother. 2023 Apr; 160:114310. PMID: 36731341.
Published on 9/26/2022
Rosalia L, Ozturk C, Coll-Font J, Fan Y, Nagata Y, Singh M, Goswami D, Mauskapf A, Chen S, Eder RA, Goffer EM, Kim JH, Yurista S, Bonner BP, Foster AN, Levine RA, Edelman ER, Panagia M, Guerrero JL, Roche ET, Nguyen CT. A soft robotic sleeve mimicking the haemodynamics and biomechanics of left ventricular pressure overload and aortic stenosis. Nat Biomed Eng. 2022 Oct; 6(10):1134-1147. PMID: 36163494.
Published on 6/25/2021
Croteau D, Luptak I, Chambers JM, Hobai I, Panagia M, Pimentel DR, Siwik DA, Qin F, Colucci WS. Effects of Sodium-Glucose Linked Transporter 2 Inhibition With Ertugliflozin on Mitochondrial Function, Energetics, and Metabolic Gene Expression in the Presence and Absence of Diabetes Mellitus in Mice. J Am Heart Assoc. 2021 07 06; 10(13):e019995. PMID: 34169737.
Published on 10/20/2020
Goodman JB, Qin F, Morgan RJ, Chambers JM, Croteau D, Siwik DA, Hobai I, Panagia M, Luptak I, Bachschmid M, Tong X, Pimentel DR, Cohen RA, Colucci WS. Redox-Resistant SERCA [Sarco(endo)plasmic Reticulum Calcium ATPase] Attenuates Oxidant-Stimulated Mitochondrial Calcium and Apoptosis in Cardiac Myocytes and Pressure Overload-Induced Myocardial Failure in Mice. Circulation. 2020 12 22; 142(25):2459-2469. PMID: 33076678.
Published on 9/9/2020
Croteau D, Qin F, Chambers JM, Kallick E, Luptak I, Panagia M, Pimentel DR, Siwik DA, Colucci WS. Differential Effects of Sacubitril/Valsartan on Diastolic Function in Mice With Obesity-Related Metabolic Heart Disease. JACC Basic Transl Sci. 2020 Sep; 5(9):916-927. PMID: 33015414.
Published on 7/8/2020
Panagia M, Yang J, Gale E, Wang H, Luptak I, Chen HH, Patel D, Croteau D, Pimentel DR, Bachschmid MM, Colucci WS, Ran C, Sosnovik DE. A novel tracer for in vivo optical imaging of fatty acid metabolism in the heart and brown adipose tissue. Sci Rep. 2020 07 08; 10(1):11209. PMID: 32641756.
Published on 2/17/2020
Panagia M, He H, Baka T, Pimentel DR, Croteau D, Bachschmid MM, Balschi JA, Colucci WS, Luptak I. Increasing mitochondrial ATP synthesis with butyrate normalizes ADP and contractile function in metabolic heart disease. NMR Biomed. 2020 05; 33(5):e4258. PMID: 32066202.
Published on 6/25/2019
Luptak I, Qin F, Sverdlov AL, Pimentel DR, Panagia M, Croteau D, Siwik DA, Bachschmid MM, He H, Balschi JA, Colucci WS. Energetic Dysfunction Is Mediated by Mitochondrial Reactive Oxygen Species and Precedes Structural Remodeling in Metabolic Heart Disease. Antioxid Redox Signal. 2019 09 01; 31(7):539-549. PMID: 31088291.
Published on 4/2/2019
Gopal DM, Ayalon N, Wang YC, Siwik D, Sverdlov A, Donohue C, Perez A, Downing J, Apovian C, Silva V, Panagia M, Kolachalama V, Ho JE, Liang CS, Gokce N, Colucci WS. Galectin-3 Is Associated With Stage B Metabolic Heart Disease and Pulmonary Hypertension in Young Obese Patients. J Am Heart Assoc. 2019 04 02; 8(7):e011100. PMID: 30929550.
Published on 9/28/2018
Qiu S, Chang GH, Panagia M, Gopal DM, Au R, Kolachalama VB. Fusion of deep learning models of MRI scans, Mini-Mental State Examination, and logical memory test enhances diagnosis of mild cognitive impairment. Alzheimers Dement (Amst). 2018; 10:737-749. PMID: 30480079.
View full list of 25 publications.