Marc E. Lenburg PhD
Professor, Computational Biomedicine
Professor, Pathology & Laboratory Medicine
75 E. Newton St | (617) 358-7080

mlenburg@bu.edu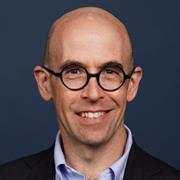 Sections
Computational Biomedicine
Centers
BU-BMC Cancer Center
Pulmonary Center
Evans Center for Interdisciplinary Biomedical Research
Biography
Expertise in computational approaches to leverage genome-wide datasets (especially genome-wide gene-expression) for clinical and biological insight. Interests include developing and applying these tools for translational research.
Other Positions
Websites
Education
PhD, University of California, San Francisco
BA, Wesleyan University
Publications
Published on 10/2/2023
Yanagawa J, Tran LM, Salehi-Rad R, Lim RJ, Dumitras C, Fung E, Wallace WD, Prosper AE, Fishbein G, Shea C, Hong R, Kahangi B, Deng JJ, Gower AC, Liu B, Campbell JD, Mazzilli SA, Beane JE, Kadara H, Lenburg ME, Spira AE, Aberle DR, Krysan K, Dubinett SM. Single-Cell Characterization of Pulmonary Nodules Implicates Suppression of Immunosurveillance across Early Stages of Lung Adenocarcinoma. Cancer Res. 2023 Oct 02; 83(19):3305-3319. PMID: 37477508.
Published on 8/11/2023
Pavel AB, Garrison C, Luo L, Liu G, Taub D, Xiao J, Juan-Guardela B, Tedrow J, Alekseyev YO, Yang IV, Geraci MW, Sciurba F, Schwartz DA, Kaminski N, Beane J, Spira A, Lenburg ME, Campbell JD. Integrative genetic and genomic networks identify microRNA associated with COPD and ILD. Sci Rep. 2023 Aug 11; 13(1):13076. PMID: 37567908.
Published on 5/25/2023
Paez R, Kammer MN, Tanner NT, Shojaee S, Heideman BE, Peikert T, Balbach ML, Iams WT, Ning B, Lenburg ME, Mallow C, Yarmus L, Fong KM, Deppen S, Grogan EL, Maldonado F. Update on Biomarkers for the Stratification of Indeterminate Pulmonary Nodules. Chest. 2023 Oct; 164(4):1028-1041. PMID: 37244587.
Published on 5/8/2023
Ning B, Tilston-Lunel AM, Simonetti J, Hicks-Berthet J, Matschulat A, Pfefferkorn R, Spira A, Edwards M, Mazzilli S, Lenburg ME, Beane JE, Varelas X. Convergence of YAP/TAZ, TEAD and TP63 activity is associated with bronchial premalignant severity and progression. J Exp Clin Cancer Res. 2023 May 08; 42(1):116. PMID: 37150829.
Published on 3/23/2023
Kammer MN, Mori H, Rowe DJ, Chen SC, Vasiukov G, Atwater T, Senosain MF, Antic S, Zou Y, Chen H, Peikert T, Deppen S, Grogan EL, Massion PP, Dubinett S, Lenburg M, Borowsky A, Maldonado F. Tumoral Densities of T-Cells and Mast Cells Are Associated With Recurrence in Early-Stage Lung Adenocarcinoma. JTO Clin Res Rep. 2023 Sep; 4(9):100504. PMID: 37674811.
Published on 1/27/2023
Xu K, Diaz AA, Duan F, Lee M, Xiao X, Liu H, Liu G, Cho MH, Gower AC, Alekseyev YO, Spira A, Aberle DR, Washko GR, Billatos E, Lenburg ME. Bronchial gene expression alterations associated with radiological bronchiectasis. Eur Respir J. 2023 Jan; 61(1). PMID: 36229050.
Published on 11/28/2022
Kern JG, Tilston-Lunel AM, Federico A, Ning B, Mueller A, Peppler GB, Stampouloglou E, Cheng N, Johnson RL, Lenburg ME, Beane JE, Monti S, Varelas X. Inactivation of LATS1/2 drives luminal-basal plasticity to initiate basal-like mammary carcinomas. Nat Commun. 2022 Nov 28; 13(1):7198. PMID: 36443313.
Published on 11/2/2022
Moreira JD, Gower AC, Xue L, Alekseyev Y, Smith KK, Choi SH, Ayalon N, Farb MG, Tenan K, LeClerc A, Levy D, Benjamin EJ, Lenburg ME, Mitchell RN, Padera RF, Fetterman JL, Gopal DM. Systematic dissection, preservation, and multiomics in whole human and bovine hearts. Cardiovasc Pathol. 2023; 63:107495. PMID: 36334690.
Published on 10/28/2022
Xu K, Shi X, Husted C, Hong R, Wang Y, Ning B, Sullivan TB, Rieger-Christ KM, Duan F, Marques H, Gower AC, Xiao X, Liu H, Liu G, Duclos G, Platt M, Spira AE, Mazzilli SA, Billatos E, Lenburg ME, Campbell JD, Beane JE. Smoking modulates different secretory subpopulations expressing SARS-CoV-2 entry genes in the nasal and bronchial airways. Sci Rep. 2022 Oct 28; 12(1):18168. PMID: 36307504.
Published on 5/26/2022
Xu F, Vasilescu DM, Kinose D, Tanabe N, Ng KW, Coxson HO, Cooper JD, Hackett TL, Verleden SE, Vanaudenaerde BM, Stevenson CS, Lenburg ME, Spira A, Tan WC, Sin DD, Ng RT, Hogg JC. The molecular and cellular mechanisms associated with the destruction of terminal bronchioles in COPD. Eur Respir J. 2022 May; 59(5). PMID: 34675046.
View full list of 201 publications.