Marc E. Lenburg PhD
Professor, Computational Biomedicine
Professor, Pathology & Laboratory Medicine
75 E. Newton St | (617) 358-7080

mlenburg@bu.edu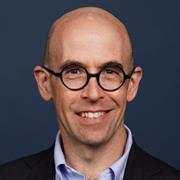 Sections
Computational Biomedicine
Centers
BU-BMC Cancer Center
Pulmonary Center
Evans Center for Interdisciplinary Biomedical Research
Biography
Expertise in computational approaches to leverage genome-wide datasets (especially genome-wide gene-expression) for clinical and biological insight. Interests include developing and applying these tools for translational research.
Other Positions
Websites
Education
PhD, University of California, San Francisco, 2000
BA, Wesleyan University, 1991
Publications
Published on 9/1/2021
Maoz A, Merenstein C, Koga Y, Potter A, Gower AC, Liu G, Zhang S, Liu H, Stevenson C, Spira A, Reid ME, Campbell JD, Mazzilli SA, Lenburg ME, Beane J. Elevated T cell repertoire diversity is associated with progression of lung squamous cell premalignant lesions. J Immunother Cancer. 2021 Sep; 9(9). PMID: 34580161.
Published on 7/13/2021
Hicks-Berthet J, Ning B, Federico A, Tilston-Lunel A, Matschulat A, Ai X, Lenburg ME, Beane J, Monti S, Varelas X. Yap/Taz inhibit goblet cell fate to maintain lung epithelial homeostasis. Cell Rep. 2021 Jul 13; 36(2):109347. PMID: 34260916.
Published on 5/10/2021
Becker EJ, Faiz A, van den Berge M, Timens W, Hiemstra PS, Clark K, Liu G, Xiao X, Alekseyev YO, O'Connor G, Lam S, Spira A, Lenburg ME, Steiling K. Bronchial gene expression signature associated with rate of subsequent FEV1 decline in individuals with and at risk of COPD. Thorax. 2021 May 10. PMID: 33972452.
Published on 4/13/2021
Xu F, Tanabe N, Vasilescu DM, McDonough JE, Coxson HO, Ikezoe K, Kinose D, Ng KW, Verleden SE, Wuyts WA, Vanaudenaerde BM, Verschakelen J, Cooper JD, Lenburg ME, Morshead KB, Abbas AR, Arron JR, Spira A, Hackett TL, Colby TV, Ryerson CJ, Ng RT, Hogg JC. The transition from normal lung anatomy to minimal and established fibrosis in idiopathic pulmonary fibrosis (IPF). EBioMedicine. 2021 Apr; 66:103325. PMID: 33862585.
Published on 10/22/2020
Choi Y, Qu J, Wu S, Hao Y, Zhang J, Ning J, Yang X, Lofaro L, Pankratz DG, Babiarz J, Walsh PS, Billatos E, Lenburg ME, Kennedy GC, McAuliffe J, Huang J. Improving lung cancer risk stratification leveraging whole transcriptome RNA sequencing and machine learning across multiple cohorts. BMC Med Genomics. 2020 10 22; 13(Suppl 10):151. PMID: 33087128.
Published on 10/15/2020
Faiz A, Imkamp K, van der Wiel E, Boudewijn IM, Koppelman GH, Brandsma CA, Kerstjens HAM, Timens W, Vroegop S, Pasma HR, Boersma WG, Wielders P, van den Elshout F, Mansour K, Steiling K, Spira A, Lenburg ME, Heijink IH, Postma DS, van den Berge M. Identifying a nasal gene expression signature associated with hyperinflation and treatment response in severe COPD. Sci Rep. 2020 10 15; 10(1):17415. PMID: 33060632.
Published on 9/16/2020
Billatos E, Ash SY, Duan F, Xu K, Romanoff J, Marques H, Moses E, Han MK, Regan EA, Bowler RP, Mason SE, Doyle TJ, San José Estépar R, Rosas IO, Ross JC, Xiao X, Liu H, Liu G, Sukumar G, Wilkerson M, Dalgard C, Stevenson C, Whitney D, Aberle D, Spira A, San José Estépar R, Lenburg ME, Washko GR. Distinguishing Smoking-Related Lung Disease Phenotypes Via Imaging and Molecular Features. Chest. 2021 02; 159(2):549-563. PMID: 32946850.
Published on 2/7/2020
Drizik E, Corbett S, Zheng Y, Vermeulen R, Dai Y, Hu W, Ren D, Duan H, Niu Y, Xu J, Fu W, Meliefste K, Zhou B, Zhang X, Yang J, Bassig B, Liu H, Ye M, Liu G, Jia X, Meng T, Bin P, Zhang J, Silverman D, Spira A, Rothman N, Lenburg ME, Lan Q. Transcriptomic changes in the nasal epithelium associated with diesel engine exhaust exposure. Environ Int. 2020 04; 137:105506. PMID: 32044442.
Published on 1/23/2020
Hickson LJ, Langhi Prata LGP, Bobart SA, Evans TK, Giorgadze N, Hashmi SK, Herrmann SM, Jensen MD, Jia Q, Jordan KL, Kellogg TA, Khosla S, Koerber DM, Lagnado AB, Lawson DK, LeBrasseur NK, Lerman LO, McDonald KM, McKenzie TJ, Passos JF, Pignolo RJ, Pirtskhalava T, Saadiq IM, Schaefer KK, Textor SC, Victorelli SG, Volkman TL, Xue A, Wentworth MA, Wissler Gerdes EO, Allison DB, Dickinson SL, Ejima K, Atkinson EJ, Lenburg M, Zhu Y, Tchkonia T, Kirkland JL. Corrigendum to 'Senolytics decrease senescent cells in humans: Preliminary report from a clinical trial of Dasatinib plus Quercetin in individuals with diabetic kidney disease' EBioMedicine 47 (2019) 446-456. EBioMedicine. 2020 Feb; 52:102595. PMID: 31982828.
Published on 12/11/2019
Duclos GE, Teixeira VH, Autissier P, Gesthalter YB, Reinders-Luinge MA, Terrano R, Dumas YM, Liu G, Mazzilli SA, Brandsma CA, van den Berge M, Janes SM, Timens W, Lenburg ME, Spira A, Campbell JD, Beane J. Characterizing smoking-induced transcriptional heterogeneity in the human bronchial epithelium at single-cell resolution. Sci Adv. 2019 12; 5(12):eaaw3413. PMID: 31844660.
View full list of 187 publications.