Marc R. Larochelle MD, MPH
Assistant Professor, General Internal Medicine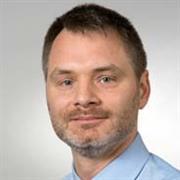 Sections
General Internal Medicine
Centers
Clinical Addiction Research and Education Unit
Biography
Marc Larochelle is a general internist and clinical investigator specializing in addiction medicine at BMC and an assistant professor of medicine at BUSM. Larochelle's clinical and research interests focus on the safety of opioid prescribing and the recognition and treatment of opioid use disorders. As a health services researcher, Larochelle aims to leverage insights from large data sources and translate the findings into interventions that improve the quality and value of health care delivered. His special interests are Primary Care and Addiction Medicine.
Websites
Education
Medicine-Internal, MD, University of Pittsburgh School of Medicine, 2009
Clinical Evaluation/Research, MPH, Harvard School of Public Health, 2014
Biomedical Engineering, BSE, Duke University, 1998
Publications
Published on 9/9/2021
Larochelle MR, Slavova S, Root ED, Feaster DJ, Ward PJ, Selk SC, Knott C, Villani J, Samet JH. Disparities in Opioid Overdose Death Trends by Race/Ethnicity, 2018-2019, From the HEALing Communities Study. Am J Public Health. 2021 Sep 09; e1-e4. PMID: 34499540.
Published on 8/17/2021
Larochelle MR, Cruz R, Kosakowski S, Gourlay DL, Alford DP, Xuan Z, Krebs EE, Yan S, Lasser KE, Samet JH, Liebschutz JM. Do Urine Drug Tests Reveal Substance Misuse Among Patients Prescribed Opioids for Chronic Pain? J Gen Intern Med. 2021 Aug 17. PMID: 34405344.
Published on 8/12/2021
Shanahan CW, Reding O, Holmdahl I, Keosaian J, Xuan Z, McAneny D, Larochelle M, Liebschutz J. Opioid analgesic use after ambulatory surgery: a descriptive prospective cohort study of factors associated with quantities prescribed and consumed. BMJ Open. 2021 08 12; 11(8):e047928. PMID: 34385249.
Published on 8/3/2021
Larochelle M, Lagisetty PA, Bohnert ASB. Opioid Tapering Practices-Time for Reconsideration? JAMA. 2021 08 03; 326(5):388-389. PMID: 34342635.
Published on 6/23/2021
Alrawashdeh M, Klompas M, Kimmel S, Larochelle MR, Gokhale RH, Dantes RB, Hoots B, Hatfield KM, Reddy SC, Fiore AE, Septimus EJ, Kadri SS, Poland R, Sands K, Rhee C. Epidemiology, Outcomes, and Trends of Patients With Sepsis and Opioid-Related Hospitalizations in U.S. Hospitals. Crit Care Med. 2021 Jun 23. PMID: 34314131.
Published on 6/17/2021
Morgan JR, Quinn EK, Chaisson CE, Ciemins E, Stempniewicz N, White LF, Larochelle MR. Potential barriers to filling buprenorphine and naltrexone prescriptions among a retrospective cohort of individuals with opioid use disorder. J Subst Abuse Treat. 2021 Jun 17; 108540. PMID: 34148756.
Published on 5/10/2021
Kimmel SD, Anderson ES, Larochelle MR. HIV testing among people with and without substance use disorder in emergency departments: A nationwide cohort study. Am J Emerg Med. 2021 May 10; 48:269-272. PMID: 34015610.
Published on 4/1/2021
Kerensky T, LaRochelle M, Fan SL, Kosakowski S, Wason K, Walley AY. Non-prescription Fentanyl Positive Toxicology: Prevalence, Positive Predictive Value of Fentanyl Immunoassay Screening, and Description of Co-substance Use. J Addict Med. 2021 04 01; 15(2):150-154. PMID: 32909981.
Published on 3/18/2021
Benintendi A, Kosakowski S, Lagisetty P, Larochelle M, Bohnert ASB, Bazzi AR. "I felt like I had a scarlet letter": Recurring experiences of structural stigma surrounding opioid tapers among patients with chronic, non-cancer pain. Drug Alcohol Depend. 2021 05 01; 222:108664. PMID: 33757709.
Published on 1/1/2021
Kimmel SD, Rosenmoss S, Bearnot B, Larochelle M, Walley AY. Rejection of Patients With Opioid Use Disorder Referred for Post-acute Medical Care Before and After an Anti-discrimination Settlement in Massachusetts. J Addict Med. 2021 Jan-Feb 01; 15(1):20-26. PMID: 32675798.
View full list of 69 publications.