Marc R. Larochelle MD, MPH
Associate Professor, General Internal Medicine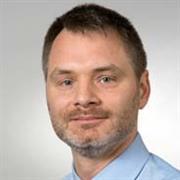 Sections
General Internal Medicine
Centers
Clinical Addiction Research and Education Unit
Biography
Marc Larochelle is a general internist and clinical investigator specializing in addiction medicine at BMC and an assistant professor of medicine at BUSM. Larochelle's clinical and research interests focus on the safety of opioid prescribing and the recognition and treatment of opioid use disorders. As a health services researcher, Larochelle aims to leverage insights from large data sources and translate the findings into interventions that improve the quality and value of health care delivered. His special interests are Primary Care and Addiction Medicine.
Websites
Education
Medicine-Internal, MD, University of Pittsburgh School of Medicine, 2009
Clinical Evaluation/Research, MPH, Harvard School of Public Health, 2014
Biomedical Engineering, BSE, Duke University, 1998
Publications
Published on 7/29/2022
Weisenthal K, Kimmel SD, Kehoe J, Larochelle MR, Walley AY, Taylor JL. Effect of police action on low-barrier substance use disorder service utilization. Harm Reduct J. 2022 Jul 29; 19(1):86. PMID: 35906660.
Published on 7/1/2022
Streed CG, Morgan JR, Gai MJ, Larochelle MR, Paasche-Orlow MK, Taylor JL. Prevalence of HIV Preexposure Prophylaxis Prescribing Among Persons With Commercial Insurance and Likely Injection Drug Use. JAMA Netw Open. 2022 Jul 01; 5(7):e2221346. PMID: 35819784.
Published on 6/28/2022
Morgan JR, LaRochelle MR. Commentary on Karnik et al.: Harmonization now-the need for consistent, validated measures to identify opioid use disorder in observational data. Addiction. 2022 Sep; 117(9):2448-2449. PMID: 35762525.
Published on 6/7/2022
Zhang K, Strahan AE, Guy GP, Larochelle MR. Trends in Concurrent Opioid and Benzodiazepine Prescriptions in the United States, 2016 to 2019. Ann Intern Med. 2022 Jul; 175(7):1051-1053. PMID: 35667064.
Published on 3/1/2022
Kimmel SD, Rosenmoss S, Bearnot B, Weinstein Z, Yan S, Walley AY, Larochelle MR. Northeast Postacute Medical Facilities Disproportionately Reject Referrals For Patients With Opioid Use Disorder. Health Aff (Millwood). 2022 03; 41(3):434-444. PMID: 35254930.
Published on 3/1/2022
Morgan JR, Quinn EK, Chaisson CE, Ciemins E, Stempniewicz N, White LF, Linas BP, Walley AY, LaRochelle MR. Variation in Initiation, Engagement, and Retention on Medications for Opioid Use Disorder Based on Health Insurance Plan Design. Med Care. 2022 03 01; 60(3):256-263. PMID: 35026792.
Published on 1/6/2022
Kosakowski S, Benintendi A, Lagisetty P, Larochelle MR, Bohnert ASB, Bazzi AR. Patient Perspectives on Improving Patient-Provider Relationships and Provider Communication During Opioid Tapering. J Gen Intern Med. 2022 May; 37(7):1722-1728. PMID: 34993861.
Published on 12/1/2021
Bovell-Ammon BJ, Xuan Z, Paasche-Orlow MK, LaRochelle MR. Association of Incarceration With Mortality by Race From a National Longitudinal Cohort Study. JAMA Netw Open. 2021 12 01; 4(12):e2133083. PMID: 34940867.
Published on 12/1/2021
Alrawashdeh M, Klompas M, Kimmel S, Larochelle MR, Gokhale RH, Dantes RB, Hoots B, Hatfield KM, Reddy SC, Fiore AE, Septimus EJ, Kadri SS, Poland R, Sands K, Rhee C. Epidemiology, Outcomes, and Trends of Patients With Sepsis and Opioid-Related Hospitalizations in U.S. Hospitals. Crit Care Med. 2021 12 01; 49(12):2102-2111. PMID: 34314131.
Published on 11/24/2021
Beaugard CA, Chui KKH, Larochelle MR, Young LD, Walley AY, Stopka TJ. Abrupt Discontinuation From Long-Term Opioid Therapy in Massachusetts, 2015-2018. Am J Prev Med. 2022 03; 62(3):404-413. PMID: 34838368.
View full list of 79 publications.