Lynn L. Moore DSc
Associate Professor, Preventive Medicine & Epidemiology
Graduate Faculty (Primary Mentor of Grad Students)
801 Massachusetts Ave | (617) 638-8088

llmoore@bu.edu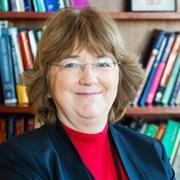 Sections
Preventive Medicine & Epidemiology
Centers
Framingham Heart Study
Boston Nutrition Obesity Research Center
Evans Center for Interdisciplinary Biomedical Research
Biography
I am an epidemiologist and my general expertise is in epidemiologic methodology. I have specific expertise in the following areas: nutritional epidemiology, obesity and cardiometabolic risk, cardiovascular epidemiology, behavioral assessment across the lifespan.
Other Positions
Education
DSc, Boston University, 1993
MPH, Boston University, 1987
BS, Tufts University, 1975
Publications
Published on 9/6/2021
Yiannakou I, Yuan M, Pickering RT, Singer MR, Moore LL. Potato consumption is not associated with elevated cardiometabolic risk in adolescent girls. Br J Nutr. 2021 Sep 06; 1-24. PMID: 34486960.
Published on 2/4/2021
Yuan M, Singer MR, Moore LL. Yogurt Consumption Is Associated with Lower Levels of Chronic Inflammation in the Framingham Offspring Study. Nutrients. 2021 Feb 04; 13(2). PMID: 33557067.
Published on 1/19/2021
Pickering RT, Bradlee ML, Singer MR, Moore LL. Higher Intakes of Potassium and Magnesium, but Not Lower Sodium, Reduce Cardiovascular Risk in the Framingham Offspring Study. Nutrients. 2021 Jan 19; 13(1). PMID: 33477824.
Published on 12/2/2020
Gooding HC, Ning H, Perak AM, Allen N, Lloyd-Jones D, Moore LL, Singer MR, de Ferranti SD. Cardiovascular health decline in adolescent girls in the NGHS cohort, 1987-1997. Prev Med Rep. 2020 Dec; 20:101276. PMID: 33344149.
Published on 11/19/2020
Walker ME, Xanthakis V, Peterson LR, Duncan MS, Lee J, Ma J, Bigornia S, Moore LL, Quatromoni PA, Vasan RS, Jacques PF. Dietary Patterns, Ceramide Ratios, and Risk of All-Cause and Cause-Specific Mortality: The Framingham Offspring Study. J Nutr. 2020 11 19; 150(11):2994-3004. PMID: 32939554.
Published on 9/14/2020
O'Donnell M, Mente A, Alderman MH, Brady AJB, Diaz R, Gupta R, López-Jaramillo P, Luft FC, Lüscher TF, Mancia G, Mann JFE, McCarron D, McKee M, Messerli FH, Moore LL, Narula J, Oparil S, Packer M, Prabhakaran D, Schutte A, Sliwa K, Staessen JA, Yancy C, Yusuf S. Salt and cardiovascular disease: insufficient evidence to recommend low sodium intake. Eur Heart J. 2020 09 14; 41(35):3363-3373. PMID: 33011774.
Published on 7/29/2020
Jia J, Moore LL, Cabral H, Hanchate A, LaRochelle MR. Changes to dietary and health outcomes following implementation of the 2012 updated US Department of Agriculture school nutrition standards: analysis using National Health and Nutrition Examination Survey, 2005-2016. Public Health Nutr. 2020 11; 23(16):3016-3024. PMID: 32723401.
Published on 7/15/2020
Yuan M, Pickering RT, Bradlee ML, Mustafa J, Singer MR, Moore LL. Animal protein intake reduces risk of functional impairment and strength loss in older adults. Clin Nutr. 2021 03; 40(3):919-927. PMID: 32753351.
Published on 6/19/2020
Lin HP, Lynk N, Moore LL, Cabral HJ, Heffernan KS, Dumas AK, Hruska B, Zajdel RA, Gump BB, Spartano NL. A pragmatic approach to the comparison of wrist-based cutpoints of physical activity intensity for the MotionWatch8 accelerometer in children. PLoS One. 2020; 15(6):e0234725. PMID: 32559207.
Published on 5/14/2020
Wan L, Jakkilinki PD, Singer MR, Bradlee ML, Moore LL. A longitudinal study of fruit juice consumption during preschool years and subsequent diet quality and BMI. BMC Nutr. 2020; 6:25. PMID: 32467768.
View full list of 84 publications.