Luke Barre MD
Assistant Professor, General Internal Medicine
72 E. Concord Street | (617) 358-7492

lukebarr@bu.edu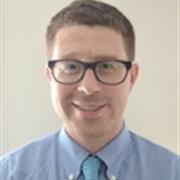 Sections
General Internal Medicine
Biography
Luke Barré, MD, MPH is an Assistant Professor of General Internal Medicine at Chobanian and Avedisian School of Medicine. Dr. Barré earned his MD from Saba University School of Medicine and completed his Internal Medicine residency training at Roger Williams Medical Center. He completed his rheumatology fellowship and Preventive Medicine residency at Dartmouth-Hitchcock Medical Center. He received his MPH from Dartmouth's Geisel School of Medicine. Dr Barré's clinical interests include general rheumatology practice, spondyloarthropathies, rheumatoid arthritis, crystal diseases and muskuloskeletal ultrasound. He also has interests in population management, public health and shared decision making.
Websites
Education
MD, Saba University School of Medicine
MPH, Dartmouth Medical School
Chemistry, BSc, University of Ottawa
Publications
Published on 1/6/2022
Hallowell BD, Chambers LC, Barre L, Diao N, Onyejekwe C, Banks A, Bratberg J, Weidele H, Viner-Brown S, McDonald J. Association between initial opioid prescription diagnosis type and subsequent chronic prescription opioid use in Rhode Island: a population-based cohort study. BMJ Open. 2022 01 06; 12(1):e050540. PMID: 34992104.
Published on 12/1/2020
Barre L, McCormick M, McDonald JV. Initial Opioid Prescription and Number Needed to Harm. R I Med J (2013). 2020 Dec 01; 103(10):44-46. PMID: 33261235.
Published on 5/1/2020
Barre L, Phengsavatdy A, Benson M, McDonald JV. Review of Rhode Island Physician Loss-of-Licensure Cases, 2009-2019. R I Med J (2013). 2020 May 01; 103(4):46-49. PMID: 32357594.
Published on 8/1/2019
Barre L, Oliver B, Alexander-Scott N, McCormick M, Elmaleh R, McDonald JV. Impact of State Regulations on Initial Opioid Prescribing Behavior in Rhode Island. R I Med J (2013). 2019 Aug 01; 102(6):24-26. PMID: 31398964.
Published on 8/1/2019
Luke Barre, MD, MPH; Justin Gallo; James V. McDonald, MD, MPH. Review of Disciplinary Actions Regarding Controlled Substances, Rhode Island 2012–2017. Journal of Medical Regulation. 2019; 1(105):22-27.
Published on 1/1/2007
Green R, Barre L, Giorgi J. Nano-structures in YSZ(1 0 0) surfaces: Implications for metal deposition experiments. Surface Science. 2007; 601:782-802.
View full list of 6 publications.