Lisa Marie Mendelson MSN, BSN, APRN-Board Certified Adult and Gerontology
Assistant Professor, Hematology & Medical Oncology
72 E. Concord Street | (617) 638-4317

lmm1@bu.edu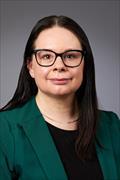 Sections
Hematology & Medical Oncology
Centers
Amyloidosis Center
Biography
Lisa Mendelson has been a nurse practitioner at the Boston University Amyloidosis Center since 2017. She obtained her nurse practitioner degree from MGH Institute of Health Professions in 2010 and prior to coming to BU worked in private practice cardiology and hepatology in San Mateo, CA. In addition to her clinical practice she participates as a reviewer for multiple peer reviewed journals, is an active board member for the Amyloidosis Research Consortium-Patient Discovery and has authored multiple publications with a focus on amyloidosis awareness. She is the recipient of the BU Medical Group's 2019 clinical excellence award.
Education
Nursing, MSN, MGH Institute of Health Professions, 2010
Nursing, BSN, MGH Institute of Health Professions, 2010
Psychology, BA, Emmanuel College, 2002
Publications
Published on 1/31/2023
Staron A, Mendelson LM, Joshi T, Ruberg FL, Sanchorawala V. Factors affecting the accuracy of amyloidosis identification and referral to a specialty centre. Amyloid. 2023 Jan 31; 1-6. PMID: 36718932.
Published on 12/22/2022
Gustine JN, Szalat RE, Staron A, Joshi T, Mendelson L, Sloan JM, Sanchorawala V. Light chain amyloidosis associated with Waldenström macroglobulinemia: treatment and survival outcomes. Haematologica. 2022 Dec 22. PMID: 36546447.
Published on 8/24/2022
Alreshq R, Cozzolino M, Lilleness B, Pipilas A, Mendelson L, Joshi T, Muralidhar V, Guardino E, Berk JL, Siddiqi OK, Gopal DM, Sanchorawala V, Ruberg FL. Light Chain Testing Abnormalities Among Patients With Transthyretin Amyloid Cardiomyopathy Referred for Technetium-99m Pyrophosphate Imaging. Am J Cardiol. 2022 Oct 15; 181:105-112. PMID: 36028388.
Published on 7/25/2022
Fogaren T, Shelton AC, Faller DV, Stull DM, Thuenemann S, Mendelson L. Understanding Amyloidosis: Unraveling the Complexities and Therapeutic Approaches for Oncology Nurses. Clin J Oncol Nurs. 2022 Jul 25; 26(4):421-432. PMID: 35939729.
Published on 7/5/2022
Gustine JN, Staron A, Szalat RE, Mendelson LM, Joshi T, Ruberg FL, Siddiqi O, Gopal DM, Edwards CV, Havasi A, Kaku M, Lau KHV, Berk JL, Sloan JM, Sanchorawala V. Predictors of hematologic response and survival with stem cell transplantation in AL amyloidosis: A 25-year longitudinal study. Am J Hematol. 2022 Sep; 97(9):1189-1199. PMID: 35731907.
Published on 2/3/2022
Mendelson L, Sanchorawala V, Connors L, Joshi T, Doros G, Pogrebinsky A, Havasi A. Correlation Between 24-Hour Urine Protein and Random Urine Protein-Creatinine Ratio in Amyloid Light-Chain Amyloidosis. Kidney Med. 2022 Apr; 4(4):100427. PMID: 35342879.
Published on 8/4/2021
Staron A, Zheng L, Doros G, Connors LH, Mendelson LM, Joshi T, Sanchorawala V. Marked progress in AL amyloidosis survival: a 40-year longitudinal natural history study. Blood Cancer J. 2021 08 04; 11(8):139. PMID: 34349108.
Published on 7/20/2020
Schulman A, Connors LH, Weinberg J, Mendelson LM, Joshi T, Shelton AC, Sanchorawala V. Patient outcomes in light chain (AL) amyloidosis: The clock is ticking from symptoms to diagnosis. Eur J Haematol. 2020 Oct; 105(4):495-501. PMID: 32564450.
Published on 6/6/2020
Mendelson L, Shelton A, Brauneis D, Sanchorawala V. AL Amyloidosis in Myeloma: Red Flag Symptoms. Clin Lymphoma Myeloma Leuk. 2020 11; 20(11):777-778. PMID: 32631780.
Published on 1/1/2020
Hwa L, Fogaren T, Faller D, Stuller D, Thuenemann S, Mendelson, L
. L Immunoglobulin Light-chain
Amyloidosis: Clinical Presentations and Diagnostic Approach. Journal of the Advanced Practitioner in Oncology. 2020; 4(11):395-400.
View full list of 14 publications.