Lindsay B. Demers MS, PhD
Assistant Professor, Geriatrics
Director, Education Evaluation Core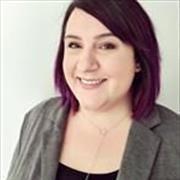 Biography
Dr. Demers is a mixed-methods researcher with over 10 years of evaluation experience. Her quantitative expertise lies in the application of advanced regression techniques such as hierarchical linear modeling and structural equation modeling, the development of valid and reliable survey instruments, the creation of observation and scoring rubrics, and best practices for estimating inter-rater reliability. Her qualitative expertise is focused on the collection and analysis of interview data, specifically the assessment of fidelity of implementation and participation in education interventions.
Education
Psychology, PhD, University of Massachusetts Amherst, 2011
Psychology, MS, University of Massachusetts Amherst, 2007
Psychology, BA, Clark University, 2005
Publications
Published on 6/4/2021
Jawa R, Saravanan N, Burrowes SAB, Demers L. A call for training graduate medical students on harm reduction for people who inject drugs. Subst Abus. 2021; 42(3):266-268. PMID: 34086530.
Published on 3/23/2021
Knodle R, Demers L, Simmons R. Infectious Complications in Injection Drug Use. MedEdPORTAL. 2021 03 23; 17:11124. PMID: 33816787.
Published on 11/20/2020
Ock S, Demers LB, McDougal JC. Cognitive Behavioral Therapy for Treatment of Insomnia in Primary Care for Resident Physicians. MedEdPORTAL. 2020 11 20; 16:11002. PMID: 33241115.
Published on 11/4/2020
Huang C, Hopkins R, Huang K, Demers L, Wasan S. Standardizing Endoscopy Training: A Workshop for Endoscopy Educators. MedEdPORTAL. 2020 11 04; 16:11015. PMID: 33204839.
Published on 2/14/2020
Jawa R, Luu T, Bachman M, Demers L. Rapid Naloxone Administration Workshop for Health Care Providers at an Academic Medical Center. MedEdPORTAL. 2020 02 14; 16:10892. PMID: 32175476.
Published on 1/26/2020
Remein CD, Childs E, Pasco JC, Trinquart L, Flynn DB, Wingerter SL, Bhasin RM, Demers LB, Benjamin EJ. Content and outcomes of narrative medicine programmes: a systematic review of the literature through 2019. BMJ Open. 2020 01 26; 10(1):e031568. PMID: 31988222.
Published on 3/15/2019
McDougal JC, Ock S, Demers LB, Sokolove RL. Cognitive Behavioral Therapy and Pharmacotherapy for the Treatment of Tobacco Use Disorder in Primary Care for Resident Physicians. MedEdPORTAL. 2019 03 15; 15:10812. PMID: 31139731.
Published on 1/1/2019
Buitron de la Vega, P.,Sanchez M.J.,Phitayakorn, R., Demers, L.B.; and Kudrath, W. . How to Develop and Utilize Cognitive Learning Theory-Supported Mind Maps for Health Professional Students and Educators. Resources in Surgical Education (RISE). 2019.
Published on 1/1/2019
Stylianou, D, Stroud, R, Cassidy, M, Stephens, A, Knuth, E, Gardiner, A & Demers, LB. Putting early algebra in the hands of elementary school teachers: examining fidelity of implementation and its relation to student performance. Infancia y Aprendizaje (Journal for the Study of Education and Development). 2019.
Published on 10/26/2018
Childs E, Demers LB. Qualitative Coding Boot Camp: An Intensive Training and Overview for Clinicians, Educators, and Administrators. MedEdPORTAL. 2018 10 26; 14:10769. PMID: 30800969.
View full list of 17 publications.