Lindsay Arnold PharmD
Voluntary Assistant Professor, General Internal Medicine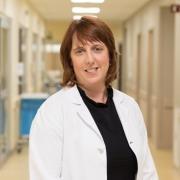 Sections
General Internal Medicine
Websites
Education
Pharmacy, PharmD, Northeastern University, 2002
Health Management and Policy, MS, Boston University School of Public Health, 2022
Publications
Published on 1/1/2020
Coon SA, Hill LG, Hutchison RW, Arnold LM et al. Mobilizing pharmacists to address the opioid crisis: A joint opinion of the ambulatory care and adult medicine practice and research networks of the American College of Clinical Pharmacy. J Am Coll Clin Pharm. 2020; 1-21.
Published on 4/2/2019
Long MT, Ko D, Arnold LM, Trinquart L, Sherer JA, Keppel SS, Benjamin EJ, Helm RH. Gastrointestinal and liver diseases and atrial fibrillation: a review of the literature. Therap Adv Gastroenterol. 2019; 12:1756284819832237. PMID: 30984290.
Published on 1/1/2019
Arnold LM, Pande AN. Kim D, Patel N, Farber A (Eds.), Vascular imaging and endovascular intervention. Pharmacologics: Systemic and transcatheter therapies. Jaypee Brothers. New Delhi, India. 2019.
Published on 11/7/2016
Arnold LM, Mahesri M, McDonnell ME, Alexanian SM. GLYCEMIC OUTCOMES 3 YEARS AFTER IMPLEMENTATION OF A PERI-OPERATIVE GLYCEMIC CONTROL ALGORITHM IN AN ACADEMIC INSTITUTION. Endocr Pract. 2017 Feb; 23(2):123-131. PMID: 27819771.
Published on 8/19/2016
Lee SY, Askin G, McDonnell ME, Arnold LM, Alexanian SM. HYPOGLYCEMIA RATES AFTER RESTRICTION OF HIGH-DOSE GLARGINE IN HOSPITALIZED PATIENTS. Endocr Pract. 2016 12; 22(12):1393-1400. PMID: 27540877.
Published on 9/1/2012
Erratum for PMID 21180585. Therap Adv Gastroenterol. 2012 Sep; 5(5):371. PMID: 22973420.
Published on 4/1/2012
Rathbun RC, Hester EK, Arnold LM, Chung AM, Dunn SP, Harinstein LM, Leber M, Murphy JA, Schonder KS, Wilhelm SM, Smilie KB. Importance of direct patient care in advanced pharmacy practice experiences. Pharmacotherapy. 2012 Apr; 32(4):e88-97. PMID: 22461125.
Published on 5/1/2010
Pietras SM, Hanrahan P, Arnold LM, Sternthal E, McDonnell ME. State-of-the-art inpatient diabetes care: the evolution of an academic hospital. Endocr Pract. 2010 May-Jun; 16(3):512-21. PMID: 20350921.
Published on 1/1/2010
Monach PA, Arnold LM, Merkel PA. Incidence and prevention of bladder toxicity from cyclophosphamide in the treatment of rheumatic diseases: a data-driven review. Arthritis Rheum. 2010 Jan; 62(1):9-21. PMID: 20039416.
Published on 8/1/2006
Arnold LM, Crouch MA, Carroll NV, Oinonen MJ. Outcomes associated with vasoactive therapy in patients with acute decompensated heart failure. Pharmacotherapy. 2006 Aug; 26(8):1078-85. PMID: 16863484.
View full list of 11 publications.