Lillian E.C. McMahon MD
Associate Professor, Hematology & Medical Oncology
Associate Professor, Pediatric Subspecialties (Pediatric Hematology)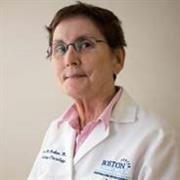 Sections
Hematology & Medical Oncology
Centers
Center of Excellence in Sickle Cell Disease
Biography
Dr. Lillian McMahon is an Associate Professor of Medicine and Pediatrics at Chobanian and Avedisian School of Medicine (BUSM). Dr. McMahon received her medical degree from the Federal University of Pará in Brazil and completed her residency in Internal Medicine and Pediatrics at Boston City Hospital. Following that, she pursued a fellowship in Hematology/Oncology at Boston City Hospital and New York Hospital/Cornell Medical Center. She has extensive experience following and treating pediatric and adult patients with hemoglobinopathies, specifically sickle cell disease and trait. During this time, she has participated in numerous multicenter and pharmacy-sponsored clinical research studies in sickle cell disease.

Expertise includes: Sickle cell anemia; Sickle cell disease; Hemoglobin C disease; Hemoglobinopathies.
Education
Medicine, MD, Federal University of Pará, 1963
Publications
Published on 2/17/2013
Wun T, Soulieres D, Frelinger AL, Krishnamurti L, Novelli EM, Kutlar A, Ataga KI, Knupp CL, McMahon LE, Strouse JJ, Zhou C, Heath LE, Nwachuku CE, Jakubowski JA, Riesmeyer JS, Winters KJ. A double-blind, randomized, multicenter phase 2 study of prasugrel versus placebo in adult patients with sickle cell disease. J Hematol Oncol. 2013; 6:17. PMID: 23414938.
Published on 3/30/2012
Styles L, Wager CG, Labotka RJ, Smith-Whitley K, Thompson AA, Lane PA, McMahon LE, Miller R, Roseff SD, Iyer RV, Hsu LL, Castro OL, Ataga KI, Onyekwere O, Okam M, Bellevue R, Miller ST. Refining the value of secretory phospholipase A2 as a predictor of acute chest syndrome in sickle cell disease: results of a feasibility study (PROACTIVE). Br J Haematol. 2012 Jun; 157(5):627-36. PMID: 22463614.
Published on 10/19/2010
McMahon L, Tamary H, Askin M, Adams-Graves P, Eberhardt RT, Sutton M, Wright EC, Castaneda SA, Faller DV, Perrine SP. A randomized phase II trial of Arginine Butyrate with standard local therapy in refractory sickle cell leg ulcers. Br J Haematol. 2010 Dec; 151(5):516-24. PMID: 20955402.
Published on 9/1/2010
Dampier C, Lieff S, LeBeau P, Rhee S, McMurray M, Rogers Z, Smith-Whitley K, Wang W. Health-related quality of life in children with sickle cell disease: a report from the Comprehensive Sickle Cell Centers Clinical Trial Consortium. Pediatr Blood Cancer. 2010 Sep; 55(3):485-94. PMID: 20658620.
Published on 5/12/2010
Vichinsky EP, Neumayr LD, Gold JI, Weiner MW, Rule RR, Truran D, Kasten J, Eggleston B, Kesler K, McMahon L, Orringer EP, Harrington T, Kalinyak K, De Castro LM, Kutlar A, Rutherford CJ, Johnson C, Bessman JD, Jordan LB, Armstrong FD. Neuropsychological dysfunction and neuroimaging abnormalities in neurologically intact adults with sickle cell anemia. JAMA. 2010 May 12; 303(18):1823-31. PMID: 20460621.
View full list of 5 publications.