Laurence H. Beck MD, PhD
Associate Professor, Nephrology
Graduate Faculty (Primary Mentor of Grad Students)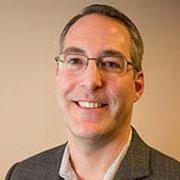 Centers
Evans Center for Interdisciplinary Biomedical Research
Biography
Laurence H. Beck, Jr., MD, PhD, completed his Internal Medicine residency and Nephrology fellowship at Boston Medical Center. He joined the Renal Section in 2006, and continues to conduct basic science research in the laboratory of Dr. David Salant on the pathogenesis of membranous nephropathy. His clinical roles include a weekly clinic and attending time on the consult and dialysis/transplant services. He also has expertise in immune-mediated glomerular disease.
Education
Medicine-Internal, MD, Harvard Medical School, 2000
Cell & Molecular Biology, PhD, Harvard University, 2000
Cell & Molecular Biology, BA, Princeton University, 1991
Publications
Published on 7/7/2022
Manral P, Caza TN, Storey AJ, Beck LH, Borza DB. The Alternative Pathway Is Necessary and Sufficient for Complement Activation by Anti-THSD7A Autoantibodies, Which Are Predominantly IgG4 in Membranous Nephropathy. Front Immunol. 2022; 13:952235. PMID: 35874690.
Published on 4/27/2022
Sealfon R, Mariani L, Avila-Casado C, Nair V, Menon R, Funk J, Wong A, Lerner G, Hayashi N, Troyanskaya O, Kretzler M, Beck LH. Molecular Characterization of Membranous Nephropathy. J Am Soc Nephrol. 2022 Jun; 33(6):1208-1221. PMID: 35477557.
Published on 1/1/2022
Kamel MH, Jaberi A, Gordon CE, Beck LH, Francis J. The Complement System in the Modern Era of Kidney Transplantation: Mechanisms of Injury and Targeted Therapies. Semin Nephrol. 2022 Jan; 42(1):14-28. PMID: 35618392.
Published on 11/26/2021
Caza TN, Al-Rabadi LF, Beck LH. How Times Have Changed! A Cornucopia of Antigens for Membranous Nephropathy. Front Immunol. 2021; 12:800242. PMID: 34899763.
Published on 11/3/2021
Watts AJB, Keller KH, Lerner G, Rosales I, Collins AB, Sekulic M, Waikar SS, Chandraker A, Riella LV, Alexander MP, Troost JP, Chen J, Fermin D, Yee JL, Sampson MG, Beck LH, Henderson JM, Greka A, Rennke HG, Weins A. Discovery of Autoantibodies Targeting Nephrin in Minimal Change Disease Supports a Novel Autoimmune Etiology. J Am Soc Nephrol. 2022 01; 33(1):238-252. PMID: 34732507.
Published on 9/30/2021
Ronco P, Beck L, Debiec H, Fervenza FC, Hou FF, Jha V, Sethi S, Tong A, Vivarelli M, Wetzels J. Membranous nephropathy. Nat Rev Dis Primers. 2021 09 30; 7(1):69. PMID: 34593809.
Published on 9/24/2021
Bomback AS, Appel GB, Gipson DS, Hladunewich MA, Lafayette R, Nester CM, Parikh SV, Smith RJH, Trachtman H, Heeger PS, Ram S, Rovin BH, Ali S, Arceneaux N, Ashoor I, Bailey-Wickins L, Barratt J, Beck L, Cattran DC, Cravedi P, Erkan E, Fervenza F, Frazer-Abel AA, Fremeaux-Bacchi V, Fuller L, Gbadegesin R, Hogan JJ, Kiryluk K, le Quintrec-Donnette M, Licht C, Mahan JD, Pickering MC, Quigg R, Rheault M, Ronco P, Sarwal MM, Sethna C, Spino C, Stegall M, Vivarelli M, Feldman DL, Thurman JM. Improving Clinical Trials for Anticomplement Therapies in Complement-Mediated Glomerulopathies: Report of a Scientific Workshop Sponsored by the National Kidney Foundation. Am J Kidney Dis. 2022 04; 79(4):570-581. PMID: 34571062.
Published on 9/8/2021
Nasr SH, Leung N, Said SM, Alkhateeb HB, Madden BJ, Charlesworth MC, Beck LH, Larsen CP, Sethi S. Membranous Nephropathy With Extensive Tubular Basement Membrane Deposits Following Allogeneic Hematopoietic Cell Transplant: A Report of 5 Cases. Am J Kidney Dis. 2022 Jun; 79(6):904-908. PMID: 34508832.
Published on 9/2/2021
Molina Andújar A, Castrejon de Anta N, Rodriguez-Espinosa D, Hermida E, Larque AB, Esforzado N, Torregrosa JV, Cucchiari D, Blasco M, Rodríguez-Villar C, Beck LH, García Herrera A, Quintana LF. Antiphospholipase A2 receptor antibody-positive membranous nephropathy in the kidney donor: Lessons from a serendipitous transplantation. Am J Transplant. 2022 01; 22(1):299-303. PMID: 34431212.
Published on 8/28/2021
Idrees N, Beck LH. Multitarget Combination Immunosuppressive Therapy for Primary Membranous Nephropathy. Am J Kidney Dis. 2021 12; 78(6):774-776. PMID: 34465505.
View full list of 86 publications.