Laurence H. Beck MD, PhD
Associate Professor, Nephrology
Graduate Faculty (Primary Mentor of Grad Students)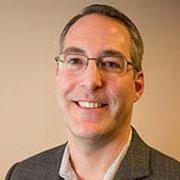 Centers
Evans Center for Interdisciplinary Biomedical Research
Biography
Laurence H. Beck, Jr., MD, PhD, completed his Internal Medicine residency and Nephrology fellowship at Boston Medical Center. He joined the Renal Section in 2006, and continues to conduct basic science research in the laboratory of Dr. David Salant on the pathogenesis of membranous nephropathy. His clinical roles include a weekly clinic and attending time on the consult and dialysis/transplant services. He also has expertise in immune-mediated glomerular disease.
Education
Medicine-Internal, MD, Harvard Medical School, 2000
Cell & Molecular Biology, PhD, Harvard University, 2000
Cell & Molecular Biology, BA, Princeton University, 1991
Publications
Published on 9/8/2021
Nasr SH, Leung N, Said SM, Alkhateeb HB, Madden BJ, Charlesworth MC, Beck LH, Larsen CP, Sethi S. Membranous Nephropathy With Extensive Tubular Basement Membrane Deposits Following Allogeneic Hematopoietic Cell Transplant: A Report of 5 Cases. Am J Kidney Dis. 2021 Sep 08. PMID: 34508832.
Published on 8/28/2021
Idrees N, Beck LH. Multitarget Combination Immunosuppressive Therapy for Primary Membranous Nephropathy. Am J Kidney Dis. 2021 Aug 28. PMID: 34465505.
Published on 8/24/2021
Molina Andújar A, Castrejon de Anta N, Rodriguez-Espinosa D, Hermida E, Larque AB, Esforzado N, Torregrosa JV, Cucchiari D, Blasco M, Rodríguez-Villar C, Beck LH, García Herrera A, Quintana LF. Antiphospholipase A2 receptor antibody-positive membranous nephropathy in the kidney donor: Lessons from a serendipitous transplantation. Am J Transplant. 2021 Aug 24. PMID: 34431212.
Published on 5/5/2021
Al-Rabadi LF, Caza T, Trivin-Avillach C, Rodan AR, Andeen N, Hayashi N, Williams B, Revelo MP, Clayton F, Abraham J, Lin E, Liou W, Zou CJ, Ramkumar N, Cummins T, Wilkey DW, Kawalit I, Herzog C, Storey A, Edmondson R, Sjoberg R, Yang T, Chien J, Merchant M, Arthur J, Klein J, Larsen C, Beck LH. Serine Protease HTRA1 as a Novel Target Antigen in Primary Membranous Nephropathy. J Am Soc Nephrol. 2021 May 05. PMID: 33952630.
Published on 4/20/2021
Lerner GB, Virmani S, Henderson JM, Francis JM, Beck LH. A conceptual framework linking immunology, pathology, and clinical features in primary membranous nephropathy. Kidney Int. 2021 08; 100(2):289-300. PMID: 33857571.
Published on 4/3/2021
Beck LH, Berasi SP, Copley JB, Gorman D, Levy DI, Lim CN, Henderson JM, Salant DJ, Lu W. PODO: Trial Design: Phase 2 Study of PF-06730512 in Focal Segmental Glomerulosclerosis. Kidney Int Rep. 2021 Jun; 6(6):1629-1633. PMID: 34169203.
Published on 4/1/2021
Hogan JJ, Zee J, Beck LH. Towards optimizing use of PLA2R antibody testing in membranous nephropathy. J Nephrol. 2021 Apr; 34(2):557-559. PMID: 33502725.
Published on 3/1/2021
Haddad G, Lorenzen JM, Ma H, de Haan N, Seeger H, Zaghrini C, Brandt S, Kölling M, Wegmann U, Kiss B, Pál G, Gál P, Wüthrich RP, Wuhrer M, Beck LH, Salant DJ, Lambeau G, Kistler AD. Altered glycosylation of IgG4 promotes lectin complement pathway activation in anti-PLA2R1-associated membranous nephropathy. J Clin Invest. 2021 03 01; 131(5). PMID: 33351779.
Published on 1/21/2021
Alsharhan L, Beck LH. Membranous Nephropathy: Core Curriculum 2021. Am J Kidney Dis. 2021 03; 77(3):440-453. PMID: 33487481.
Published on 11/1/2020
Hayashi N, Beck LH. Moore's law for membranous nephropathy. Kidney Int. 2020 11; 98(5):1081-1084. PMID: 33126969.
View full list of 76 publications.