Lauren Jean Oshry MD
Assistant Professor, Hematology & Medical Oncology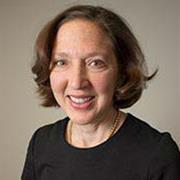 Sections
Hematology & Medical Oncology
Centers
Evans Center for Interdisciplinary Biomedical Research
Biography
Dr. Lauren Oshry is an Assistant Professor of Medicine at the Chobanian and Avedisian School of Medicine and a member of the section of Hematology and Oncology at Boston Medical Center. She is a Phi Beta Kappa graduate of Wellesley College and an Alpha Omega Alpha graduate of the Albert Einstein College of Medicine. She completed her internship and residency at Boston City Hospital and fellowship training in Hematology and Oncology at Beth Israel Hospital/Harvard Medical School, after which she joined the faculty of Chobanian and Avedisian School of Medicine. She has a special interest in breast and gynecologic cancers, with a focus on disparities in care as well as lifestyle modifications, including weight management and exercise, to improve outcomes.
Education
MD, Albert Einstein College of Medicine, 1986
BA, Wellesley College, 1982
Publications
Published on 1/30/2023
Medford AJ, Oshry L, Boyraz B, Kiedrowski L, Menshikova S, Butusova A, Dai CS, Gogakos T, Keenan JC, Occhiogrosso RH, Ryan P, Lennerz JK, Spring LM, Moy B, Ellisen LW, Bardia A. TRK inhibitor in a patient with metastatic triple-negative breast cancer and NTRK fusions identified via cell-free DNA analysis. Ther Adv Med Oncol. 2023; 15:17588359231152844. PMID: 36743521.
Published on 12/1/2020
Lombardi FL, Jafari N, Bertrand KA, Oshry LJ, Cassidy MR, Ko NY, Denis GV. Novel semi-automated algorithm for high-throughput quantification of adipocyte size in breast adipose tissue, with applications for breast cancer microenvironment. Adipocyte. 2020 12; 9(1):313-325. PMID: 32633194.
Published on 9/4/2020
Ko NY, Qureshi MM, Oladeru OT, Cassidy MR, Oshry L, Truong MT, Hirsch AE. Racial differences in genomic testing and receipt of endocrine therapy in early-stage breast cancer. Breast Cancer Res Treat. 2020 Dec; 184(3):849-859. PMID: 32888137.
Published on 6/1/2020
Festa K, Hirsch AE, Cassidy MR, Oshry L, Quinn K, Sullivan MM, Ko NY. Breast Cancer Treatment Delays at an Urban Safety Net Hospital Among Women Experiencing Homelessness. J Community Health. 2020 06; 45(3):452-457. PMID: 31625050.
Published on 1/14/2020
Kim KN, Qureshi MM, Huang D, Ko NY, Cassidy M, Oshry L, Hirsch AE. The Impact of Locoregional Treatment on Survival in Patients With Metastatic Breast Cancer: A National Cancer Database Analysis. Clin Breast Cancer. 2020 04; 20(2):e200-e213. PMID: 32089454.
Published on 1/1/2020
Yates PA, Newman SA, Oshry LJ, Glassman RH, Leone AM, Reichel E. Doxycycline treatment of high-risk COVID-19-positive patients with comorbid pulmonary disease. Ther Adv Respir Dis. 2020 Jan-Dec; 14:1753466620951053. PMID: 32873175.
Published on 8/15/2019
Quintiliani LM, Foster M, Oshry LJ. Preferences of mHealth app features for weight management among breast cancer survivors from underserved populations. Psychooncology. 2019 10; 28(10):2101-2104. PMID: 31368197.
Published on 1/1/2017
Crawford C, Oshry LJ, Reichel E. ATYPICAL MACULOPATHY IN A PATIENT WITH LIGHT CHAIN DEPOSITION DISEASE MIMICKING ADVANCED GEOGRAPHIC ATROPHY. Retin Cases Brief Rep. 2017 Winter; 11(1):83-85. PMID: 26934302.
Published on 8/15/2013
Goldberg RA, Reichel E, Oshry LJ. Bilateral toxoplasmosis retinitis associated with ruxolitinib. N Engl J Med. 2013 Aug 15; 369(7):681-3. PMID: 23944322.
Published on 11/1/1996
Wright DG, Boosalis MS, Waraska K, Oshry LJ, Weintraub LR, Vosburgh E. Tiazofurin effects on IMP-dehydrogenase activity and expression in the leukemia cells of patients with CML blast crisis. Anticancer Res. 1996 Nov-Dec; 16(6A):3349-51. PMID: 9042310.
View full list of 14 publications.