Lara Michal Skarf MD
Adjunct Assistant Professor, General Internal Medicine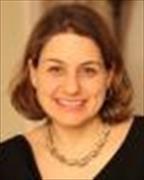 Sections
General Internal Medicine
Biography
Dr. Skarf, MD is a practicing Internist in West Roxbury, MA. Dr. Skarf graduated from Tufts University School of Medicine in 2002 and has been in practice for 15 years. She completed a residency at Beth Israel Deaconess Medical Center.
Education
Medicine, MD, Tufts University School of Medicine, 2003
Biology, BA, Barnard College, 1997
Publications
Published on 5/5/2021
Meyerson JL, McNamara LA, Nathan SN, Skarf LM. Complexities of Corona Virus Disease-19: The Role of Palliative Care at a Veterans Affairs Hospital. J Palliat Med. 2021 Sep; 24(9):1375-1378. PMID: 33956526.
Published on 10/21/2020
Rosenberg LB, Goodlev ER, Izen RSE, Gelfand SL, Goodlev CL, Lanckton RB, Skarf LM, Wershof Schwartz A, Jones CA, Tulsky JA. Top Ten Tips Palliative Care Clinicians Should Know About Caring for Jewish Patients. J Palliat Med. 2020 12; 23(12):1658-1661. PMID: 33085936.
Published on 7/21/2020
Haley EM, Stone J, Childers J, Davis A, Ehrman S, Houser MW, Olenik JM, Roche M, Jones CA, Skarf LM. Top Ten Tips Palliative Care Clinicians Should Know About Opioid Use Disorder. J Palliat Med. 2020 09; 23(9):1250-1256. PMID: 32716738.
Published on 7/11/2019
Sager ZS, Buss MK, Hill KP, Driver JA, Skarf LM. Managing Opioid Use Disorder in the Setting of a Terminal Disease: Opportunities and Challenges. J Palliat Med. 2020 02; 23(2):296-299. PMID: 31295046.
Published on 1/31/2019
Meyerson JL, McKinell KJ, Skarf LM, Nathan SN, Hinrichs KLM. Rally the Troops: Interdisciplinary Response to a Veteran Who Attempted Suicide on a Veterans Affairs Hospice Unit. J Palliat Med. 2019 Jul; 22(7):870-872. PMID: 30702373.
Published on 12/2/2016
Diop MS, Rudolph JL, Zimmerman KM, Richter MA, Skarf LM. Palliative Care Interventions for Patients with Heart Failure: A Systematic Review and Meta-Analysis. J Palliat Med. 2017 01; 20(1):84-92. PMID: 27912043.
Published on 3/20/2015
Brennan CW, Kelly B, Skarf LM, Tellem R, Dunn KM, Poswolsky S. Improving Palliative Care Team Meetings: Structure, Inclusion, and "Team Care". Am J Hosp Palliat Care. 2016 Jul; 33(6):585-93. PMID: 25794871.
Published on 4/28/2014
Chang BH, Stein NR, Skarf LM. Spiritual distress of military veterans at the end of life. Palliat Support Care. 2015 Jun; 13(3):635-9. PMID: 24773768.
Published on 2/17/2014
Zimmerman KM, Salow M, Skarf LM, Kostas T, Paquin A, Simone MJ, Rudolph J. Increasing anticholinergic burden and delirium in palliative care inpatients. Palliat Med. 2014 Apr; 28(4):335-41. PMID: 24534725.
Published on 10/1/2013
Ghidei L, Simone MJ, Salow MJ, Zimmerman KM, Paquin AM, Skarf LM, Kostas TR, Rudolph JL. Aging, antiretrovirals, and adherence: a meta analysis of adherence among older HIV-infected individuals. Drugs Aging. 2013 Oct; 30(10):809-19. PMID: 23959913.
View full list of 16 publications.