Kyu Chan Kim MD
Assistant Professor, Rheumatology
72 East Concord Street | (617) 638-4312

bevochan@bu.edu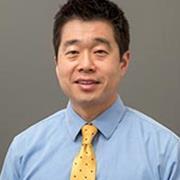 Centers
Arthritis & Autoimmune Diseases Research Center
Biography
Kyu Chan Kim, MD is an Instructor of Rheumatology (Arthritis) at Chobanian and Avedisian School of Medicine. Dr. Kim attended medical school at Tulane University School of Medicine. He trained at Boston University for rheumatology fellowship. The research interests have been hip osteoarthritis and has been a recipient for Rheumatology Research Foundation. He is also one of the musculoskeletal ultrasound trained rheumatologists and has help teach many fellows earn their USSONAR certification.
Education
Medicine-Internal, MD, Tulane University School of Medicine, 2008
Biochemistry, BS, University of Texas at Austin, 2000
Publications
Published on 10/1/2018
Kim C, Nevitt M, Guermazi A, Niu J, Clancy M, Tolstykh I, Jungmann PM, Lane NE, Segal NA, Harvey WF, Lewis CE, Felson DT. Brief Report: Leg Length Inequality and Hip Osteoarthritis in the Multicenter Osteoarthritis Study and the Osteoarthritis Initiative. Arthritis Rheumatol. 2018 10; 70(10):1572-1576. PMID: 29700988.
Published on 9/16/2016
Willard D, Upadhyay J, Kim C, Steenkamp D. Diabetic Ketoacidosis Without Diabetes. J Clin Endocrinol Metab. 2016 Nov; 101(11):3870-3873. PMID: 27636019.
Published on 12/2/2015
Kim C, Nevitt MC, Niu J, Clancy MM, Lane NE, Link TM, Vlad S, Tolstykh I, Jungmann PM, Felson DT, Guermazi A. Association of hip pain with radiographic evidence of hip osteoarthritis: diagnostic test study. BMJ. 2015; 351:h5983. PMID: 26631296.
Published on 11/1/2014
Kim C, Linsenmeyer KD, Vlad SC, Guermazi A, Clancy MM, Niu J, Felson DT. Prevalence of radiographic and symptomatic hip osteoarthritis in an urban United States community: the Framingham osteoarthritis study. Arthritis Rheumatol. 2014 Nov; 66(11):3013-7. PMID: 25103598.
Published on 1/1/2003
Jiang G, Yang F, Li M, Weissbecker K, Price S, Kim KC, La Russa VF, Safah H, Ehrlich M. Imatinib (ST1571) provides only limited selectivity for CML cells and treatment might be complicated by silent BCR-ABL genes. Cancer Biol Ther. 2003 Jan-Feb; 2(1):103-8. PMID: 12673129.
View full list of 5 publications.