Kim Vanuytsel PhD
Assistant Professor, Hematology & Medical Oncology
670 Albany St | (617) 358-0736

kimvan@bu.edu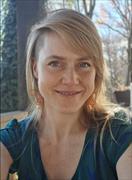 Sections
Hematology & Medical Oncology
Centers
Center for Regenerative Medicine
Biography
Dr. Kim Vanuytsel is a stem cell biologist with expertise in developmental hematopoiesis, red blood cell development and hematopoietic stem cell biology. As part of the research community at Boston University and Boston Medical Center, she has focused on developing tools and resources that help us understand important concepts in hematopoietic development with the goal of translating this knowledge into the realization of the immense potential that induced pluripotent stem cells (iPSCs) and hematopoietic stem cells hold for disease modeling and regenerative medicine.
With her work, Dr. Vanuytsel aims to find better solutions for patients suffering from blood disorders. To achieve this, her lab 1) studies hematopoietic development and the biology of blood stem cells to improve hematopoietic stem cell transplantation outcomes and 2) generates red blood cells from sickle cell disease patient-specific iPSCs to assess novel therapeutic options across the diverse patient population served at Boston Medical Center.
Websites
Education
PhD, Katholieke Univ Leuven, 2014
Biotechnology, MS, Katholieke Univ Leuven, 2008
Publications
Published on 7/19/2022
Sae-Lee W, McCafferty CL, Verbeke EJ, Havugimana PC, Papoulas O, McWhite CD, Houser JR, Vanuytsel K, Murphy GJ, Drew K, Emili A, Taylor DW, Marcotte EM. The protein organization of a red blood cell. Cell Rep. 2022 Jul 19; 40(3):111103. PMID: 35858567.
Published on 4/11/2022
Teo WW, Cao X, Wu CS, Tan HK, Zhou Q, Gao C, Vanuytsel K, Kumar SS, Murphy GJ, Yang H, Chai L, Tenen DG. Non-coding RNA LEVER sequestration of PRC2 can mediate long range gene regulation. Commun Biol. 2022 Apr 11; 5(1):343. PMID: 35411071.
Published on 3/7/2022
Vanuytsel K, Yeung AK, Dowrey TW, Murphy GJ, Belkina AC. CPHEN-013: Comprehensive phenotyping of hematopoietic stem and progenitor cells in the human fetal liver. Cytometry A. 2022 Nov; 101(11):903-908. PMID: 35253987.
Published on 3/1/2022
Vanuytsel K, Villacorta-Martin C, Lindstrom-Vautrin J, Wang Z, Garcia-Beltran WF, Vrbanac V, Parsons D, Lam EC, Matte TM, Dowrey TW, Kumar SS, Li M, Wang F, Yeung AK, Mostoslavsky G, Dries R, Campbell JD, Belkina AC, Balazs AB, Murphy GJ. Multi-modal profiling of human fetal liver hematopoietic stem cells reveals the molecular signature of engraftment. Nat Commun. 2022 03 01; 13(1):1103. PMID: 35232959.
Published on 10/19/2020
Wagner DE, Ikonomou L, Gilpin SE, Magin CM, Cruz F, Greaney A, Magnusson M, Chen YW, Davis B, Vanuytsel K, Rolandsson Enes S, Krasnodembskaya A, Lehmann M, Westergren-Thorsson G, Stegmayr J, Alsafadi HN, Hoffman ET, Weiss DJ, Ryan AL. Stem Cells, Cell Therapies, and Bioengineering in Lung Biology and Disease 2019. ERJ Open Res. 2020 Oct; 6(4). PMID: 33123557.
Published on 9/15/2020
Giadone RM, Mithal A, Miller GJ, Matte TM, Yeung AK, Dowrey TW, Werder RB, Miller NS, Andry CD, Vanuytsel K, Murphy GJ. qRT-PCR Platforms for Diagnosing and Reporting SARS-CoV-2 Infection in Human Samples. STAR Protoc. 2020 Sep 18; 1(2):100102. PMID: 32954369.
Published on 5/19/2020
Vanuytsel K, Mithal A, Giadone RM, Yeung AK, Matte TM, Dowrey TW, Werder RB, Miller GJ, Miller NS, Andry CD, Murphy GJ. Rapid Implementation of a SARS-CoV-2 Diagnostic Quantitative Real-Time PCR Test with Emergency Use Authorization at a Large Academic Safety Net Hospital. Med (N Y). 2020 Dec 18; 1(1):152-157.e3. PMID: 32838351.
Published on 3/18/2020
Vanuytsel K, Cai Q, Khurana S, Shetty S, Vermeesch JR, Ordovas L, Verfaillie CM. Corrigendum to "FANCA knockout in human embryonic stem cells causes a severe growth disadvantage" [Stem Cell Res.13/2 (2014) 240-50]. Stem Cell Res. 2020 04; 44:101763. PMID: 32199280.
Published on 11/7/2019
Steinberg MH, Kumar S, Murphy GJ, Vanuytsel K. Sickle cell disease in the era of precision medicine: looking to the future. Expert Rev Precis Med Drug Dev. 2019; 4(6):357-367. PMID: 33015364.
Published on 1/1/2019
Vanuytsel K, Steinberg MH, Murphy GJ. In: Haruhisa Inoue, Yukio Nakamura (Eds.), Medical Applications of iPS Cells. Recapitulating Hematopoietic Development in a Dish. 2019; 45-71.
View full list of 21 publications.