Khether E. Raby MD FACC
Voluntary Assistant Professor, Cardiovascular Medicine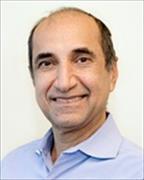 Sections
Cardiovascular Medicine
Websites
Education
MD, Columbia University, 1981
MS, Harvard School of Public Health, 1992
BS, Muhlenberg College, 1977
Publications
Published on 12/1/2006
Korach A, Menon P, Dhadly M, Raby KE, Shemin RJ, Shapira OM. Anomalous left main coronary artery from the main pulmonary artery in an elderly patient. Ann Thorac Surg. 2006 Dec; 82(6):2285-7. PMID: 17126156.
Published on 1/1/2000
Raby KE. Is preoperative cardiac testing necessary among vascular surgery patients? Vasc Med. 2000; 5(1):1-2. PMID: 10737149.
Published on 3/1/1999
Raby KE, Brull SJ, Timimi F, Akhtar S, Rosenbaum S, Naimi C, Whittemore AD. The effect of heart rate control on myocardial ischemia among high-risk patients after vascular surgery. Anesth Analg. 1999 Mar; 88(3):477-82. PMID: 10071990.
Published on 4/1/1998
Vita JA, Keaney JF, Raby KE, Morrow JD, Freedman JE, Lynch S, Koulouris SN, Hankin BR, Frei B. Low plasma ascorbic acid independently predicts the presence of an unstable coronary syndrome. J Am Coll Cardiol. 1998 Apr; 31(5):980-6. PMID: 9561997.
Published on 1/21/1997
Andrews TC, Raby K, Barry J, Naimi CL, Allred E, Ganz P, Selwyn AP. Effect of cholesterol reduction on myocardial ischemia in patients with coronary disease. Circulation. 1997 Jan 21; 95(2):324-8. PMID: 9008444.
Published on 1/1/1995
Gerhard M, Baum P, Raby KE. Peripheral arterial-vascular disease in women: prevalence, prognosis, and treatment. Cardiology. 1995; 86(4):349-55. PMID: 7553710.
Published on 6/1/1994
Ganz LI, Andrews TC, Barry J, Raby KE. Silent ischemia preceding sudden cardiac death in a patient after vascular surgery. Am Heart J. 1994 Jun; 127(6):1652-4. PMID: 8198005.
Published on 10/15/1993
Raby KE, Barry J, Treasure CB, Hirsowitz G, Fantasia G, Selwyn AP. Usefulness of Holter monitoring for detecting myocardial ischemia in patients with nondiagnostic exercise treadmill test. Am J Cardiol. 1993 Oct 15; 72(12):889-93. PMID: 8213544.
Published on 8/1/1993
Raby KE, Vita JA, Rocco MB, Yeung AC, Ganz P, Fantasia G, Barry J, Selwyn AP. Changing vasomotor responses of coronary arteries to nifedipine. Am Heart J. 1993 Aug; 126(2):333-8. PMID: 8338003.
Published on 7/1/1993
Anderson TJ, Meredith IT, Selwyn AP, Raby KE. Myocardial revascularization before repair of an aortic aneurysm. Mayo Clin Proc. 1993 Jul; 68(7):713-5. PMID: 8350648.
View full list of 23 publications.