Kevin Douglas Gross ScD
Adjunct Assistant Professor, Rheumatology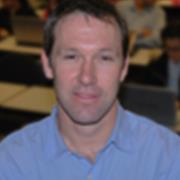 Centers
Arthritis & Autoimmune Diseases Research Center
Biography
K. Douglas Gross, MPT, DPT, ScD, FAAOMPT, CPed, is Associate Professor in the Department of Physical Therapy in the School of Health and Rehabilitation Sciences at the MGH Institute of Health Professions. Prior to his arrival, Dr. Gross earned a Master of Physical Therapy degree from UC San Francisco and a Doctor of Science degree in Rehabilitation Science from Boston University. He completed a post-doctoral training program in Clinical Epidemiology at the Chobanian and Avedisian School of Medicine with graduate studies in Epidemiology at the Boston University School of Public Health. His post-professional Doctor of Physical Therapy degree was awarded by the MGH Institute.

Dr. Gross is a full fellow of the American Academy of Orthopedic Manual Physical Therapy and a respected clinical instructor of manual and manipulative techniques. He is also a Certified Pedorthist with expertise in the design and modification of therapeutic footwear to treat neuromusculoskeletal disorders. He is actively pursuing a line of clinical research focused on the identification of biomechanical risk factors for lower extremity osteoarthritis, and their modification using specialized footwear and other non-invasive devices.

In addition to teaching courses in the post-professional curricula at MGH Institute, Dr. Gross mentors students at all levels in the methods of evidenced-based practice and the design and conduct of health sciences research.
Education
Rehabilitation Science, ScD, Boston University, 2006
Epidemiology, MSc, Boston University School of Public Health, 2012
Physical Therapy, MSc, University of California San Francisco, 1996
Environmental Science, BS, University of California, Berkeley, 1991
Publications
Published on 3/20/2021
Costello KE, Felson DT, Neogi T, Segal NA, Lewis CE, Gross KD, Nevitt MC, Lewis CL, Kumar D. Ground reaction force patterns in knees with and without radiographic osteoarthritis and pain: descriptive analyses of a large cohort (the Multicenter Osteoarthritis Study). Osteoarthritis Cartilage. 2021 08; 29(8):1138-1146. PMID: 33757856.
Published on 2/5/2021
Joyce C, Roseen EJ, Keysor JJ, Gross KD, Culpepper L, Saper RB. Can Yoga or Physical Therapy for Chronic Low Back Pain Improve Depression and Anxiety Among Adults From a Racially Diverse, Low-Income Community? A Secondary Analysis of a Randomized Controlled Trial. Arch Phys Med Rehabil. 2021 06; 102(6):1049-1058. PMID: 33556352.
Published on 6/16/2020
Fu K, Metcalf BR, Bennell KL, Zhang Y, Gross KD, Mills K, Deveza LA, Robbins SR, Hunter DJ. Is Heel Height Associated with Pain Exacerbations in Hip Osteoarthritis Patients?-Results from a Case-Crossover Study. J Clin Med. 2020 Jun 16; 9(6). PMID: 32560086.
Published on 5/11/2020
Heronemus MJ, Rabe K, Tolstykh I, Gross KD, Wise BL, Nevitt MC, Lewis CE, Hillstrom HJ, Segal NA. The Association of Parity with Greater Dynamic Pronation of the Feet. PM R. 2021 02; 13(2):144-152. PMID: 32281293.
Published on 1/1/2020
Hart HF, Gross KD, Crossley KM, Barton CJ, Felson DT, Guermazi A, Roemer F, Segal NA, Lewis CE, Nevitt MC, Stefanik JJ. Step Rate and Worsening of Patellofemoral and Tibiofemoral Joint Osteoarthritis in Women and Men: The Multicenter Osteoarthritis Study. Arthritis Care Res (Hoboken). 2020 01; 72(1):107-113. PMID: 30821927.
Published on 8/19/2019
Wink AE, Gross KD, Brown CA, Lewis CE, Torner J, Nevitt MC, Tolstykh I, Sharma L, Felson DT. Association of Varus Knee Thrust During Walking With Worsening Western Ontario and McMaster Universities Osteoarthritis Index Knee Pain: A Prospective Cohort Study. Arthritis Care Res (Hoboken). 2019 10; 71(10):1353-1359. PMID: 30242985.
Published on 7/17/2019
Futrell EE, Gross KD, Reisman D, Mullineaux DR, Davis IS. Transition to forefoot strike reduces load rates more effectively than altered cadence. J Sport Health Sci. 2020 05; 9(3):248-257. PMID: 32444149.
Published on 1/27/2017
Lufler RS, Stefanik JJ, Niu J, Sawyer FK, Hoagland TM, Gross KD. The Association of Forefoot Varus Deformity with Patellofemoral Cartilage Damage in Older Adult Cadavers. Anat Rec (Hoboken). 2017 Jun; 300(6):1032-1038. PMID: 27884055.
Published on 6/1/2016
Stefanik JJ, Gross KD, Guermazi A, Felson DT, Roemer FW, Niu J, Lynch JA, Segal NA, Lewis CE, Lewis CL. Relation of Step Length to Magnetic Resonance Imaging-Detected Structural Damage in the Patellofemoral Joint: The Multicenter Osteoarthritis Study. Arthritis Care Res (Hoboken). 2016 Jun; 68(6):776-83. PMID: 26413842.
Published on 8/28/2015
White DK, Tudor-Locke C, Zhang Y, Niu J, Felson DT, Gross KD, Nevitt MC, Lewis CE, Torner J, Neogi T. Prospective change in daily walking over 2 years in older adults with or at risk of knee osteoarthritis: the MOST study. Osteoarthritis Cartilage. 2016 Feb; 24(2):246-53. PMID: 26318659.
View full list of 33 publications.