Katy Bockstall MD
Assistant Professor, Cardiovascular Medicine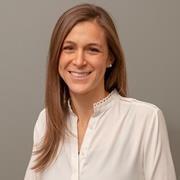 Sections
Cardiovascular Medicine
Biography
Katy Bockstall, MD is an Assistant Professor of Medicine at Chobanian and Avedisian School of Medicine, as well as an Associate Program Director of the Cardiovascular Medicine Fellowship Program. She received her medical degree from Tufts University School of Medicine and completed a residency in Internal Medicine at Mount Sinai Hospital in New York. She was then a fellow in Cardiovascular Disease at New York University Langone Medical Center. Her clinical interests include echocardiography and hypertension, and she is an attending cardiologist in the Hypertension specialty clinic within the Cardiovascular section at Boston Medical Center. Her academic interests focus in medical education, specifically in innovating the electrocardiogram interpretation curriculum for second year medical students.
Education
MD, Tufts University School of Medicine, 2012
Biology, BS, Boston College, 2008
Publications
Published on 11/9/2019
Barbhaiya CR, Knotts RJ, Bockstall K, Bernstein S, Park D, Holmes D, Aizer A, Chinitz LA. Contact-force radiofrequency ablation of non-paroxysmal atrial fibrillation: improved outcomes with increased experience. J Interv Card Electrophysiol. 2020 Jun; 58(1):69-75. PMID: 31707533.
Published on 3/31/2017
Link MS, Bockstall K, Weinstock J, Alsheikh-Ali AA, Semsarian C, Estes NAM, Spirito P, Haas TS, Rowin EJ, Maron MS, Maron BJ. Ventricular Tachyarrhythmias in Patients With Hypertrophic Cardiomyopathy and Defibrillators: Triggers, Treatment, and Implications. J Cardiovasc Electrophysiol. 2017 May; 28(5):531-537. PMID: 28240435.
Published on 10/1/2012
Bockstall KE, Link MS. A primer on arrhythmias in patients with hypertrophic cardiomyopathy. Curr Cardiol Rep. 2012 Oct; 14(5):552-62. PMID: 22825919.
Published on 11/8/2008
Knapp AA, McManus PM, Bockstall K, Moroianu J. Identification of the nuclear localization and export signals of high risk HPV16 E7 oncoprotein. Virology. 2009 Jan 05; 383(1):60-8. PMID: 18996550.
View full list of 4 publications.