Katherine Modzelewski MD
Assistant Professor, Endocrinology, Diabetes, Nutrition & Weight Management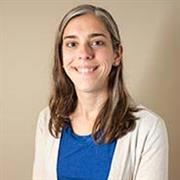 Sections
Endocrinology, Diabetes, Nutrition & Weight Management
Biography
Katherine Modzelewski, MD, is an Assistant Professor of Medicine at the Chobanian and Avedisian School of Medicine and a practicing clinical endocrinologist in the Section of Endocrinology, Diabetes and Nutrition at Boston Medical Center. Her clinical interests include mobile health, diabetes technology, transgender health and general endocrinology, with a clinical research interest in diabetes outcomes, mobile health and technology usage in underserved populations.
Websites
Education
Medicine-Internal, MD, New York Medical College, 2012
Biology, BS, Boston College, 2008
Publications
Published on 4/3/2023
Lee SY, Modzelewski KL, Law AC, Walkey AJ, Pearce EN, Bosch NA. Comparison of Propylthiouracil vs Methimazole for Thyroid Storm in Critically Ill Patients. JAMA Netw Open. 2023 Apr 03; 6(4):e238655. PMID: 37067797.
Published on 5/18/2022
Rampon G, Jia S, Agrawal R, Arnold N, Martín-Quir?s A, Fischer EA, Malatack J, Jagan N, Sergew A, Case AH, Miller K, Tanios M, Doros G, Ross CS, Garcia MA, Gillmeyer KR, Griffiths NG, Jandali B, Modzelewski KL, Rucci JM, Simpson SQ, Walkey AJ, Bosch NA. Smartphone-Guided Self-prone Positioning vs Usual Care in Nonintubated Hospital Ward Patients With COVID-19: A Pragmatic Randomized Clinical Trial. Chest. 2022 Oct; 162(4):782-791. PMID: 35597286.
Published on 2/16/2022
Modzelewski KL, Murati J, Charoenngam N, Rehm C, Steenkamp DW. Delays in Continuous Glucose Monitoring Device Initiation: A Single Center Experience and a Call to Change. Diabetes Technol Ther. 2022 Jun; 24(6):390-395. PMID: 35099277.
Published on 2/9/2022
Fantasia KL, Demers LB, Steenkamp DW, Modzelewski KL. An Opportunity for Improvement: Evaluation of Diabetes Technology Education Among Adult Endocrinology Training Programs. J Diabetes Sci Technol. 2022 Feb 09; 19322968221077132. PMID: 35135342.
Published on 10/29/2021
Modzelewski KL, Cannavo A, Fantasia KL, Korpaisarn S, Alexanian SM. A quality improvement initiative to successfully reduce the frequency of hypoglycemia during treatment of hyperglycemic crises at an academic safety-net hospital: Insights and results. J Clin Transl Endocrinol. 2021 Dec; 26:100269. PMID: 34804807.
Published on 9/1/2021
Garcia MA, Rampon GL, Doros G, Jia S, Jagan N, Gillmeyer K, Berical A, Hudspeth J, Ieong M, Modzelewski KL, Schechter-Perkins EM, Ross CS, Rucci JM, Simpson S, Walkey AJ, Bosch NA. Rationale and Design of the Awake Prone Position for Early Hypoxemia in COVID-19 Study Protocol: A Clinical Trial. Ann Am Thorac Soc. 2021 09; 18(9):1560-1566. PMID: 33647225.
Published on 2/5/2021
Bosch NA, Fantasia KL, Modzelewski KL, Alexanian SM, Walkey AJ. Guideline-Concordant Insulin Infusion Initiation Among Critically Ill Patients With Sepsis. Endocr Pract. 2021 Jun; 27(6):552-560. PMID: 33549815.
Published on 2/1/2021
Bosch NA, Fantasia KL, Modzelewski KL, Alexanian SM, Walkey AJ. Racial Disparities in Guideline-Concordant Insulin Infusions during Critical Illness. Ann Am Thorac Soc. 2021 02; 18(2):368-371. PMID: 33001705.
Published on 1/11/2021
Wirunsawanya K, Chittimoju S, Fantasia KL, Modzelewski KL, Steenkamp D, Alexanian SM. Insulin Requirements in Patients With Type 2 Diabetes Undergoing Bariatric Surgery in the Inpatient Setting and Upon Discharge: A Single-Center Retrospective Analysis of Insulin Management Strategies. Endocr Pract. 2021 Jun; 27(6):538-544. PMID: 34016530.
Published on 10/29/2019
KL Modzelewski, KL Fantasia, DW Steenkamp. Reconsidering Meaningful Outcomes in Diabetes mHealth Research. US Endocrinology. 2019; 2(15):74-6.
View full list of 17 publications.