Karlynn Dulberger PhD
Postdoctoral Associate , Hematology & Oncology
EBRC (X Bldg) | (617) 638-7011

karlynn@bu.edu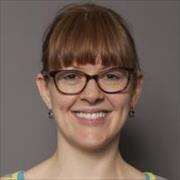 Publications
Published on 1/1/2019
Guthmiller JJ, Dugan HL, Neu KE, Lan LY, Wilson PC. An Efficient Method to Generate Monoclonal Antibodies from Human B Cells. Methods Mol Biol. 2019; 1904:109-145. PMID: 30539468.
Published on 11/19/2018
Neu KE, Guthmiller JJ, Huang M, La J, Vieira MC, Kim K, Zheng NY, Cortese M, Tepora ME, Hamel NJ, Rojas KT, Henry C, Shaw D, Dulberger CL, Pulendran B, Cobey S, Khan AA, Wilson PC. Spec-seq unveils transcriptional subpopulations of antibody-secreting cells following influenza vaccination. J Clin Invest. 2019 Jan 02; 129(1):93-105. PMID: 30457979.
Published on 4/5/2018
Chen YQ, Wohlbold TJ, Zheng NY, Huang M, Huang Y, Neu KE, Lee J, Wan H, Rojas KT, Kirkpatrick E, Henry C, Palm AE, Stamper CT, Lan LY, Topham DJ, Treanor J, Wrammert J, Ahmed R, Eichelberger MC, Georgiou G, Krammer F, Wilson PC. Influenza Infection in Humans Induces Broadly Cross-Reactive and Protective Neuraminidase-Reactive Antibodies. Cell. 2018 Apr 05; 173(2):417-429.e10. PMID: 29625056.
Published on 6/20/2017
Dulberger CL, McMurtrey CP, Hölzemer A, Neu KE, Liu V, Steinbach AM, Garcia-Beltran WF, Sulak M, Jabri B, Lynch VJ, Altfeld M, Hildebrand WH, Adams EJ. Human Leukocyte Antigen F Presents Peptides and Regulates Immunity through Interactions with NK Cell Receptors. Immunity. 2017 Jun 20; 46(6):1018-1029.e7. PMID: 28636952.
Published on 2/1/2017
Canzar S, Neu KE, Tang Q, Wilson PC, Khan AA. BASIC: BCR assembly from single cells. Bioinformatics. 2017 Feb 01; 33(3):425-427. PMID: 28172415.
Published on 1/13/2017
Neu KE, Tang Q, Wilson PC, Khan AA. Single-Cell Genomics: Approaches and Utility in Immunology. Trends Immunol. 2017 Feb; 38(2):140-149. PMID: 28094102.
Published on 9/4/2016
Ho IY, Bunker JJ, Erickson SA, Neu KE, Huang M, Cortese M, Pulendran B, Wilson PC. Refined protocol for generating monoclonal antibodies from single human and murine B cells. J Immunol Methods. 2016 Nov; 438:67-70. PMID: 27600311.
Published on 6/3/2016
Neu KE, Henry Dunand CJ, Wilson PC. Heads, stalks and everything else: how can antibodies eradicate influenza as a human disease? Curr Opin Immunol. 2016 Oct; 42:48-55. PMID: 27268395.
Published on 3/15/2016
Neu KE, Wilson PC. Taking the Broad View on B Cell Affinity Maturation. Immunity. 2016 Mar 15; 44(3):518-520. PMID: 26982359.
Published on 11/18/2010
Bae JJ, Neu KE, Halterman D, Jansky S. Development of a potato seedling assay to screen for resistance to Verticillium dahliae. Plant Breeding. 2010.
View full list of 10 publications.