Karen E. Lasser MD, MPH
Professor, General Internal Medicine
Professor, Community Health Sciences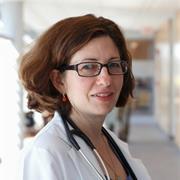 Sections
General Internal Medicine
Centers
Clinical Addiction Research and Education Unit
Evans Center for Interdisciplinary Biomedical Research
Biography
Dr. Lasser is a primary care internist, certified by the American Board of Internal Medicine, and a health services researcher. She is a Senior Editor at JAMA.

Her primary areas of expertise and research are quality of care, interventions to reduce health disparities, health policy, smoking cessation, and primary care practice-based research.

She is the author of over 80 peer-reviewed publications, was the former Director of Ambulatory Quality Improvement for the Department of Medicine at Cambridge Health Alliance/Harvard Medical School, and has held several quality leadership roles at Boston Medical Center. Her research has been supported by NIDA, NHLBI, AHRQ, CDC, and the American Cancer Society.
Other Positions
Websites
Education
Medicine, MD, Cornell University Medical College, 1995
Clinical Evaluation/Research, MPH, Harvard School of Public Health, 2001
History, AB, Harvard University, 1990
Publications
Published on 5/27/2022
Jirmanus LZ, Ranker L, Touw S, Mahmood R, Kimball SL, Hanchate A, Lasser KE. Impact of United States 2017 Immigration Policy changes on missed appointments at two Massachusetts Safety-Net Hospitals. J Immigr Minor Health. 2022 Aug; 24(4):807-818. PMID: 35624394.
Published on 5/1/2022
Lasser KE, Ilori TO, Dedier JJ. Kidney Disease Mortality in the USA: a Call for Eliminating Inequities. J Gen Intern Med. 2022 May; 37(6):1349-1350. PMID: 35266126.
Published on 8/27/2021
Greco CM, Gaylord SA, Faurot K, Weinberg JM, Gardiner P, Roth I, Barnhill JL, Thomas HN, Dhamne SC, Lathren C, Baez JE, Lawrence S, Neogi T, Lasser KE, Castro MG, White AM, Simmons SJ, Ferrao C, Binda DD, Elhadidy N, Eason KM, McTigue KM, Morone NE. The design and methods of the OPTIMUM study: A multisite pragmatic randomized clinical trial of a telehealth group mindfulness program for persons with chronic low back pain. Contemp Clin Trials. 2021 10; 109:106545. PMID: 34455111.
Published on 8/17/2021
Larochelle MR, Cruz R, Kosakowski S, Gourlay DL, Alford DP, Xuan Z, Krebs EE, Yan S, Lasser KE, Samet JH, Liebschutz JM. Do Urine Drug Tests Reveal Substance Misuse Among Patients Prescribed Opioids for Chronic Pain? J Gen Intern Med. 2022 Aug; 37(10):2365-2372. PMID: 34405344.
Published on 6/1/2021
Lasser KE, Liu Z, Lin MY, Paasche-Orlow MK, Hanchate A. Changes in Hospitalizations at US Safety-Net Hospitals Following Medicaid Expansion. JAMA Netw Open. 2021 06 01; 4(6):e2114343. PMID: 34191000.
Published on 6/1/2021
Janeway MG, Sanchez SE, Rosen AK, Patts G, Allee LC, Lasser KE, Dechert TA. Disparities in Utilization of Ambulatory Cholecystectomy: Results From Three States. J Surg Res. 2021 10; 266:373-382. PMID: 34087621.
Published on 1/1/2021
Bagley SM, Ventura AS, Lasser KE, Muench F. Engaging the Family in the Care of Young Adults With Substance Use Disorders. Pediatrics. 2021 01; 147(Suppl 2):S215-S219. PMID: 33386324.
Published on 11/29/2020
Jia J, Jenkins AJ, Quintiliani LM, Truong V, Lasser KE. Resilience and diabetes self-management among African-American men receiving primary care at an urban safety-net hospital: a cross-sectional survey. Ethn Health. 2022 Jul; 27(5):1178-1187. PMID: 33249921.
Published on 9/15/2020
Quintiliani LM, Kathuria H, Truong V, Murillo J, Borrelli B, Xuan Z, Lasser KE. Patient navigation among recently hospitalized smokers to promote tobacco treatment: Results from a randomized exploratory pilot study. Addict Behav. 2021 02; 113:106659. PMID: 33010473.
Published on 7/10/2020
Hsu HE, Ashe EM, Silverstein M, Hofman M, Lange SJ, Razzaghi H, Mishuris RG, Davidoff R, Parker EM, Penman-Aguilar A, Clarke KEN, Goldman A, James TL, Jacobson K, Lasser KE, Xuan Z, Peacock G, Dowling NF, Goodman AB. Race/Ethnicity, Underlying Medical Conditions, Homelessness, and Hospitalization Status of Adult Patients with COVID-19 at an Urban Safety-Net Medical Center - Boston, Massachusetts, 2020. MMWR Morb Mortal Wkly Rep. 2020 Jul 10; 69(27):864-869. PMID: 32644981.
View full list of 87 publications.