Justin Chih Chao Yang MD, MPH
Voluntary Assistant Professor, General Internal Medicine
801 Massachusetts Ave | (650) 796-1586

cyang99@bu.edu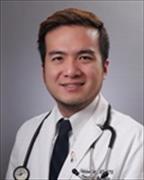 Sections
General Internal Medicine
Biography
Chih Chao "Justin" Yang, MD, MPH, is the Medical Director of Manet's Urgent Care and Occupational Health Center. Dr. Yang's specialties include both Internal Medicine and Occupational Medicine. Since joining Manet in 2018, Dr. Yang has focused on serving patients with chronic diseases, treating occupational injuries and providing LGBTIQA+ care.

Dr. Yang is also an Assistant Professor of Medicine at Chobanian and Avedisian School of Medicine. He earned his medical degree at Peking University and his Master of Public Health degree at Harvard University. He completed his residency in Internal Medicine at St. Elizabeth's Medical Center, Tufts University School of Medicine, and a second residency and fellowship in Occupational & Environmental Medicine at Harvard T.H. Chan School of Public Health with training at Cambridge Health Alliance, Harvard Medical School.

Dr. Yang has extensive research experience and numerous publications in cardiovascular disease prevention. Most recently, his research on the relationship between push-ups and heart disease was published in JAMA and received worldwide media attention. Dr. Yang is fluent in Mandarin and Taiwanese.
Websites
Education
Medicine, MD, Peking University, 2009
Global Health, MPH, Harvard School of Public Health, 2012
Publications
Published on 2/1/2019
Yang J, Christophi CA, Farioli A, Baur DM, Moffatt S, Zollinger TW, Kales SN. Association Between Push-up Exercise Capacity and Future Cardiovascular Events Among Active Adult Men. JAMA Netw Open. 2019 02 01; 2(2):e188341. PMID: 30768197.
Published on 10/13/2017
Grosso G, Marventano S, Yang J, Micek A, Pajak A, Scalfi L, Galvano F, Kales SN. A comprehensive meta-analysis on evidence of Mediterranean diet and cardiovascular disease: Are individual components equal? Crit Rev Food Sci Nutr. 2017 Oct 13; 57(15):3218-3232. PMID: 26528631.
Published on 8/31/2016
Korre M, Porto LG, Farioli A, Yang J, Christiani DC, Christophi CA, Lombardi DA, Kovacs RJ, Mastouri R, Abbasi S, Steigner M, Moffatt S, Smith D, Kales SN. Effect of Body Mass Index on Left Ventricular Mass in Career Male Firefighters. Am J Cardiol. 2016 Dec 01; 118(11):1769-1773. PMID: 27687051.
Published on 1/1/2016
Korre M, Yang J, Kales SN, et al. Cardiac Enlargement in US Firefighters: Prevalence Estimates by Echocardiography, Cardiac Magnetic Resonance and Autopsies. Journal of Clinical & Experimental Cardiology. 2016; 7(7).
Published on 7/1/2015
Yang J, Farioli A, Korre M, Kales SN. Dietary Preferences and Nutritional Information Needs Among Career Firefighters in the United States. Glob Adv Health Med. 2015 Jul; 4(4):16-23. PMID: 26331100.
Published on 2/4/2015
Grosso G, Yang J, Marventano S, Micek A, Galvano F, Kales SN. Nut consumption on all-cause, cardiovascular, and cancer mortality risk: a systematic review and meta-analysis of epidemiologic studies. Am J Clin Nutr. 2015 Apr; 101(4):783-93. PMID: 25833976.
Published on 8/7/2014
Farioli A, Yang J, Teehan D, Baur DM, Smith DL, Kales SN. Duty-related risk of sudden cardiac death among young US firefighters. Occup Med (Lond). 2014 Sep; 64(6):428-35. PMID: 25104277.
Published on 2/4/2014
Yang J, Farioli A, Korre M, Kales SN. Modified Mediterranean diet score and cardiovascular risk in a North American working population. PLoS One. 2014; 9(2):e87539. PMID: 24503596.
Published on 1/1/2014
Korre M, Tsoukas MA, Frantzeskou E, Yang J, Kales SN. Mediterranean Diet and Workplace Health Promotion. Curr Cardiovasc Risk Rep. 2014; 8(12):416. PMID: 25328563.
Published on 9/28/2013
Yang J, Teehan D, Farioli A, Baur DM, Smith D, Kales SN. Sudden cardiac death among firefighters =45 years of age in the United States. Am J Cardiol. 2013 Dec 15; 112(12):1962-7. PMID: 24079519.
View full list of 12 publications.