Julie R. Palmer ScD, MPH
Karin Grunebaum Cancer Research Professor, Hematology & Medical Oncology
Professor, Epidemiology
72 E. Concord Street | (617) 206-6175

jpalmer@bu.edu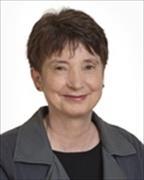 Sections
Hematology & Medical Oncology
Centers
BU-BMC Cancer Center
Evans Center for Interdisciplinary Biomedical Research
Biography
Dr. Palmer is a cancer epidemiologist based at the Slone Epidemiology Center, with research projects spanning cancer early detection, etiology, and survivorship. Her primary focus is on elucidating reasons for the disproportionately high incidence of hormone receptor negative breast cancer in African American women and on understanding and reducing racial disparities in breast cancer mortality. She is a founding leader of the Black Women's Health Study (BWHS), a prospective cohort study of 59,000 African American women who enrolled in 1995 and have been followed by biennial questionnaire since that time. Her breast cancer research within the BWHS includes work on risk prediction models for breast cancer in African American women, identifying differences in childbearing patterns as a contributing cause to the excess incidence of estrogen receptor negative breast cancer in African American women, and investigating the interrelationships of type 2 diabetes, obesity, and inflammation on breast cancer risk. Her current grants support work on somatic mutations, epigenetics, and gene expressions profiles in breast cancer tumors from African American women, setting the stage for a better understanding of the role of epidemiologic and genetic factors in etiology and prognosis. Dr. Palmer has served on many NIH and external advisory committees, including as Chair of the NIH Cancer, Cardiovascular, and Sleep Epidemiology Study Section, 2015-2017, and Co-Chair of a Working Group for the National Cancer Advisory Board, NCI, 2018-2019.
Other Positions
Director, Slone Epidemiology Center
Education
Epidemiology, ScD, Harvard University, 1988
Epidemiology, MPH, Boston University, 1985
Nursing, BS, Boston University, 1980
Religious Studies, BA, Brown University, 1975
Publications
Published on 10/8/2021
Palmer JR, Zirpoli G, Bertrand KA, Battaglia T, Bernstein L, Ambrosone CB, Bandera EV, Troester MA, Rosenberg L, Pfeiffer RM, Trinquart L. A Validated Risk Prediction Model for Breast Cancer in US Black Women. J Clin Oncol. 2021 Oct 08; JCO2101236. PMID: 34623926.
Published on 10/7/2021
Barber LE, Bertrand KA, Petrick JL, Gerlovin H, White LF, Adams-Campbell LL, Rosenberg L, Roy HK, Palmer JR. Predicted vitamin D status and colorectal cancer incidence in the Black Women's Health Study. Cancer Epidemiol Biomarkers Prev. 2021 Oct 07. PMID: 34620630.
Published on 9/9/2021
Petrick JL, Barber LE, Warren Andersen S, Florio AA, Palmer JR, Rosenberg L. Racial Disparities and Sex Differences in Early- and Late-Onset Colorectal Cancer Incidence, 2001-2018. Front Oncol. 2021; 11:734998. PMID: 34568072.
Published on 9/7/2021
Bitsie KR, Cheng TD, McCann SE, Zirpoli G, Yao S, Bandera EV, Kolonel LN, Rosenberg L, Olshan AF, Palmer JR, Ambrosone CB. Dietary Vitamin A and Breast Cancer Risk in Black Women: The African American Breast Cancer Epidemiology and Risk (AMBER) Consortium. J Nutr. 2021 Sep 07. PMID: 34494098.
Published on 9/4/2021
Du Z, Gao G, Adedokun B, Ahearn T, Lunetta KL, Zirpoli G, Troester MA, Ruiz-Narváez EA, Haddad SA, PalChoudhury P, Figueroa J, John EM, Bernstein L, Zheng W, Hu JJ, Ziegler RG, Nyante S, Bandera EV, Ingles SA, Mancuso N, Press MF, Deming SL, Rodriguez-Gil JL, Yao S, Ogundiran TO, Ojengbe O, Bolla MK, Dennis J, Dunning AM, Easton DF, Michailidou K, Pharoah PDP, Sandler DP, Taylor JA, Wang Q, Weinberg CR, Kitahara CM, Blot W, Nathanson KL, Hennis A, Nemesure B, Ambs S, Sucheston-Campbell LE, Bensen JT, Chanock SJ, Olshan AF, Ambrosone CB, Olopade OI, Yarney J, Awuah B, Wiafe-Addai B, Conti DV, Palmer JR, Garcia-Closas M, Huo D, Haiman CA. Evaluating Polygenic Risk Scores for Breast Cancer in Women of African Ancestry. J Natl Cancer Inst. 2021 Sep 04; 113(9):1168-1176. PMID: 33769540.
Published on 8/29/2021
Bertrand KA, O'Brien KM, Wright LB, Palmer JR, Blot WJ, Eliassen AH, Rosenberg L, Sandin S, Tobias D, Weiderpass E, Zheng W, Swerdlow AJ, Schoemaker MJ, Nichols HB, Sandler DP. Gestational diabetes and risk of breast cancer before age 55 years. Int J Epidemiol. 2021 Aug 29. PMID: 34458915.
Published on 8/27/2021
Chen Z, Guo X, Long J, Ping J, Li B, Fadden MK, Ahearn TU, Stram DO, Shu XO, Jia G, Figueroa J, Palmer JR, Sanderson M, Haiman CA, Blot WJ, Garcia-Closas M, Cai Q, Zheng W. Discovery of structural deletions in breast cancer predisposition genes using whole genome sequencing data from?>?2000 women of African-ancestry. Hum Genet. 2021 Oct; 140(10):1449-1457. PMID: 34487234.
Published on 8/2/2021
Wu Y, Huang R, Wang M, Bernstein L, Bethea TN, Chen C, Chen Y, Eliassen AH, Freedman ND, Gaudet MM, Gierach GL, Giles GG, Krogh V, Larsson SC, Liao LM, McCullough ML, Miller AB, Milne RL, Monroe KR, Neuhouser ML, Palmer JR, Prizment A, Reynolds P, Robien K, Rohan TE, Sandin S, Sawada N, Sieri S, Sinha R, Stolzenberg-Solomon RZ, Tsugane S, van den Brandt PA, Visvanathan K, Weiderpass E, Wilkens LR, Willett WC, Wolk A, Zeleniuch-Jacquotte A, Ziegler RG, Smith-Warner SA. Dairy foods, calcium, and risk of breast cancer overall and for subtypes defined by estrogen receptor status: a pooled analysis of 21 cohort studies. Am J Clin Nutr. 2021 08 02; 114(2):450-461. PMID: 33964859.
Published on 7/27/2021
Cozier YC, Castro-Webb N, Hochberg NS, Rosenberg L, Albert MA, Palmer JR. Lower serum 25(OH)D levels associated with higher risk of COVID-19 infection in U.S. Black women. PLoS One. 2021; 16(7):e0255132. PMID: 34314458.
Published on 7/22/2021
Boddicker NJ, Hu C, Weitzel JN, Kraft P, Nathanson KL, Goldgar DE, Na J, Huang H, Gnanaolivu RD, Larson N, Yussuf A, Yao S, Vachon CM, Trentham-Dietz A, Teras L, Taylor JA, Scott CE, Sandler DP, Pesaran T, Patel AV, Palmer JR, Ong IM, Olson JE, O'Brien K, Neuhausen S, Martinez E, Ma H, Lindstrom S, Le Marchand L, Kooperberg C, Karam R, Hunter DJ, Hodge JM, Haiman C, Gaudet MM, Gao C, LaDuca H, Lacey JV, Dolinsky JS, Chao E, Carter BD, Burnside ES, Bertrand KA, Bernstein L, Auer PW, Ambrosone C, Yadav S, Hart SN, Polley EC, Domchek SM, Couch FJ. Risk of Late-Onset Breast Cancer in Genetically Predisposed Women. J Clin Oncol. 2021 Jul 22; JCO2100531. PMID: 34292776.
View full list of 403 publications.