Julie R. Palmer ScD, MPH
Karin Grunebaum Cancer Research Professor, Hematology & Medical Oncology
Professor, Epidemiology
72 E. Concord Street | (617) 206-6175

jpalmer@bu.edu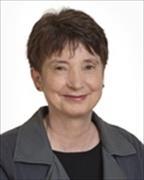 Sections
Hematology & Medical Oncology
Centers
BU-BMC Cancer Center
Evans Center for Interdisciplinary Biomedical Research
Biography
Dr. Palmer is a cancer epidemiologist based at the Slone Epidemiology Center, with research projects spanning cancer early detection, etiology, and survivorship. Her primary focus is on elucidating reasons for the disproportionately high incidence of hormone receptor negative breast cancer in African American women and on understanding and reducing racial disparities in breast cancer mortality. She is a founding leader of the Black Women's Health Study (BWHS), a prospective cohort study of 59,000 African American women who enrolled in 1995 and have been followed by biennial questionnaire since that time. Her breast cancer research within the BWHS includes work on risk prediction models for breast cancer in African American women, identifying differences in childbearing patterns as a contributing cause to the excess incidence of estrogen receptor negative breast cancer in African American women, and investigating the interrelationships of type 2 diabetes, obesity, and inflammation on breast cancer risk. Her current grants support work on somatic mutations, epigenetics, and gene expressions profiles in breast cancer tumors from African American women, setting the stage for a better understanding of the role of epidemiologic and genetic factors in etiology and prognosis. Dr. Palmer has served on many NIH and external advisory committees, including as Chair of the NIH Cancer, Cardiovascular, and Sleep Epidemiology Study Section, 2015-2017, and Co-Chair of a Working Group for the National Cancer Advisory Board, NCI, 2018-2019.
Other Positions
Education
Epidemiology, ScD, Harvard University, 1988
Epidemiology, MPH, Boston University, 1985
Nursing, BS, Boston University, 1980
Religious Studies, BA, Brown University, 1975
Publications
Published on 4/8/2023
Harvey SV, Wentzensen N, Bertrand K, Black A, Brinton LA, Chen C, Costas L, Dal Maso L, De Vivo I, Du M, Garcia-Closas M, Goodman MT, Gorzelitz J, Johnson L, Lacey JV, Liao L, Lipworth L, Lissowska J, Miller AB, O'Connell K, O'Mara TA, Ou X, Palmer JR, Patel AV, Paytubi S, Pelegrina B, Petruzella S, Prizment A, Rohan T, Sandin S, Setiawan VW, Sinha R, Trabert B, Webb PM, Wilkens LR, Xu W, Yang HP, Zheng W, Clarke MA. Associations of life course obesity with endometrial cancer in the Epidemiology of Endometrial Cancer Consortium (E2C2). Int J Epidemiol. 2023 Apr 08. PMID: 37029916.
Published on 4/5/2023
Nichols HB, House MG, Yarosh R, Mitra S, Goldberg M, Bertrand KA, Eliassen AH, Giles GG, Jones ME, Milne RL, O'Brien KM, Palmer JR, Sandin S, Willett WC, Yin W, Sandler DP, Swerdlow AJ, Schoemaker MJ. Hypertensive conditions of pregnancy, preterm birth, and premenopausal breast cancer risk: a premenopausal breast cancer collaborative group analysis. Breast Cancer Res Treat. 2023 Jun; 199(2):323-334. PMID: 37020102.
Published on 3/8/2023
Ilozumba MN, Yaghjyan L, Datta S, Zhao J, Gong Z, Hong CC, Lunetta KL, Zirpoli G, Bandera EV, Palmer JR, Yao S, Ambrosone CB, Cheng TD. mTOR pathway candidate genes and physical activity interaction on breast cancer risk in black women from the women's circle of health study. Breast Cancer Res Treat. 2023 May; 199(1):137-146. PMID: 36882608.
Published on 3/6/2023
Carreras-Torres R, Kim AE, Lin Y, Díez-Obrero V, Bien SA, Qu C, Wang J, Dimou N, Aglago EK, Albanes D, Arndt V, Baurley JW, Berndt SI, Bézieau S, Bishop DT, Bouras E, Brenner H, Budiarto A, Campbell PT, Casey G, Chan AT, Chang-Claude J, Chen X, Conti DV, Dampier CH, Devall MAM, Drew DA, Figueiredo JC, Gallinger S, Giles GG, Gruber SB, Gsur A, Gunter MJ, Harrison TA, Hidaka A, Hoffmeister M, Huyghe JR, Jenkins MA, Jordahl KM, Kawaguchi E, Keku TO, Kundaje A, Le Marchand L, Lewinger JP, Li L, Mahesworo B, Morrison JL, Murphy N, Nan H, Nassir R, Newcomb PA, Obón-Santacana M, Ogino S, Ose J, Pai RK, Palmer JR, Papadimitriou N, Pardamean B, Peoples AR, Pharoah PDP, Platz EA, Rennert G, Ruiz-Narvaez E, Sakoda LC, Scacheri PC, Schmit SL, Schoen RE, Shcherbina A, Slattery ML, Stern MC, Su YR, Tangen CM, Thomas DC, Tian Y, Tsilidis KK, Ulrich CM, van Duijnhoven FJB, Van Guelpen B, Visvanathan K, Vodicka P, Cenggoro TW, Weinstein SJ, White E, Wolk A, Woods MO, Hsu L, Peters U, Moreno V, Gauderman WJ. Genome-wide Interaction Study with Smoking for Colorectal Cancer Risk Identifies Novel Genetic Loci Related to Tumor Suppression, Inflammation, and Immune Response. Cancer Epidemiol Biomarkers Prev. 2023 Mar 06; 32(3):315-328. PMID: 36576985.
Published on 2/15/2023
Ilozumba MN, Yaghjyan L, Datta S, Zhao J, Hong CC, Lunetta KL, Zirpoli G, Bandera EV, Palmer JR, Yao S, Ambrosone CB, Cheng TD. mTOR pathway candidate genes and obesity interaction on breast cancer risk in black women from the Women's Circle of Health Study. Cancer Causes Control. 2023 May; 34(5):431-447. PMID: 36790512.
Published on 2/10/2023
Crous-Bou M, Du M, Gunter MJ, Setiawan VW, Schouten LJ, Shu XO, Wentzensen N, Bertrand KA, Cook LS, Friedenreich CM, Gapstur SM, Goodman MT, Ibiebele TI, La Vecchia C, Levi F, Liao LM, Negri E, McCann SE, O'Connell K, Palmer JR, Patel AV, Ponte J, Reynolds P, Sacerdote C, Sinha R, Spurdle AB, Trabert B, van den Brandt PA, Webb PM, Petruzella S, Olson SH, De Vivo I. Coffee consumption and risk of endometrial cancer: a pooled analysis of individual participant data in the Epidemiology of Endometrial Cancer Consortium (E2C2). Am J Clin Nutr. 2022 Nov; 116(5):1219-1228. PMID: 36041172.
Published on 1/24/2023
Schonberg MA, Wolfson EA, Eliassen AH, Bertrand KA, Shvetsov YB, Rosner BA, Palmer JR, Ngo LH. A model for predicting both breast cancer risk and non-breast cancer death among women?>?55 years old. Breast Cancer Res. 2023 Jan 24; 25(1):8. PMID: 36694222.
Published on 1/19/2023
Thomas M, Su YR, Rosenthal EA, Sakoda LC, Schmit SL, Timofeeva MN, Chen Z, Fernandez-Rozadilla C, Law PJ, Murphy N, Carreras-Torres R, Diez-Obrero V, van Duijnhoven FJ, Jiang S, Shin A, Wolk A, Phipps AI, Burnett-Hartman A, Gsur A, Chan AT, Zauber AG, Wu AH, Lindblom A, Um CY, Tangen CM, Gignoux C, Newton C, Haiman CA, Qu C, Bishop DT, Buchanan DD, Crosslin DR, Conti DV, Kim DH, Hauser E, White E, Siegel E, Schumacher FR, Rennert G, Giles GG, Hampel H, Brenner H, Oze I, Oh JH, Lee JK, Schneider JL, Chang-Claude J, Kim J, Huyghe JR, Zheng J, Hampe J, Greenson J, Hopper JL, Palmer JR, Visvanathan K, Matsuo K, Matsuda K, Jung KJ, Li L, Marchand LL, Vodickova L, Bujanda L, Gunter MJ, Matejcic M, Jenkins MA, Slattery ML, D'Amato M, Wang M, Hoffmeister M, Woods MO, Kim M, Song M, Iwasaki M, Du M, Udaltsova N, Sawada N, Vodicka P, Campbell PT, Newcomb PA, Cai Q, Pearlman R, Pai RK, Schoen RE, Steinfelder RS, Haile RW, Vandenputtelaar R, Prentice RL, Küry S, Castellví-Bel S, Tsugane S, Berndt SI, Lee SC, Brezina S, Weinstein SJ, Chanock SJ, Jee SH, Kweon SS, Vadaparampil S, Harrison TA, Yamaji T, Keku TO, Vymetalkova V, Arndt V, Jia WH, Shu XO, Lin Y, Ahn YO, Stadler ZK, Van Guelpen B, Ulrich CM, Platz EA, Potter JD, Li CI, Meester R, Moreno V, Figueiredo JC, Casey G, Vogelaar IL, Dunlop MG, Gruber SB, Hayes RB, Pharoah PDP, Houlston RS, Jarvik GP, Tomlinson IP, Zheng W, Corley DA, Peters U, Hsu L. Combining Asian-European Genome-Wide Association Studies of Colorectal Cancer Improves Risk Prediction Across Race and Ethnicity. medRxiv. 2023 Jan 19. PMID: 36789420.
Published on 1/9/2023
Yadav S, Boddicker NJ, Na J, Polley EC, Hu C, Hart SN, Gnanaolivu RD, Larson N, Holtegaard S, Huang H, Dunn CA, Teras LR, Patel AV, Lacey JV, Neuhausen SL, Martinez E, Haiman C, Chen F, Ruddy KJ, Olson JE, John EM, Kurian AW, Sandler DP, O'Brien KM, Taylor JA, Weinberg CR, Anton-Culver H, Ziogas A, Zirpoli G, Goldgar DE, Palmer JR, Domchek SM, Weitzel JN, Nathanson KL, Kraft P, Couch FJ. Contralateral Breast Cancer Risk Among Carriers of Germline Pathogenic Variants in ATM, BRCA1, BRCA2, CHEK2, and PALB2. J Clin Oncol. 2023 Mar 20; 41(9):1703-1713. PMID: 36623243.
Published on 1/6/2023
Sheehy S, Palmer JR, Cozier Y, Bertrand KA, Rosenberg L. Vitamin D and risk of hypertension among Black women. J Clin Hypertens (Greenwich). 2023 Feb; 25(2):168-174. PMID: 36606491.
View full list of 438 publications.