Joseph Tucci MD
Voluntary Professor, Endocrinology, Diabetes, Nutrition & Weight Management
25 Buick St | (401) 456-2304

jtucci@bu.edu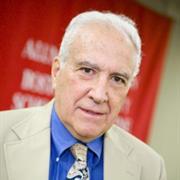 Sections
Endocrinology, Diabetes, Nutrition & Weight Management
Biography
Dr. Tucci, MD is a practicing Endocrinologist in Providence, RI. Dr. Tucci graduated from Chobanian and Avedisian School of Medicine in 1959 and has been in practice for 60 years. He completed a residency at St Elizabeths Medical Center. Dr. Tucci also specializes in Internal Medicine. He currently practices at Saryn Van Stramecki Doucette MD and is affiliated with Rhode Island Hospital. Dr. Tucci is board certified in Internal Medicine. Dr. Tucci also practices at Dermatology Associates Inc in Providence, RI.
Education
MD, Boston University School of Medicine, 1959
AB, Brown University, 1955
Publications
Published on 10/3/2022
Lee G, Cotton T, Tucci J, Aaron RK. Hyperparathyroidism in a Fracture Population. R I Med J (2013). 2022 Oct 03; 105(8):34-39. PMID: 36173907.
Published on 2/2/2022
Tucci JR. An Enigmatic Case of Hashimoto's Thyroiditis. Am J Med. 2022 Jun; 135(6):e113-e115. PMID: 35120912.
Published on 11/15/2021
Tucci JR. An Enigmatic Case of Hashimoto's Thyroiditis and Apparent Hypothyroidism. Am J Med. 2021 Nov 15. PMID: 34793752.
Published on 10/10/2017
Tucci JR. Normocalcemic primary hyperparathyroidism associated with progressive cortical bone loss - A case report. Bone Rep. 2017 Dec; 7:152-155. PMID: 29276732.
Published on 10/14/2016
Tucci JR, Whitford GM, McAlister WH, Novack DV, Mumm S, Keaveny TM, Whyte MP. Skeletal Fluorosis Due To Inhalation Abuse of a Difluoroethane-Containing Computer Cleaner. J Bone Miner Res. 2017 01; 32(1):188-195. PMID: 27449958.
Published on 8/1/2015
Tucci JR, Bone HG, Su G, Tan M, Ozturk ZE, Aftring P. Effect of zoledronic acid on serum calcium in Paget's disease patients after educational strategies to improve calcium and vitamin D supplementation. Ther Adv Endocrinol Metab. 2015 Aug; 6(4):155-62. PMID: 26301065.
Published on 7/7/2015
Tucci JR. ZOLEDRONIC ACID THERAPY OF PATIENTS WITH PAGET DISEASE OF BONE RESISTANT TO OR WITH UNSUSTAINED REMISSION FOLLOWING PRIOR BISPHOSPHONATE THERAPY. Endocr Pract. 2015 Oct; 21(10):1111-6. PMID: 26151420.
Published on 5/1/2013
Kwun S, Tucci JR. An interesting case of peripheral vascular disease, vascular reperfusion, and subsequent development of pain due to Paget's disease of bone. Endocr Pract. 2013 May-Jun; 19(3):e61-3. PMID: 23337155.
Published on 7/1/2012
Levin RM, Tucci JR. Parkinson disease and metabolic bone disorders: a common connection that needs more attention. Endocr Pract. 2012 Jul-Aug; 18(4):591-4. PMID: 22548948.
Published on 4/21/2009
Tucci JR. Vitamin D therapy in patients with primary hyperparathyroidism and hypovitaminosis D. Eur J Endocrinol. 2009 Jul; 161(1):189-93. PMID: 19383807.
View full list of 31 publications.