Joseph V. Meharg MD
Assistant Professor, Pulmonary, Allergy, Sleep & Critical Care Medicine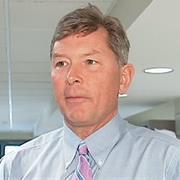 Sections
Pulmonary, Allergy, Sleep & Critical Care Medicine
Websites
Education
MD, Albany Medical College
BS, Fordham University
Publications
Published on 2/3/2011
Kurniali PC, Henry L, Kurl R, Meharg JV. Inhalant abuse of computer cleaner manifested as angioedema. Am J Emerg Med. 2012 Jan; 30(1):265.e3-5. PMID: 21295430.
Published on 9/1/2005
Aliotta JM, Passero M, Meharg J, Klinger J, Dooner MS, Pimentel J, Quesenberry PJ. Stem cells and pulmonary metamorphosis: new concepts in repair and regeneration. J Cell Physiol. 2005 Sep; 204(3):725-41. PMID: 15744751.
Published on 7/1/1998
Rounds S, Cutaia M, Charles A, Meharg J, Dawicki D, Oldmixon E, Kuhn C. Oxidant stress stimulates Na/K pump activity in bovine pulmonary arterial endothelial cells. Chest. 1998 Jul; 114(1 Suppl):22S-24S. PMID: 9676607.
Published on 6/1/1995
Kramer N, Meyer TJ, Meharg J, Cece RD, Hill NS. Randomized, prospective trial of noninvasive positive pressure ventilation in acute respiratory failure. Am J Respir Crit Care Med. 1995 Jun; 151(6):1799-806. PMID: 7767523.
Published on 12/1/1993
Meharg JV, McGowan-Jordan J, Charles A, Parmelee JT, Cutaia MV, Rounds S. Hydrogen peroxide stimulates sodium-potassium pump activity in cultured pulmonary arterial endothelial cells. Am J Physiol. 1993 Dec; 265(6 Pt 1):L613-21. PMID: 8279577.
View full list of 5 publications.