Joseph Patrick Carrozza Jr., MD
Adjunct Professor, General Internal Medicine
72 E. Concord Street | (617) 852-3165

jpc1@bu.edu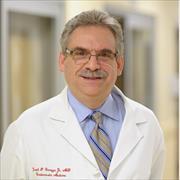 Sections
General Internal Medicine
Biography
Dr. Joseph Carrozza has been in practice in academic Interventional and General Cardiology for 25 years participating in more than 10,000 cardiac procedures. Presently his practice focuses on structural heart disease.
Publications
Published on 4/7/2021
Hattar L, Assaker JP, Aoun J, Price LL, Carrozza J, Jaber BL. Revising the Maximal Contrast Dose for Predicting Acute Kidney Injury following Coronary Intervention. Am J Nephrol. 2021; 52(4):328-335. PMID: 33827080.
Published on 11/26/2018
Almeqdadi M, Aoun J, Carrozza J. Native coronary artery thrombosis in the setting of heparin-induced thrombocytopenia: a case report. Eur Heart J Case Rep. 2018 Dec; 2(4):yty138. PMID: 31020214.
Published on 9/30/2018
Aoun J, Lahsaei S, Zahm C, Bhat T, Carrozza JP. Validation and comparison of non-hyperemic pressure reserve to fractional flow reserve for assessment of coronary artery stenosis: A real world study. Catheter Cardiovasc Interv. 2019 02 01; 93(2):250-255. PMID: 30269422.
Published on 4/23/2018
Aoun J, Zahm C, Wong G, Carrozza JP. An unusual cause of delayed cardiac tamponade in an intravenous drug user. Clin Res Cardiol. 2018 Aug; 107(8):733-736. PMID: 29687325.
Published on 3/6/2018
Agrawal H, Teleb M, Lahsaei S, Carbajal L, Montanez R, Carrozza JP. Routine Angiographic Follow-Up After Coronary Artery Disease Revascularization: Is Seeing Believing? Curr Cardiol Rep. 2018 03 06; 20(3):17. PMID: 29511900.
Published on 9/23/2016
Acharji S, Agnihotri A, Carrozza J. Transcatheter aortic valve replacement in unicuspid aortic valve stenosis. Catheter Cardiovasc Interv. 2017 Jul; 90(1):169-172. PMID: 27658892.
Published on 7/28/2016
Afari ME, Wylie JV, Carrozza JP. Refractory Hypotension as an Initial Presentation of Bilateral Subclavian Artery Stenosis. Case Rep Cardiol. 2016; 2016:8542312. PMID: 27547473.
Published on 10/22/2014
Yan X, Sasi SP, Gee H, Lee J, Yang Y, Mehrzad R, Onufrak J, Song J, Enderling H, Agarwal A, Rahimi L, Morgan J, Wilson PF, Carrozza J, Walsh K, Kishore R, Goukassian DA. Cardiovascular risks associated with low dose ionizing particle radiation. PLoS One. 2014; 9(10):e110269. PMID: 25337914.
Published on 3/21/2014
Weisz G, Smilowitz NR, Metzger DC, Caputo R, Delgado J, Marshall JJ, Vetrovec G, Reisman M, Waksman R, Pichard A, Granada JF, Moses JW, Carrozza JP. The association between experience and proficiency with robotic-enhanced coronary intervention-insights from the PRECISE multi-center study. Acute Card Care. 2014 Jun; 16(2):37-40. PMID: 24654789.
Published on 4/16/2013
Weisz G, Metzger DC, Caputo RP, Delgado JA, Marshall JJ, Vetrovec GW, Reisman M, Waksman R, Granada JF, Novack V, Moses JW, Carrozza JP. Safety and feasibility of robotic percutaneous coronary intervention: PRECISE (Percutaneous Robotically-Enhanced Coronary Intervention) Study. J Am Coll Cardiol. 2013 Apr 16; 61(15):1596-600. PMID: 23500318.
View full list of 113 publications.