John V Wylie MD, FACC
Adjunct Associate Professor, General Internal Medicine
72 E. Concord Street | (617) 789-3187

jwylie@bu.edu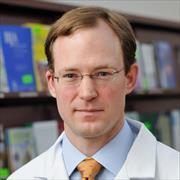 Sections
General Internal Medicine
Biography
Areas of research interest include atrial fibrillation ablation and integration of imaging techniques into electrophysiology procedures. He has previously performed extensive collaboration between
electrophysiology and cardiac magnetic resonance imaging. This involved a number of ongoing research projects in cardiac imaging for electrophysiology procedures.

From 2005-2007, he managed a large database of patients undergoing atrial fibrillation ablation designed to evaluate outcomes of this procedure, and subsequently served as the Principal Investigator and supervised fellows in management of this database from 2007-2008.

He has served as a site Principal Investigator in a number of multicenter trials, including the Attain-Success trial, from 2010-2012, the ACUITY trial, from January, 2016 –
present, and the GLORIA-AF trial, from February, 2015 – present. His primary research interests are in ablation and diagnostic techniques in clinical electrophysiology, specifically atrial flutter and atrial fibrillation.
Websites
Education
MD, Harvard Medical School, 2000
Classics, AB, Harvard College, 1995
Publications
Published on 7/23/2020
Orlov MV, Jahangir A, McKelvey D, Armstrong J, Maslov M, Monin AJ, Koulouridis I, Casavant D, Wylie JV. His bundle pacing insights from electroanatomical mapping: Topography and pacing targets. J Cardiovasc Electrophysiol. 2020 10; 31(10):2737-2743. PMID: 32666617.
Published on 6/24/2020
Eneizat Mahdawi T, Wang H, Haddadin FI, Al-Qaysi D, Wylie JV. Heart block in patients with coronavirus disease 2019: A case series of 3 patients infected with SARS-CoV-2. HeartRhythm Case Rep. 2020 Sep; 6(9):652-656. PMID: 32837907.
Published on 8/16/2019
Orlov MV, Casavant D, Koulouridis I, Maslov M, Erez A, Hicks A, Jahangir A, Aoun J, Wylie JV. Permanent His-bundle pacing using stylet-directed, active-fixation leads placed via coronary sinus sheaths compared to conventional lumen-less system. Heart Rhythm. 2019 12; 16(12):1825-1831. PMID: 31425775.
Published on 2/1/2019
Orlov MV, Koulouridis I, Monin AJ, Casavant D, Maslov M, Erez A, Hicks A, Aoun J, Wylie JV. Direct Visualization of the His Bundle Pacing Lead Placement by 3-Dimensional Electroanatomic Mapping: Technique, Anatomy, and Practical Considerations. Circ Arrhythm Electrophysiol. 2019 02; 12(2):e006801. PMID: 30739495.
Published on 10/27/2018
Erez A, Mughal A, Wylie JV. A useful reassuring sign for performing a safe second transseptal puncture. J Interv Card Electrophysiol. 2019 09; 55(3):359-360. PMID: 30368632.
Published on 7/28/2016
Afari ME, Wylie JV, Carrozza JP. Refractory Hypotension as an Initial Presentation of Bilateral Subclavian Artery Stenosis. Case Rep Cardiol. 2016; 2016:8542312. PMID: 27547473.
Published on 5/21/2013
Wylie JV. Toward better patient selection for ablation: a new method for measuring atrial fibrosis. Heart Rhythm. 2013 Sep; 10(9):1332-3. PMID: 23707490.
Published on 11/17/2012
Carpen M, Matkins J, Syros G, Gorev MV, Alikhani Z, Wylie JV, Natan SR, Griben A, Hicks A, Armstrong J, Orlov MV. First experience of 3D rotational angiography fusion with NavX electroanatomical mapping to guide catheter ablation of atrial fibrillation. Heart Rhythm. 2013 Mar; 10(3):422-7. PMID: 23164737.
Published on 11/27/2010
Orlov MV, Ansari MM, Akrivakis ST, Jadidi A, Nijhof N, Natan SR, Wylie JV, Hicks A, Armstrong J, Jais P. First experience with rotational angiography of the right ventricle to guide ventricular tachycardia ablation. Heart Rhythm. 2011 Feb; 8(2):207-11. PMID: 20920602.
Published on 12/13/2009
Taclas JE, Nezafat R, Wylie JV, Josephson ME, Hsing J, Manning WJ, Peters DC. Relationship between intended sites of RF ablation and post-procedural scar in AF patients, using late gadolinium enhancement cardiovascular magnetic resonance. Heart Rhythm. 2010 Apr; 7(4):489-96. PMID: 20122877.
View full list of 26 publications.