Joanne M. Murabito MD
Professor, General Internal Medicine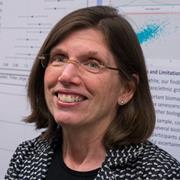 Sections
General Internal Medicine
Centers
Framingham Heart Study
Evans Center for Interdisciplinary Biomedical Research
Biography
Dr. Murabito is a Professor of Medicine at Chobanian and Avedisian School of Medicine and Co-PI at the Framingham Heart Study. Dr Murabito's area of expertise is in epidemiology and genetic epidemiology. Her current research focuses on identifying the determinants of healthy aging and longevity and reproductive aging in the community including the investigation of genetic and genomic factors. She leads highly productive multidisciplinary international consortia including the Cohorts for Heart and Aging Research in Genomics Epidemiology (CHARGE) Aging and Longevity working group and the ReproGen Consortium. The Consortia bring together scientists interested in aging, longevity, and reproductive aging (menarche, menopause) and the relation of these traits to health outcomes and gene discovery.
Dr Murabito is also leading the introduction of mobile health into the Framingham Heart Study. She participated in an embedded physical activity trial using a smartphone app or activity tracker and would like to explore use of mHealth in older adults to improve health and function
Dr. Murabito continues to practice primary care at Boston Medical Center.
Education
MD, Mount Sinai School of Medicine, 1985
ScM, Harvard University, 1990
BA, University of Rochester, 1981
Publications
Published on 4/27/2023
Fang Y, Doyle MF, Chen J, Mez J, Satizabal CL, Alosco ML, Qiu WQ, Lunetta KL, Murabito JM. Circulating immune cell phenotypes are associated with age, sex, CMV, and smoking status in the Framingham Heart Study offspring participants. Aging (Albany NY). 2023 Apr 27; 15. PMID: 37116193.
Published on 3/6/2023
Shapira-Daniels A, Kornej J, Spartano NL, Wang X, Zhang Y, Pathiravasan CH, Liu C, Trinquart L, Borrelli B, McManus DD, Murabito JM, Benjamin EJ, Lin H. Step Count, Self-reported Physical Activity, and Predicted 5-Year Risk of Atrial Fibrillation: Cross-sectional Analysis. J Med Internet Res. 2023 Mar 06; 25:e43123. PMID: 36877540.
Published on 1/20/2023
Trinquart L, Liu C, McManus DD, Nowak C, Lin H, Spartano NL, Borrelli B, Benjamin EJ, Murabito JM. Increasing Engagement in the Electronic Framingham Heart Study: Factorial Randomized Controlled Trial. J Med Internet Res. 2023 Jan 20; 25:e40784. PMID: 36662544.
Published on 1/11/2023
Treaster S, Deelen J, Daane JM, Murabito J, Karasik D, Harris MP. Convergent genomics of longevity in rockfishes highlights the genetics of human life span variation. Sci Adv. 2023 Jan 13; 9(2):eadd2743. PMID: 36630509.
Published on 12/27/2022
Pathiravasan CH, Zhang Y, Wang X, Trinquart L, Benjamin EJ, Borrelli B, McManus DD, Kheterpal V, Lin H, Spartano NL, Schramm E, Liu C, Murabito JM. Factors associated with long-term use of digital devices in the electronic Framingham Heart Study. NPJ Digit Med. 2022 Dec 27; 5(1):195. PMID: 36572707.
Published on 11/21/2022
Anugu P, Ansari MAY, Min YI, Benjamin EJ, Murabito J, Winters K, Turner E, Correa A. Digital Connectedness in the Jackson Heart Study: Cross-sectional Study. J Med Internet Res. 2022 Nov 21; 24(11):e37501. PMID: 36409531.
Published on 9/13/2022
Spartano NL, Wang R, Yang Q, Chernofsky A, Murabito JM, Vasan RS, Levy D, Beiser AS, Seshadri S. Association of Accelerometer-Measured Physical Activity and Sedentary Time with Epigenetic Markers of Aging. Med Sci Sports Exerc. 2023 Feb 01; 55(2):264-272. PMID: 36107108.
Published on 9/12/2022
Uddin MDM, Nguyen NQH, Yu B, Brody JA, Pampana A, Nakao T, Fornage M, Bressler J, Sotoodehnia N, Weinstock JS, Honigberg MC, Nachun D, Bhattacharya R, Griffin GK, Chander V, Gibbs RA, Rotter JI, Liu C, Baccarelli AA, Chasman DI, Whitsel EA, Kiel DP, Murabito JM, Boerwinkle E, Ebert BL, Jaiswal S, Floyd JS, Bick AG, Ballantyne CM, Psaty BM, Natarajan P, Conneely KN. Clonal hematopoiesis of indeterminate potential, DNA methylation, and risk for coronary artery disease. Nat Commun. 2022 09 12; 13(1):5350. PMID: 36097025.
Published on 9/9/2022
Fang Y, Doyle MF, Chen J, Alosco ML, Mez J, Satizabal CL, Qiu WQ, Murabito JM, Lunetta KL. Association between inflammatory biomarkers and cognitive aging. PLoS One. 2022; 17(9):e0274350. PMID: 36083988.
Published on 7/1/2022
Sanders JL, Axelsson G, Putman R, Menon A, Dupuis J, Xu H, Wang S, Murabito J, Vasan R, Araki T, Nishino M, Washko GR, Hatabu H, O'Connor G, Gudmundsson G, Gudnason V, Hunninghake GM. The relationship between interstitial lung abnormalities, mortality, and multimorbidity: a cohort study. Thorax. 2023 Jun; 78(6):559-565. PMID: 35777957.
View full list of 262 publications.