Joanne M. Murabito MD
Professor, General Internal Medicine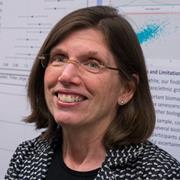 Sections
General Internal Medicine
Centers
Framingham Heart Study
Evans Center for Interdisciplinary Biomedical Research
Biography
Dr. Murabito is a Professor of Medicine at Boston University School of Medicine and Co-PI at the Framingham Heart Study. Dr Murabito's area of expertise is in epidemiology and genetic epidemiology. Her current research focuses on identifying the determinants of healthy aging and longevity and reproductive aging in the community including the investigation of genetic and genomic factors. She leads highly productive multidisciplinary international consortia including the Cohorts for Heart and Aging Research in Genomics Epidemiology (CHARGE) Aging and Longevity working group and the ReproGen Consortium. The Consortia bring together scientists interested in aging, longevity, and reproductive aging (menarche, menopause) and the relation of these traits to health outcomes and gene discovery.
Dr Murabito is also leading the introduction of mobile health into the Framingham Heart Study. She participated in an embedded physical activity trial using a smartphone app or activity tracker and would like to explore use of mHealth in older adults to improve health and function
Dr. Murabito continues to practice primary care at Boston Medical Center.
Education
MD, Mount Sinai School of Medicine, 1985
ScM, Harvard University, 1990
BA, University of Rochester, 1981
Publications
Published on 9/24/2021
Millar CL, Dufour AB, Shivappa N, Habtemariam D, Murabito JM, Benjamin EJ, Hebert JR, Kiel DP, Hannan MT, Sahni S. A pro-inflammatory diet is associated with increased odds of frailty after 12-year follow-up in a cohort of adults. Am J Clin Nutr. 2021 Sep 24. PMID: 34558613.
Published on 8/26/2021
Nayor M, Chernofsky A, Spartano NL, Tanguay M, Blodgett JB, Murthy VL, Malhotra R, Houstis NE, Velagaleti RS, Murabito JM, Larson MG, Vasan RS, Shah RV, Lewis GD. Physical activity and fitness in the community: the Framingham Heart Study. Eur Heart J. 2021 Aug 26. PMID: 34436560.
Published on 8/4/2021
Ruth KS, Day FR, Hussain J, Martínez-Marchal A, Aiken CE, Azad A, Thompson DJ, Knoblochova L, Abe H, Tarry-Adkins JL, Gonzalez JM, Fontanillas P, Claringbould A, Bakker OB, Sulem P, Walters RG, Terao C, Turon S, Horikoshi M, Lin K, Onland-Moret NC, Sankar A, Hertz EPT, Timshel PN, Shukla V, Borup R, Olsen KW, Aguilera P, Ferrer-Roda M, Huang Y, Stankovic S, Timmers PRHJ, Ahearn TU, Alizadeh BZ, Naderi E, Andrulis IL, Arnold AM, Aronson KJ, Augustinsson A, Bandinelli S, Barbieri CM, Beaumont RN, Becher H, Beckmann MW, Benonisdottir S, Bergmann S, Bochud M, Boerwinkle E, Bojesen SE, Bolla MK, Boomsma DI, Bowker N, Brody JA, Broer L, Buring JE, Campbell A, Campbell H, Castelao JE, Catamo E, Chanock SJ, Chenevix-Trench G, Ciullo M, Corre T, Couch FJ, Cox A, Crisponi L, Cross SS, Cucca F, Czene K, Smith GD, de Geus EJCN, de Mutsert R, De Vivo I, Demerath EW, Dennis J, Dunning AM, Dwek M, Eriksson M, Esko T, Fasching PA, Faul JD, Ferrucci L, Franceschini N, Frayling TM, Gago-Dominguez M, Mezzavilla M, García-Closas M, Gieger C, Giles GG, Grallert H, Gudbjartsson DF, Gudnason V, Guénel P, Haiman CA, Håkansson N, Hall P, Hayward C, He C, He W, Heiss G, Høffding MK, Hopper JL, Hottenga JJ, Hu F, Hunter D, Ikram MA, Jackson RD, Joaquim MDR, John EM, Joshi PK, Karasik D, Kardia SLR, Kartsonaki C, Karlsson R, Kitahara CM, Kolcic I, Kooperberg C, Kraft P, Kurian AW, Kutalik Z, La Bianca M, LaChance G, Langenberg C, Launer LJ, Laven JSE, Lawlor DA, Le Marchand L, Li J, Lindblom A, Lindstrom S, Lindstrom T, Linet M, Liu Y, Liu S, Luan J, Mägi R, Magnusson PKE, Mangino M, Mannermaa A, Marco B, Marten J, Martin NG, Mbarek H, McKnight B, Medland SE, Meisinger C, Meitinger T, Menni C, Metspalu A, Milani L, Milne RL, Montgomery GW, Mook-Kanamori DO, Mulas A, Mulligan AM, Murray A, Nalls MA, Newman A, Noordam R, Nutile T, Nyholt DR, Olshan AF, Olsson H, Painter JN, Patel AV, Pedersen NL, Perjakova N, Peters A, Peters U, Pharoah PDP, Polasek O, Porcu E, Psaty BM, Rahman I, Rennert G, Rennert HS, Ridker PM, Ring SM, Robino A, Rose LM, Rosendaal FR, Rossouw J, Rudan I, Rueedi R, Ruggiero D, Sala CF, Saloustros E, Sandler DP, Sanna S, Sawyer EJ, Sarnowski C, Schlessinger D, Schmidt MK, Schoemaker MJ, Schraut KE, Scott C, Shekari S, Shrikhande A, Smith AV, Smith BH, Smith JA, Sorice R, Southey MC, Spector TD, Spinelli JJ, Stampfer M, Stöckl D, van Meurs JBJ, Strauch K, Styrkarsdottir U, Swerdlow AJ, Tanaka T, Teras LR, Teumer A, Þorsteinsdottir U, Timpson NJ, Toniolo D, Traglia M, Troester MA, Truong T, Tyrrell J, Uitterlinden AG, Ulivi S, Vachon CM, Vitart V, Völker U, Vollenweider P, Völzke H, Wang Q, Wareham NJ, Weinberg CR, Weir DR, Wilcox AN, van Dijk KW, Willemsen G, Wilson JF, Wolffenbuttel BHR, Wolk A, Wood AR, Zhao W, Zygmunt M, Chen Z, Li L, Franke L, Burgess S, Deelen P, Pers TH, Grøndahl ML, Andersen CY, Pujol A, Lopez-Contreras AJ, Daniel JA, Stefansson K, Chang-Claude J, van der Schouw YT, Lunetta KL, Chasman DI, Easton DF, Visser JA, Ozanne SE, Namekawa SH, Solc P, Murabito JM, Ong KK, Hoffmann ER, Murray A, Roig I, Perry JRB. Genetic insights into biological mechanisms governing human ovarian ageing. Nature. 2021 08; 596(7872):393-397. PMID: 34349265.
Published on 7/29/2021
Kornej J, Huang Q, Preis SR, Lubitz SA, Ko D, Murabito JM, Benjamin EJ, Trinquart L. Temporal trends in cause-specific mortality among individuals with newly diagnosed atrial fibrillation in the Framingham Heart Study. BMC Med. 2021 07 29; 19(1):170. PMID: 34320976.
Published on 7/2/2021
Sarnowski C, Chen H, Biggs ML, Wassertheil-Smoller S, Bressler J, Irvin MR, Ryan KA, Karasik D, Arnett DK, Cupples LA, Fardo DW, Gogarten SM, Heavner BD, Jain D, Kang HM, Kooperberg C, Mainous AG, Mitchell BD, Morrison AC, O'Connell JR, Psaty BM, Rice K, Smith AV, Vasan RS, Windham BG, Kiel DP, Murabito JM, Lunetta KL. Identification of novel and rare variants associated with handgrip strength using whole genome sequence data from the NHLBI Trans-Omics in Precision Medicine (TOPMed) Program. PLoS One. 2021; 16(7):e0253611. PMID: 34214102.
Published on 6/29/2021
McCartney DL, Min JL, Richmond RC, Lu AT, Sobczyk MK, Davies G, Broer L, Guo X, Jeong A, Jung J, Kasela S, Katrinli S, Kuo PL, Matias-Garcia PR, Mishra PP, Nygaard M, Palviainen T, Patki A, Raffield LM, Ratliff SM, Richardson TG, Robinson O, Soerensen M, Sun D, Tsai PC, van der Zee MD, Walker RM, Wang X, Wang Y, Xia R, Xu Z, Yao J, Zhao W, Correa A, Boerwinkle E, Dugué PA, Durda P, Elliott HR, Gieger C, de Geus EJC, Harris SE, Hemani G, Imboden M, Kähönen M, Kardia SLR, Kresovich JK, Li S, Lunetta KL, Mangino M, Mason D, McIntosh AM, Mengel-From J, Moore AZ, Murabito JM, Ollikainen M, Pankow JS, Pedersen NL, Peters A, Polidoro S, Porteous DJ, Raitakari O, Rich SS, Sandler DP, Sillanpää E, Smith AK, Southey MC, Strauch K, Tiwari H, Tanaka T, Tillin T, Uitterlinden AG, Van Den Berg DJ, van Dongen J, Wilson JG, Wright J, Yet I, Arnett D, Bandinelli S, Bell JT, Binder AM, Boomsma DI, Chen W, Christensen K, Conneely KN, Elliott P, Ferrucci L, Fornage M, Hägg S, Hayward C, Irvin M, Kaprio J, Lawlor DA, Lehtimäki T, Lohoff FW, Milani L, Milne RL, Probst-Hensch N, Reiner AP, Ritz B, Rotter JI, Smith JA, Taylor JA, van Meurs JBJ, Vineis P, Waldenberger M, Deary IJ, Relton CL, Horvath S, Marioni RE. Genome-wide association studies identify 137 genetic loci for DNA methylation biomarkers of aging. Genome Biol. 2021 06 29; 22(1):194. PMID: 34187551.
Published on 6/24/2021
Sardana M, Lin H, Zhang Y, Liu C, Trinquart L, Benjamin EJ, Manders ES, Fusco K, Kornej J, Hammond MM, Spartano N, Pathiravasan CH, Kheterpal V, Nowak C, Borrelli B, Murabito JM, McManus DD. Association of Habitual Physical Activity With Home Blood Pressure in the Electronic Framingham Heart Study (eFHS): Cross-sectional Study. J Med Internet Res. 2021 06 24; 23(6):e25591. PMID: 34185019.
Published on 6/18/2021
Sarnowski C, Cousminer DL, Franceschini N, Raffield LM, Jia G, Fernández-Rhodes L, Grant SFA, Hakonarson H, Lange LA, Long J, Sofer T, Tao R, Wallace RB, Wong Q, Zirpoli G, Boerwinkle E, Bradfield JP, Correa A, Kooperberg CL, North KE, Palmer JR, Zemel BS, Zheng W, Murabito JM, Lunetta KL. Large trans-ethnic meta-analysis identifies AKR1C4 as a novel gene associated with age at menarche. Hum Reprod. 2021 06 18; 36(7):1999-2010. PMID: 34021356.
Published on 5/29/2021
Nachun D, Lu AT, Bick AG, Natarajan P, Weinstock J, Szeto MD, Kathiresan S, Abecasis G, Taylor KD, Guo X, Tracy R, Durda P, Liu Y, Johnson C, Rich SS, Van Den Berg D, Laurie C, Blackwell T, Papanicolaou GJ, Correa A, Raffield LM, Johnson AD, Murabito J, Manson JE, Desai P, Kooperberg C, Assimes TL, Levy D, Rotter JI, Reiner AP, Whitsel EA, Wilson JG, Horvath S, Jaiswal S. Clonal hematopoiesis associated with epigenetic aging and clinical outcomes. Aging Cell. 2021 06; 20(6):e13366. PMID: 34050697.
Published on 5/1/2021
Sanders JL, Putman RK, Dupuis J, Xu H, Murabito JM, Araki T, Nishino M, Benjamin EJ, Levy DL, Ramachandran VS, Washko GR, Curtis JL, Freeman CM, Bowler RP, Hatabu H, O'Connor GT, Hunninghake GM. The Association of Aging Biomarkers, Interstitial Lung Abnormalities, and Mortality. Am J Respir Crit Care Med. 2021 05 01; 203(9):1149-1157. PMID: 33080140.
View full list of 240 publications.