Jingyan Han PhD
Assistant Professor, Vascular Biology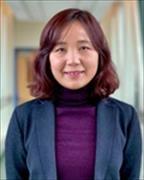 Centers
Whitaker Cardiovascular Institute
Biography
Welcome to Dr. Han's lab, part of the Vascular Biology Section/Department of Medicine,Whitaker Cardiovascular Research Institute, and Sargent College at Boston University. We study the molecular mechanisms of atherosclerotic cardiovascular disease with a particular focus on the role of redox signaling in vascular endothelial cell dysfunction in response to various risk factors including hyperlipidemia, aging, and chronic alcohol abuse, which are supported by NIH grants. (National Heart Lung and Blood Institute—R01HL137771, National Institute of Aging—R21AG058983, and National Institute of Alcohol Abuse and Alcoholism—R21AA026922) Animal models of atherosclerosis, vascular aging, and chronic binge drinking have been established, and conditional tissue specific transgenic and knockout mice strains are employed to decipher the in vivo role of thiol redox signaling in vascular dysfunction and development of atherosclerosis. Isolated endothelial cells from human subjects with cardiovascular disease and cultured human aortic endothelial cells, as well redox proteomics and various molecular biology methods are used to elucidate the molecular mechanism underlying redox regulation of endothelial function. (Representative publication: https://www.ncbi.nlm.nih.gov/pmc/articles/PMC5045950/pdf/main.pdf).

In addition to understanding the molecular mechanism of atherosclerosis, our research interests also lie in developing multidisciplinary approach to measuring vascular function in murine animals, and to targeted delivery of nanomedicine to cardiovascular system. We have developed a novel optical coherence tomography-based vascular imaging system enabling to real-time measure 3D angiography and hemodynamics of femoral artery of mouse models in vivo, which is noninvasive, label-free, contact-free, and high degree of automation in data acquisition and processing.(Representative publication: https://www.ncbi.nlm.nih.gov/pmc/articles/PMC6226329/) We also initiated an exciting collaborative project with biotech company investigating the targeted delivery of redox-controllable nanoparticles to cardiovascular system in vivo, which has been a great challenge for drug delivery and treatment for cardiovascular disease.
Education
Pharmacology, PhD, University of Illinois, 2009
Pharmacology, MS, Peking University, 2000
Pharmacy, BA, Peking University, 1997
Publications
Published on 9/17/2021
Zhou Y, Wan X, Seidel K, Zhang M, Goodman JB, Seta F, Hamburg N, Han J. Aging and Hypercholesterolemia Differentially Affect the Unfolded Protein Response in the Vasculature of ApoE-/- Mice. J Am Heart Assoc. 2021 Sep 21; 10(18):e020441. PMID: 34533042.
Published on 3/16/2021
Seidel K, Wan X, Zhang M, Zhou Y, Zang M, Han J. Alcohol Binge Drinking Selectively Stimulates Protein S-Glutathionylation in Aorta and Liver of ApoE-/- Mice. Front Cardiovasc Med. 2021; 8:649813. PMID: 33796575.
Published on 1/23/2020
Matsui R, Ferran B, Oh A, Croteau D, Shao D, Han J, Pimentel DR, Bachschmid MM. Redox Regulation via Glutaredoxin-1 and Protein S-Glutathionylation. Antioxid Redox Signal. 2020 04 01; 32(10):677-700. PMID: 31813265.
Published on 1/25/2019
Weinberg EO, Ferran B, Tsukahara Y, Hatch MMS, Han J, Murdoch CE, Matsui R. IL-33 induction and signaling are controlled by glutaredoxin-1 in mouse macrophages. PLoS One. 2019; 14(1):e0210827. PMID: 30682073.
Published on 6/28/2018
Song W, Zhou L, Kot KL, Fan H, Han J, Yi J. Measurement of flow-mediated dilation of mouse femoral artery in vivo by optical coherence tomography. J Biophotonics. 2018 11; 11(11):e201800053. PMID: 29855165.
Published on 1/1/2018
Edenbaum H, Han J. Assessment of S-Glutathionylated Rac1 in Cells Using Biotin-Labeled Glutathione. Methods Mol Biol. 2018; 1821:155-163. PMID: 30062411.
Published on 2/16/2017
Shao D, Han J, Hou X, Fry J, Behring JB, Seta F, Long MT, Roy HK, Cohen RA, Matsui R, Bachschmid MM. Glutaredoxin-1 Deficiency Causes Fatty Liver and Dyslipidemia by Inhibiting Sirtuin-1. Antioxid Redox Signal. 2017 Aug 20; 27(6):313-327. PMID: 27958883.
Published on 9/11/2016
Han J, Weisbrod RM, Shao D, Watanabe Y, Yin X, Bachschmid MM, Seta F, Janssen-Heininger YMW, Matsui R, Zang M, Hamburg NM, Cohen RA. The redox mechanism for vascular barrier dysfunction associated with metabolic disorders: Glutathionylation of Rac1 in endothelial cells. Redox Biol. 2016 Oct; 9:306-319. PMID: 27693992.
Published on 6/1/2016
Cohen RA, Murdoch CE, Watanabe Y, Bolotina VM, Evangelista AM, Haeussler DJ, Smith MD, Mei Y, Tong X, Han J, Behring JB, Bachschmid MM, Matsui R. Endothelial Cell Redox Regulation of Ischemic Angiogenesis. J Cardiovasc Pharmacol. 2016 Jun; 67(6):458-64. PMID: 26927696.
Published on 5/13/2016
Luo T, Nocon A, Fry J, Sherban A, Rui X, Jiang B, Xu XJ, Han J, Yan Y, Yang Q, Li Q, Zang M. AMPK Activation by Metformin Suppresses Abnormal Extracellular Matrix Remodeling in Adipose Tissue and Ameliorates Insulin Resistance in Obesity. Diabetes. 2016 Aug; 65(8):2295-310. PMID: 27207538.
View full list of 29 publications.