Jean Liew MD MS
Assistant Professor, Rheumatology
650 Albany St | (617) 358-9655

jwliew@bu.edu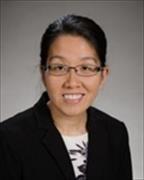 Centers
Arthritis & Autoimmune Diseases Research Center
Biography
Dr. Jean Liew graduated from the University of Texas at Austin with degrees in Biology and English and went on to earn her MD at the University of Texas Medical Branch in Galveston, TX. She then relocated to the Pacific Northwest to complete an Internal Medicine residency at Oregon Health & Science University in Portland, OR followed by rheumatology fellowship at the University of Washington in Seattle, WA. She concurrently earned an M.S. in Epidemiology through the University of Washington School of Public Health. During her fellowship, the primary focus of her research was in axial spondyloarthritis (axSpA), specifically AS, and cardiovascular comorbidity.

She is currently an Assistant Professor of Medicine in the Section of Rheumatology at BU, where her clinical research currently focuses on knee osteoarthritis and axSpA. Additionally, as a member of the COVID-19 Global Rheumatology Alliance (GRA) and a member of its Steering Committee, she has led multiple projects relating to data collection, analysis, and dissemination of the impact of the COVID-19 pandemic on individuals with rheumatic disease.
Websites
Education
MD, University of Texas Medical Branch, 2014
Epidemiology, MS, University of Washington, 2020
English, BA, University of Texas at Austin, 2010
Biology, BS, University of Texas at Austin, 2010
Publications
Published on 4/22/2023
Jarraya M, Guermazi A, Liew JW, Tolstykh I, Lynch JA, Aliabadi P, Felson DT, Clancy M, Nevitt M, Lewis CE, Torner J, Neogi T. Prevalence of intra-articular mineralization on knee computed tomography: the multicenter osteoarthritis study. Osteoarthritis Cartilage. 2023 Apr 22. PMID: 37088266.
Published on 4/3/2023
Maguire S, Al-Emadi S, Alba P, Aguiar MC, Al Lawati T, Alle G, Bermas B, Bhana S, Branimir A, Bulina I, Clowse M, Cogo K, Colunga I, Cook C, Cortez KJ, Dao K, Gianfrancesco M, Gore-Massey M, Gossec L, Grainger R, Hausman J, Hsu TYT, Hyrich K, Isnardi C, Kawano Y, Kilding R, Kusevich DA, Lawson-Tovey S, Liew J, McCarthy E, Montgumery A, Moyano S, Nasir N, Padjen I, Papagoras C, Patel NJ, Pera M, Pisoni C, Pons-Estel G, Quiambao AL, Quintana R, Ruderman E, Sattui S, Savio V, Sciascia S, Sencarova M, Morales RS, Siddique F, Sirotich E, Sparks J, Strangfeld A, Sufka P, Tanner H, Tissera Y, Wallace Z, Werner ML, Wise L, Worthing AB, Zell J, Zepa J, Machado PM, Yazdany J, Robinson P, Conway R. Obstetric outcomes in women with rheumatic disease and COVID-19 in the context of vaccination status. Rheumatology (Oxford). 2023 Apr 03; 62(4):1621-1626. PMID: 36124987.
Published on 2/14/2023
Machado PM, Schäfer M, Mahil SK, Liew J, Gossec L, Dand N, Pfeil A, Strangfeld A, Regierer AC, Fautrel B, Alonso CG, Saad CGS, Griffiths CEM, Lomater C, Miceli-Richard C, Wendling D, Alpizar Rodriguez D, Wiek D, Mateus EF, Sirotich E, Soriano ER, Ribeiro FM, Omura F, Rajão Martins F, Santos H, Dau J, Barker JN, Hausmann J, Hyrich KL, Gensler L, Silva L, Jacobsohn L, Carmona L, Pinheiro MM, Zelaya MD, Severina MLÁ, Yates M, Dubreuil M, Gore-Massy M, Romeo N, Haroon N, Sufka P, Grainger R, Hasseli R, Lawson-Tovey S, Bhana S, Pham T, Olofsson T, Bautista-Molano W, Wallace ZS, Yiu ZZN, Yazdany J, Robinson PC, Smith CH. Characteristics associated with poor COVID-19 outcomes in people with psoriasis, psoriatic arthritis and axial spondyloarthritis: data from the COVID-19 PsoProtect and Global Rheumatology Alliance physician-reported registries. Ann Rheum Dis. 2023 May; 82(5):698-709. PMID: 36787993.
Published on 2/8/2023
Baker R, Mantilla B, Graf J, Katz PP, Goglin S, Barton JL, Liew JW, Wysham KD. Racial and Ethnic Differences in a Biochemical Marker of Rheumatoid Arthritis Disease Activity. ACR Open Rheumatol. 2023 Mar; 5(3):142-148. PMID: 36754575.
Published on 1/24/2023
Liew JW, Rabasa G, LaValley M, Collins J, Stefanik J, Roemer FW, Guermazi A, Lewis CE, Nevitt M, Torner J, Felson D. Development of a Magnetic Resonance Imaging-Based Definition of Knee Osteoarthritis: Data From the Multicenter Osteoarthritis Study. Arthritis Rheumatol. 2023 Jan 24. PMID: 36693143.
Published on 1/10/2023
Kwan YH, Phang JK, Woon TH, Liew JW, Dubreuil M, Proft F, Ramiro S, Molto A, Navarro-Compán V, de Hooge M, Meghnathi B, Ziade N, Zhao SS, Llop M, Baraliakos X, Fong W. Social Media Use Among Members of the Assessment of Spondyloarthritis International Society: Results of a Web-Based Survey. J Med Internet Res. 2023 Jan 10; 25:e39155. PMID: 36626201.
Published on 1/9/2023
Conway R, Nikiphorou E, Demetriou CA, Low C, Leamy K, Ryan JG, Kavanagh R, Fraser AD, Carey JJ, O'Connell P, Flood RM, Mullan RH, Kane DJ, Stafford F, Robinson PC, Liew JW, Grainger R, McCarthy GM. Outcomes of COVID-19 in people with rheumatic and musculoskeletal disease in Ireland over the first 2 years of the pandemic. Ir J Med Sci. 2023 Jan 09; 1-6. PMID: 36622628.
Published on 12/31/2022
Coler-Reilly A, Graef ER, Kim AHJ, Liew JW, Putman MS, Sattui SE, Young KJ, Sparks JA. Social Media for Research Discourse, Dissemination, and Collaboration in Rheumatology. Rheumatol Immunol Res. 2022 Dec; 3(4):169-179. PMID: 36879836.
Published on 12/19/2022
Degirmenci HB, Oh J, Bays AM, Thomason JL, Liew JW. Public Interest in COVID-19 Therapeutics for High-Risk Populations During the Omicron Era: A Google Trends Analysis. Cureus. 2022 Dec; 14(12):e32684. PMID: 36660525.
Published on 12/2/2022
Ugarte-Gil MF, Alarcón GS, Seet AM, Izadi Z, Montgomery AD, Duarte-García A, Gilbert EL, Valenzuela-Almada MO, Wise L, Sparks JA, Hsu TY, D'Silva KM, Patel NJ, Sirotich E, Liew JW, Hausmann JS, Sufka P, Grainger R, Bhana S, Wallace Z, Jacobsohn L, Strangfeld A, Mateus EF, Hyrich KL, Gossec L, Carmona L, Lawson-Tovey S, Kearsley-Fleet L, Schaefer M, Machado PM, Robinson PC, Gianfrancesco M, Yazdany J. Association Between Race/Ethnicity and COVID-19 Outcomes in Systemic Lupus Erythematosus Patients From the United States: Data From the COVID-19 Global Rheumatology Alliance. Arthritis Care Res (Hoboken). 2023 Jan; 75(1):53-60. PMID: 36239292.
View full list of 91 publications.