Jasvinder S. Bhatia MD
Clinical Associate Professor, Nephrology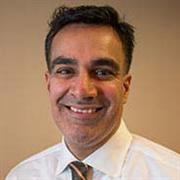 Biography
Expertise includes: Continuous renal replacement therapies; Hemodialysis and peritoneal dialysis; Nephrolithiasis; Hypertension; Chronic kidney disease.
Education
MD, University of Medicine and Dentistry of New Jersey, 1997
BS, Stevens Institute of Technology, 1994
Publications
Published on 10/1/2021
Nadjarian A, LeClair J, Mahoney TF, Awtry EH, Bhatia JS, Caruso LB, Clay A, Greer D, Hingorani KS, Horta LFB, Ibrahim M, Ieong MH, James T, Kulke MH, Lim R, Lowe RC, Moses JM, Murphy J, Nozari A, Patel AD, Silver B, Theodore AC, Wang RS, Weinstein E, Wilson SA, Cervantes-Arslanian AM. Validation of a Crisis Standards of Care Model for Prioritization of Limited Resources During the Coronavirus Disease 2019 Crisis in an Urban, Safety-Net, Academic Medical Center. Crit Care Med. 2021 10 01; 49(10):1739-1748. PMID: 34115635.
Published on 7/21/2016
Du T, Bar-Hen A, Bhatia JS, Wolpowitz D. Loss of Papillary Dermal Calcitonin Gene Related Peptide-Expressing Neurons Significantly Correlates with Uremic Pruritus. J Invest Dermatol. 2016 11; 136(11):2323-2325. PMID: 27448750.
Published on 4/23/2015
Roseman DA, Schechter-Perkins EM, Bhatia JS. Peritoneal dialysis and potassium: pains and gains in ED-the authors' reply. Am J Emerg Med. 2015 Jul; 33(7):980. PMID: 25940133.
Published on 8/23/2014
Roseman DA, Schechter-Perkins EM, Bhatia JS. Treatment of life-threatening hyperkalemia with peritoneal dialysis in the ED. Am J Emerg Med. 2015 Mar; 33(3):473.e3-5. PMID: 25241357.
Published on 8/21/2014
Toth-Manikowski SM, Menn-Josephy H, Bhatia J. A Case of Chronic Ethylene Glycol Intoxication Presenting without Classic Metabolic Derangements. Case Rep Nephrol. 2014; 2014:128145. PMID: 25215251.
Published on 8/1/2008
Blicharz TM, Rissin DM, Bowden M, Hayman RB, DiCesare C, Bhatia JS, Grand-Pierre N, Siqueira WL, Helmerhorst EJ, Loscalzo J, Oppenheim FG, Walt DR. Use of colorimetric test strips for monitoring the effect of hemodialysis on salivary nitrite and uric acid in patients with end-stage renal disease: a proof of principle. Clin Chem. 2008 Sep; 54(9):1473-80. PMID: 18676588.
Published on 3/1/2007
Walt DR, Blicharz TM, Hayman RB, Rissin DM, Bowden M, Siqueira WL, Helmerhorst EJ, Grand-Pierre N, Oppenheim FG, Bhatia JS, Little FF, Brody JS. Microsensor arrays for saliva diagnostics. Ann N Y Acad Sci. 2007 Mar; 1098:389-400. PMID: 17435144.
View full list of 7 publications.