James Joseph Parris MD, PhD
Adjunct Instructor, General Internal Medicine
1400 VFW Parkway | (617) 637-5362

jparris1@bu.edu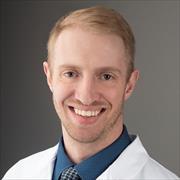 Sections
General Internal Medicine
Biography
I am currently the medical director of the VA Boston Hospital in Home program. The program is designed to provide hospital-level services to veterans in their homes using an interdisciplinary team consisting of an attending physician, physician assistant, nursing team, pharmacist, and social worker. I also attend on the general medicine wards and palliative care consult service at the West Roxbury VA Hospital. Prior to medical school, I did research on human embryonic stem cell differentiation and obtained my PhD from Newcastle University as a Marshall Scholar. I attended the University of Pittsburgh School of Medicine and then completed my internship, residency, and chief residency at Beth Israel Deaconess Medical Center (BIDMC). Between my residency and chief residency, I worked for one year as a hospitalist at BIDMC and affiliated community sites. I completed a clinical fellowship in the Harvard Interprofessional Palliative Care Fellowship Program at Massachusetts General Hospital and the Dana-Farber Cancer Institute / Brigham and Women's Hospital. I am interested in novel methods of care delivery and using the skills and principles of palliative care for patients with complex medical and psychosocial needs.
Education
Biochemistry, BS, University of Delaware, 2006
Medicine, MD/PhD, University of Pittsburgh School of Medicine, 2014
Publications
Published on 2/5/2018
Ricotta DN, Parris JJ, Parris RS, Sontag DN, Mukamal KJ. The Burden of Guardianship: A Matched Cohort Study. J Hosp Med. 2018 09 01; 13(9):595-601. PMID: 29401209.
Published on 5/11/2017
Parris J, Hale A. Death and Dignity: Exploring Physicians' Responsibilities After a Patient's Death. Am J Med. 2017 Aug; 130(8):996-999. PMID: 28502816.
Published on 8/1/2005
Parris JJ, Cooke VG, Skarnes WC, Duncan MK, Naik UP. JAM-A expression during embryonic development. Dev Dyn. 2005 Aug; 233(4):1517-24. PMID: 15977176.
View full list of 3 publications.