James Hudspeth MD, FACP
Assistant Professor, General Internal Medicine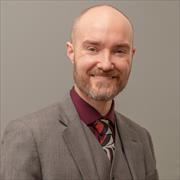 Sections
General Internal Medicine
Biography
I am an experienced hospitalist and medical educator with a focus on graduate medical education, faculty development, global health, hospital operations, and health equity. My clinical work since residency has been with urban marginalized populations, while my international work has focused on strengthening educational systems. I have served as a medical director or associate program director since 2016, including coordinating the floor teams throughout BMC's COVID-19 surges.
Education
Medicine, MD, Washington University School of Medicine, 2008
Neuroscience/Neurology, BA, Columbia College, 2002
Publications
Published on 9/29/2022
Rose ES, Rabin TL, Samaan J, Hudspeth JC, Ibrahim L, Azain MCP, Evert J, Eichbaum Q. COVID-19 Pandemic Impact on Academic Global Health Programs: Results of a Large International Survey. Ann Glob Health. 2022; 88(1):84. PMID: 36247197.
Published on 5/11/2022
Hayward AS, Lee SS, Douglass K, Jacquet GA, Hudspeth J, Walrath J, Dreifuss BA, Baird J, Tupesis JP. The Impact of Global Health Experiences on the Emergency Medicine Residency Milestones. J Med Educ Curric Dev. 2022 Jan-Dec; 9:23821205221083755. PMID: 35572845.
Published on 3/9/2022
Hudspeth JC, Gangasani N, Julmisse M, Israel K, Marcelin N, Raymond N, Robert M, Sacks Z, Curry CL, Morse M. Piloting a Faculty Development Program in a Rural Haitian Teaching Hospital. Ann Glob Health. 2022; 88(1):19. PMID: 35433286.
Published on 2/1/2022
Adams JW, Savinkina A, Hudspeth JC, Gai MJ, Jawa R, Marks LR, Linas BP, Hill A, Flood J, Kimmel S, Barocas JA. Simulated Cost-effectiveness and Long-term Clinical Outcomes of Addiction Care and Antibiotic Therapy Strategies for Patients With Injection Drug Use-Associated Infective Endocarditis. JAMA Netw Open. 2022 02 01; 5(2):e220541. PMID: 35226078.
Published on 9/24/2021
Coria AL, Rabin TL, Rule ARL, Haq H, Hudspeth JC, Ratner L, Walker-Descartes I. Global Health Crisis, Global Health Response: How Global Health Experiences Prepared North American Physicians for the COVID-19 Pandemic. J Gen Intern Med. 2022 01; 37(1):217-221. PMID: 34561829.
Published on 9/1/2021
Garcia MA, Rampon GL, Doros G, Jia S, Jagan N, Gillmeyer K, Berical A, Hudspeth J, Ieong M, Modzelewski KL, Schechter-Perkins EM, Ross CS, Rucci JM, Simpson S, Walkey AJ, Bosch NA. Rationale and Design of the Awake Prone Position for Early Hypoxemia in COVID-19 Study Protocol: A Clinical Trial. Ann Am Thorac Soc. 2021 09; 18(9):1560-1566. PMID: 33647225.
Published on 8/5/2021
Hudspeth JC, Schwartz M, Fleming P, Ostrander T, Eyllon M. Essential Principles of Preoperative Assessment in Internal Medicine: A Case-Based Teaching Session. MedEdPORTAL. 2021; 17:11178. PMID: 34423125.
Published on 5/26/2021
Hildebrand LA, Dumas B, Milrod CJ, Hudspeth JC. Folate Deficiency in an Urban Safety Net Population. Am J Med. 2021 10; 134(10):1265-1269. PMID: 34051149.
Published on 9/23/2020
Bonner R, Albajrami O, Hudspeth J, Upadhyay A. Diabetic Kidney Disease. Prim Care. 2020 Dec; 47(4):645-659. PMID: 33121634.
Published on 4/1/2019
Hudspeth JC, Rabin TL, Dreifuss BA, Schaaf M, Lipnick MS, Russ CM, Autry AM, Pitt MB, Rowthorn V. Reconfiguring a One-Way Street: A Position Paper on Why and How to Improve Equity in Global Physician Training. Acad Med. 2019 04; 94(4):482-489. PMID: 30398990.
View full list of 17 publications.