Ivania Rizo MD
Assistant Professor, Endocrinology, Diabetes, Nutrition & Weight Management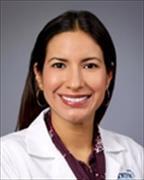 Sections
Endocrinology, Diabetes, Nutrition & Weight Management
Biography
Ivania Rizo, MD is equally passionate about diabetes, obesity, and health equity. She is Director of Obesity Medicine at BMC and Assistant Professor of Medicine in Endocrinology, Diabetes, Nutrition, and Weight Management at the Chobanian and Avedisian School of Medicine. She attended Georgetown University Medical School and Internal Medicine residency at Georgetown University. After completing her Endocrinology fellowship at the University of Alabama, Birmingham, she worked there as an Assistant Professor and as a Staff Physician at the Kirkland Medical Clinic before being appointed to her current position. She is triple board certified in Internal Medicine, Endocrinology, and Obesity Medicine. She currently Director of Obesity Medicine at BMC with a clinical interest in obesity , diabetes and metabolic disorders. She is passionate about increasing equitable access to diabetes and obesity care and providing exceptional care without exception. Dr. Rizo is a member of the following medical societies: the Endocrine Society, the American Diabetes Association, and the Obesity Society.
Education
Physiology, MD, Georgetown University, 2007
Physiology, BS, University of Maryland, 2000
Publications
Published on 8/15/2022
Ryan TJ, Heyman AS, Mulvey EN, McLaughlin A, Rizo IM, Assoumou SA. Factors associated with inpatient complications among patients with obesity and COVID-19 at an urban safety-net hospital: A retrospective cohort study. Obes Sci Pract. 2022 Aug 15; 8(6):794-800. PMID: 35938065.
Published on 3/10/2021
Fantasia KL, Wirunsawanya K, Lee C, Rizo I. Racial Disparities in Diabetes Technology Use and Outcomes in Type 1 Diabetes in a Safety-Net Hospital. J Diabetes Sci Technol. 2021 09; 15(5):1010-1017. PMID: 33719610.
Published on 9/1/2019
Nolen-Doerr E, Stockman MC, Rizo I. Mechanism of Glucagon-Like Peptide 1 Improvements in Type 2 Diabetes Mellitus and Obesity. Curr Obes Rep. 2019 Sep; 8(3):284-291. PMID: 31124035.
Published on 6/7/2019
Dupepe E, Patel D, Miller J, Rizo I, Vaughan TB, Riley K. Postoperative day 1 versus postoperative day 5 morning cortisol for predicting an intact hypothalamic-pituitary axis: A cohort analysis. Surg Neurol Int. 2019; 10:91. PMID: 31528429.
Published on 1/15/2019
Rizo IM, Apovian CM. Diabetic Ketoacidosis Post Bariatric Surgery. Front Endocrinol (Lausanne). 2018; 9:812. PMID: 30697192.
Published on 6/29/2018
Rodriguez-Diaz E, Rizo I, Sullivan C, Steenkamp DW. Perioperative Use of a Hybrid Closed Loop System in an Obese Patient With Type 1 Diabetes Undergoing Metabolic Surgery: Insights Into Changes in Insulin Delivery and Sensitivity. J Diabetes Sci Technol. 2018 11; 12(6):1239-1240. PMID: 29957042.
Published on 8/1/2002
Hotez PJ, Ashcom J, Bin Z, Bethony J, Williamson A, Hawdon JM, Jianjun F, Dobardzic A, Rizo I, Bolden J, Jin Q, Yan W, Dobardzic R, Chung-Debose S, Crowell M, Datu B, Delaney A, Dragonovski D, Jiang Y, Yueyuan L, Ghosh K, Loukas A, Brandt W, Russell PK, Zook BC. Effect of vaccinations with recombinant fusion proteins on Ancylostoma caninum habitat selection in the canine intestine. J Parasitol. 2002 Aug; 88(4):684-90. PMID: 12197114.
Published on 12/8/2000
Mantey SA, Coy DH, Pradhan TK, Igarashi H, Rizo IM, Shen L, Hou W, Hocart SJ, Jensen RT. Rational design of a peptide agonist that interacts selectively with the orphan receptor, bombesin receptor subtype 3. J Biol Chem. 2001 Mar 23; 276(12):9219-29. PMID: 11112777.
View full list of 8 publications.