Insa Marie Schmidt MD, MPH
Assistant Professor, Nephrology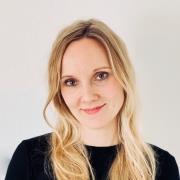 Websites
Education
Medicine, MD, Universitaet Hannover, 2014
MPH, Harvard School of Public Health, 2019
Publications
Published on 4/1/2023
Buckley LF, Schmidt IM, Verma A, Palsson R, Adam D, Shah AM, Srivastava A, Waikar SS. Associations Between Kidney Histopathologic Lesions and Incident Cardiovascular Disease in Adults With Chronic Kidney Disease. JAMA Cardiol. 2023 Apr 01; 8(4):357-365. PMID: 36884237.
Published on 2/22/2023
Schmidt IM, Shohet M, Serrano M, Yadati P, Menn-Josephy H, Ilori T, Eneanya ND, Cleveland Manchanda EC, Waikar SS. Patients' Perspectives on Race and the Use of Race-Based Algorithms in Clinical Decision-Making: a Qualitative Study. J Gen Intern Med. 2023 Feb 22; 1-7. PMID: 36811702.
Published on 9/9/2022
Schmidt IM, Myrick S, Liu J, Verma A, Srivastava A, Palsson R, Onul IF, Stillman IE, Avillach C, Patil P, Waikar SS. The use of plasma biomarker-derived clusters for clinicopathologic phenotyping: results from the Boston Kidney Biopsy Cohort. Clin Kidney J. 2023 Jan; 16(1):90-99. PMID: 36726432.
Published on 6/2/2022
Limonte CP, Valo E, Drel V, Natarajan L, Darshi M, Forsblom C, Henderson CM, Hoofnagle AN, Ju W, Kretzler M, Montemayor D, Nair V, Nelson RG, O'Toole JF, Toto RD, Rosas SE, Ruzinski J, Sandholm N, Schmidt IM, Vaisar T, Waikar SS, Zhang J, Rossing P, Ahluwalia TS, Groop PH, Pennathur S, Snell-Bergeon JK, Costacou T, Orchard TJ, Sharma K, de Boer IH. Urinary Proteomics Identifies Cathepsin D as a Biomarker of Rapid eGFR Decline in Type 1 Diabetes. Diabetes Care. 2022 Jun 02; 45(6):1416-1427. PMID: 35377940.
Published on 6/2/2022
Schmidt IM, Colona MR, Srivastava A, Yu G, Sabbisetti V, Bonventre JV, Waikar SS. Plasma Kidney Injury Molecule-1 in Systemic Lupus Erythematosus: Discordance Between ELISA and Proximity Extension Assay. Kidney Med. 2022 Aug; 4(8):100496. PMID: 36061370.
Published on 3/2/2022
Claudel SE, Schmidt IM, Verma A. A Call for Implementation Science: Achieving Equitable Access to SGLT2 Inhibitors. Kidney360. 2022 May 26; 3(5):942-944. PMID: 36128478.
Published on 1/1/2022
Liu J, Tio MC, Verma A, Schmidt IM, Ilori TO, Knauf F, Mc Causland FR, Waikar SS. Determinants and Outcomes Associated With Urinary Calcium Excretion in Chronic Kidney Disease. J Clin Endocrinol Metab. 2022 01 01; 107(1):e281-e292. PMID: 34390334.
Published on 11/10/2021
Schmidt IM, Sarvode Mothi S, Wilson PC, Palsson R, Srivastava A, Onul IF, Kibbelaar ZA, Zhuo M, Amodu A, Stillman IE, Rennke HG, Humphreys BD, Waikar SS. Circulating Plasma Biomarkers in Biopsy-Confirmed Kidney Disease. Clin J Am Soc Nephrol. 2022 01; 17(1):27-37. PMID: 34759008.
Published on 9/24/2021
Garimella PS, Katz R, Waikar SS, Srivastava A, Schmidt I, Hoofnagle A, Palsson R, Rennke HG, Stillman IE, Wang K, Kestenbaum BR, Ix JH. Kidney Tubulointerstitial Fibrosis and Tubular Secretion. Am J Kidney Dis. 2022 May; 79(5):709-716. PMID: 34571064.
Published on 9/22/2021
Amodu A, Porteny T, Schmidt IM, Ladin K, Waikar SS. Nephrologists' Attitudes Toward Native Kidney Biopsy: A Qualitative Study. Kidney Med. 2021 Nov-Dec; 3(6):1022-1031. PMID: 34939011.
View full list of 24 publications.