Ian R. Rifkin MD, PhD
Associate Professor, Nephrology
Assistant Professor, Virology, Immunology & Microbiology
650 Albany St | (617) 638-7330

irifkin@bu.edu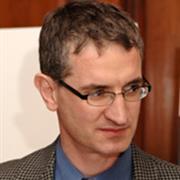 Centers
Evans Center for Interdisciplinary Biomedical Research
Biography
Expertise includes: Immunology; Autoimmunity; Systemic lupus erythematosus; and Nephrology.
Other Positions
Websites
Education
MBBCh, University of the Witwatersrand, 1983
PhD, University of Cambridge, 1996
MSc, University of London, 1992
Publications
Published on 10/12/2022
Bhatnagar A, Ananthakrishan S, Rifkin I, Breu AC. A Veteran Presenting for Low Testosterone and Lower Urinary Tract Symptoms. Fed Pract. 2022 Oct; 39(10):406-409a. PMID: 36744013.
Published on 8/9/2021
Pellerin A, Yasuda K, Cohen-Bucay A, Sandra V, Shukla P, Jr BKH, Nündel K, Viglianti GA, Xie Y, Klein U, Tan Y, Bonegio RG, Rifkin IR. Monoallelic IRF5 deficiency in B cells prevents murine lupus. JCI Insight. 2021 08 09; 6(15). PMID: 34197340.
Published on 4/9/2021
Yuen RR, Steiner D, Pihl RMF, Chavez E, Olson A, Smith EL, Baird LA, Korkmaz F, Urick P, Sagar M, Berrigan JL, Gummuluru S, Corley RB, Quillen K, Belkina AC, Mostoslavsky G, Rifkin IR, Kataria Y, Cappione AJ, Gao W, Lin NH, Bhadelia N, Snyder-Cappione JE. Novel ELISA Protocol Links Pre-Existing SARS-CoV-2 Reactive Antibodies With Endemic Coronavirus Immunity and Age and Reveals Improved Serologic Identification of Acute COVID-19 via Multi-Parameter Detection. Front Immunol. 2021; 12:614676. PMID: 33897682.
Published on 2/4/2020
Lee J, Zhang J, Chung YJ, Kim JH, Kook CM, González-Navajas JM, Herdman DS, Nürnberg B, Insel PA, Corr M, Mo JH, Tao A, Yasuda K, Rifkin IR, Broide DH, Sciammas R, Webster NJ, Raz E. Inhibition of IRF4 in dendritic cells by PRR-independent and -dependent signals inhibit Th2 and promote Th17 responses. Elife. 2020 02 04; 9. PMID: 32014112.
Published on 12/27/2019
Lyle C, Richards S, Yasuda K, Napoleon MA, Walker J, Arinze N, Belghasem M, Vellard I, Yin W, Ravid JD, Zavaro E, Amraei R, Francis J, Phatak U, Rifkin IR, Rahimi N, Chitalia VC. c-Cbl targets PD-1 in immune cells for proteasomal degradation and modulates colorectal tumor growth. Sci Rep. 2019 12 27; 9(1):20257. PMID: 31882749.
Published on 6/30/2017
Rifkin IR, Bonegio RG. Editorial: Podocytes as Active Participants in Lupus Nephritis. Arthritis Rheumatol. 2017 08; 69(8):1517-1520. PMID: 28544537.
Published on 4/11/2017
Choo MK, Sano Y, Kim C, Yasuda K, Li XD, Lin X, Stenzel-Poore M, Alexopoulou L, Ghosh S, Latz E, Rifkin IR, Chen ZJ, Stewart GC, Chong H, Park JM. TLR sensing of bacterial spore-associated RNA triggers host immune responses with detrimental effects. J Exp Med. 2017 May 01; 214(5):1297-1311. PMID: 28400473.
Published on 1/17/2017
Das A, Heesters BA, Bialas A, O'Flynn J, Rifkin IR, Ochando J, Mittereder N, Carlesso G, Herbst R, Carroll MC. Follicular Dendritic Cell Activation by TLR Ligands Promotes Autoreactive B Cell Responses. Immunity. 2017 Jan 17; 46(1):106-119. PMID: 28099860.
Published on 12/1/2015
Duffau P, Menn-Josephy H, Cuda CM, Dominguez S, Aprahamian TR, Watkins AA, Yasuda K, Monach P, Lafyatis R, Rice LM, Kenneth Haines G, Gravallese EM, Baum R, Richez C, Perlman H, Bonegio RG, Rifkin IR. Promotion of Inflammatory Arthritis by Interferon Regulatory Factor 5 in a Mouse Model. Arthritis Rheumatol. 2015 Dec; 67(12):3146-57. PMID: 26315890.
Published on 2/7/2015
Aprahamian TR, Zhong X, Amir S, Binder CJ, Chiang LK, Al-Riyami L, Gharakhanian R, Harnett MM, Harnett W, Rifkin IR. The immunomodulatory parasitic worm product ES-62 reduces lupus-associated accelerated atherosclerosis in a mouse model. Int J Parasitol. 2015 Mar; 45(4):203-7. PMID: 25666929.
View full list of 57 publications.