Hyolim Chun MD
Clinical Assistant Professor, General Internal Medicine
72 E. Concord Street | (508) 383-1479

hchun@bu.edu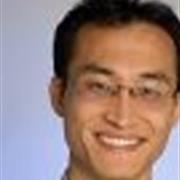 Sections
General Internal Medicine
Biography
Dr. Eric Hyolim Chun is an internist in Framingham, Massachusetts. He received his medical degree from Seoul National University College of Medicine and has been in practice between 11-20 years. Dr. Chun accepts several types of health insurance, listed below.
Websites
Education
Medicine-Internal, MD, Seoul National University
Medicine, BS, Seoul National University
Publications
Published on 9/1/2003
Krynyckyi BR, Chun H, Kim HH, Eskandar Y, Kim CK, Machac J. Factors affecting visualization rates of internal mammary sentinel nodes during lymphoscintigraphy. J Nucl Med. 2003 Sep; 44(9):1387-93. PMID: 12960181.
Published on 8/1/2003
Chun H, Kim CK, Krynckyi BR, Machac J. The usefulness of a repeat study for differentiating between bowel activity and local tumor recurrence on FDG PET scans. Clin Nucl Med. 2003 Aug; 28(8):672-3. PMID: 12897657.
View full list of 2 publications.