Hemant K. Roy MD
Section Chief, Gastroenterology
Adjunct Professor, Gastroenterology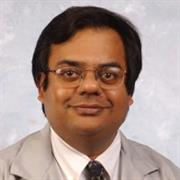 Centers
Center for Regenerative Medicine
BU-BMC Cancer Center
Boston Nutrition Obesity Research Center
Biography
Dr. Roy joined the faculty in 2013. He completed his medical degree from Northwestern University with distinction and completed internal medicine residency at Beth Isreal followed by GI Fellowship at University of Chicago.

Dr. Roy's research interests center on GI cancer risk stratification using intermediate biomarkers of field carcinogenesis. He has been involved in the development and clinical implementation of a variety of biophotonic techniques for risk stratification encompassing both fiberoptic probes and cytological based techniques and these are complemented by a variety of molecular markers including microRNAs.

This has served as a platform for assessing risk modification via chemoprevention and applied to a number of non-GI malignancies including lung and ovarian cancer. Dr. Roy is a fellow of the American Gastroenterological Association and member of the Early Detection Research Network and the Cancer Biomarkers Study Section of the NCI,

More clinically, his interests are in high risk colon cancer syndromes and role of gender in colorectal cancer screening. Throughout his career he has also been involved in teaching receiving numerous awards in this regard.
Other Positions
Education
Medicine, MD, Northwestern University School of Medicine, 1989
Cell & Molecular Biology, BS, Vanderbilt University, 1985
Publications
Published on 10/7/2021
Barber LE, Bertrand KA, Petrick JL, Gerlovin H, White LF, Adams-Campbell LL, Rosenberg L, Roy HK, Palmer JR. Predicted Vitamin D Status and Colorectal Cancer Incidence in the Black Women's Health Study. Cancer Epidemiol Biomarkers Prev. 2021 12; 30(12):2334-2341. PMID: 34620630.
Published on 5/24/2021
Mohanty A, Kapuria D, Canakis A, Lin H, Amat MJ, Rangel Paniz G, Placone NT, Thomasson R, Roy H, Chak E, Baffy G, Curry MP, Laine L, Rustagi T. Fresh frozen plasma transfusion in acute variceal haemorrhage: Results from a multicentre cohort study. Liver Int. 2021 08; 41(8):1901-1908. PMID: 33969607.
Published on 5/2/2021
Pandey S, Fish SS, Roy HK. Increasing colorectal cancer in the young population and tailoring of the colorectal cancer screening recommendations in subpopulation: a retrospective single-center study. Int J Colorectal Dis. 2021 Jul; 36(7):1515-1524. PMID: 33934174.
Published on 3/31/2021
Rebello D, Rebello E, Custodio M, Xu X, Gandhi S, Roy HK. Field carcinogenesis for risk stratification of colorectal cancer. Adv Cancer Res. 2021; 151:305-344. PMID: 34148616.
Published on 3/10/2021
De La Cruz M, Nunes DP, Bhardwaj V, Subramanyan D, Zaworski C, Roy P, Roy HK. Colonic Epithelial Angiotensin-Converting Enzyme 2 (ACE2) Expression in Blacks and Whites: Potential Implications for Pathogenesis Covid-19 Racial Disparities. J Racial Ethn Health Disparities. 2022 04; 9(2):691-697. PMID: 33694125.
Published on 12/30/2020
Mohanty A, Eshein A, Kamineni P, Avissar U, Bliss CM, Long MT, Lowe RC, Moore TC, Nunes DP, Backman V, Roy HK. Quantification of gastric mucosal microcirculation as a surrogate marker of portal hypertension by spatially resolved subdiffuse reflectance spectroscopy in diagnosis of cirrhosis: a proof-of-concept study. Gastrointest Endosc. 2021 07; 94(1):60-67.e1. PMID: 33385462.
Published on 9/2/2020
Daneshkhah A, Agrawal V, Eshein A, Subramanian H, Roy HK, Backman V. Evidence for possible association of vitamin D status with cytokine storm and unregulated inflammation in COVID-19 patients. Aging Clin Exp Res. 2020 Oct; 32(10):2141-2158. PMID: 32876941.
Published on 1/8/2020
Virk RKA, Wu W, Almassalha LM, Bauer GM, Li Y, VanDerway D, Frederick J, Zhang D, Eshein A, Roy HK, Szleifer I, Backman V. Disordered chromatin packing regulates phenotypic plasticity. Sci Adv. 2020 01; 6(2):eaax6232. PMID: 31934628.
Published on 6/21/2019
Petersile M, Haroon M, Belkin D, Pinheiro A, Weinberg J, Roy HK, Jacobson BC. The impact of a multidisciplinary algorithmic approach to acute lower gastrointestinal bleeding. Am J Emerg Med. 2019 09; 37(9):1751-1753. PMID: 31257123.
Published on 8/13/2018
Ruderman S, Eshein A, Valuckaite V, Dougherty U, Almoghrabi A, Gomes A, Singh A, Pabla B, Roy HK, Hart J, Bissonnette M, Konda V, Backman V. Early increase in blood supply (EIBS) is associated with tumor risk in the Azoxymethane model of colon cancer. BMC Cancer. 2018 Aug 13; 18(1):814. PMID: 30103733.
View full list of 158 publications.