Hector A. Marquez MD
Assistant Professor, Pulmonary, Allergy, Sleep & Critical Care Medicine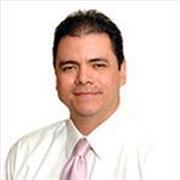 Sections
Pulmonary, Allergy, Sleep & Critical Care Medicine
Centers
Center for Regenerative Medicine
Pulmonary Center
Biography
Clinical Interests:
-Asthma
-Obstructive Airway Diseases

Research Interests:
-Early Lung Development
-Airway Smooth Muscle Development
-Stem Cell Biology
Education
Medicine-Internal, MD, University of Medicine and Dentistry of New Jersey, 2006
Biochemistry, BS, University of California, Los Angeles, 2002
Publications
Published on 4/20/2021
Drozdowicz K, Marquez HA, Burks EJ, Suzuki K. Lung adenocarcinoma and pulmonary actinomycosis: a cautionary tale. Tumori. 2021 Dec; 107(6):NP77-NP80. PMID: 33877025.
Published on 1/1/2020
Marquez HA, Chen F. Retinoic Acid Signaling and Development of the Respiratory System. Subcell Biochem. 2020; 95:151-174. PMID: 32297299.
Published on 8/15/2019
Kwong G, Marquez HA, Yang C, Wong JY, Kotton DN. Generation of a Purified iPSC-Derived Smooth Muscle-like Population for Cell Sheet Engineering. Stem Cell Reports. 2019 09 10; 13(3):499-514. PMID: 31422908.
Published on 8/1/2016
Marquez HA, Cardoso WV. Vitamin A-retinoid signaling in pulmonary development and disease. Mol Cell Pediatr. 2016 Dec; 3(1):28. PMID: 27480876.
Published on 1/9/2014
Chen F, Marquez H, Kim YK, Qian J, Shao F, Fine A, Cruikshank WW, Quadro L, Cardoso WV. Prenatal retinoid deficiency leads to airway hyperresponsiveness in adult mice. J Clin Invest. 2014 Feb 3; 124(2):801-11. PMID: 24401276.
Published on 11/15/2012
Marquez, Hector. Govender, Praveen. Brody, Jerome, S. Kathuria, Hasmeena. Genomics and Personalized Medicine. Lung Cancer. Academic Press. Waltham. 2012; 1352.
Published on 5/29/2009
Sloan KA, Marquez HA, Li J, Cao Y, Hinds A, O'Hara CJ, Kathuria S, Ramirez MI, Williams MC, Kathuria H. Increased PEA3/E1AF and decreased Net/Elk-3, both ETS proteins, characterize human NSCLC progression and regulate caveolin-1 transcription in Calu-1 and NCI-H23 NSCLC cell lines. Carcinogenesis. 2009 Aug; 30(8):1433-42. PMID: 19483189.
View full list of 7 publications.