Haralambos P. Gavras MD
Emeritus Professor, Cardiovascular Medicine
Graduate Faculty (Primary Mentor of Grad Students)
700 Albany St | (617) 638-4025

hgavras@bu.edu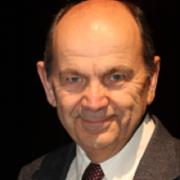 Centers
Evans Center for Interdisciplinary Biomedical Research
Websites
Education
MD, University of Athens, 1968
BS, University of Athens, 1962
Publications
Published on 10/23/2020
Rassias G, Leonardi S, Rigopoulou D, Vachlioti E, Afratis K, Piperigkou Z, Koutsakis C, Karamanos NK, Gavras H, Papaioannou D. Potent antiproliferative activity of bradykinin B2 receptor selective agonist FR-190997 and analogue structures thereof: A paradox resolved? Eur J Med Chem. 2021 Jan 15; 210:112948. PMID: 33139111.
Published on 1/1/2014
Kouremenos N, Zacharopoulou IV, Triantafyllidi H, Zacharopoulos GV, Mornos C, Filippatos G, Lekakis J, Kremastinos D, Manolis AI, Gavras H. Genes and genetic variations involved in the development of hypertension: focusing on a Greek patient cohort. Hellenic J Cardiol. 2014 Jan-Feb; 55(1):9-16. PMID: 24491930.
Published on 4/10/2013
Marketou ME, Kintsurashvili E, Androulakis NE, Kontaraki J, Alexandrakis MG, Gavras I, Vardas PE, Gavras H. Blockade of platelet alpha2B-adrenergic receptors: a novel antiaggregant mechanism. Int J Cardiol. 2013 Oct 3; 168(3):2561-6. PMID: 23582690.
Published on 4/1/2012
Gavras I, Gavras H. 'Volume-expanded' hypertension: the effect of fluid overload and the role of the sympathetic nervous system in salt-dependent hypertension. J Hypertens. 2012 Apr; 30(4):655-9. PMID: 22227820.
Published on 12/5/2011
Koupenova M, Johnston-Cox H, Vezeridis A, Gavras H, Yang D, Zannis V, Ravid K. A2b adenosine receptor regulates hyperlipidemia and atherosclerosis. Circulation. 2012 Jan 17; 125(2):354-63. PMID: 22144568.
Published on 5/27/2010
Manolis AJ, Marketou ME, Gavras I, Gavras H. Cardioprotective properties of bradykinin: role of the B(2) receptor. Hypertens Res. 2010 Aug; 33(8):772-7. PMID: 20505673.
Published on 2/25/2010
Marketou M, Kintsurashvili E, Papanicolaou KN, Lucero HA, Gavras I, Gavras H. Cardioprotective effects of a selective B(2) receptor agonist of bradykinin post-acute myocardial infarct. Am J Hypertens. 2010 May; 23(5):562-8. PMID: 20186129.
Published on 1/21/2010
McCalmon SA, Desjardins DM, Ahmad S, Davidoff KS, Snyder CM, Sato K, Ohashi K, Kielbasa OM, Mathew M, Ewen EP, Walsh K, Gavras H, Naya FJ. Modulation of angiotensin II-mediated cardiac remodeling by the MEF2A target gene Xirp2. Circ Res. 2010 Mar 19; 106(5):952-60. PMID: 20093629.
Published on 12/17/2009
Lucero HA, Kintsurashvili E, Marketou ME, Gavras H. Cell signaling, internalization, and nuclear localization of the angiotensin converting enzyme in smooth muscle and endothelial cells. J Biol Chem. 2010 Feb 19; 285(8):5555-68. PMID: 20022959.
Published on 9/24/2009
Ahmad S, Cesana F, Lamperti E, Gavras H, Yu J. Attenuation of angiotensin II-induced hypertension and cardiac hypertrophy in transgenic mice overexpressing a type 1 receptor mutant. Am J Hypertens. 2009 Dec; 22(12):1320-5. PMID: 19779471.
View full list of 493 publications.