Hanqiao Liu
Senior Research Technician, Computational Biomedicine
Evans Building | (617) 414-6960

hqliu@bu.edu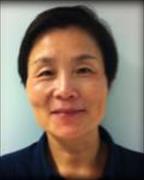 Sections
Computational Biomedicine
Publications
Published on 9/1/2021
Maoz A, Merenstein C, Koga Y, Potter A, Gower AC, Liu G, Zhang S, Liu H, Stevenson C, Spira A, Reid ME, Campbell JD, Mazzilli SA, Lenburg ME, Beane J. Elevated T cell repertoire diversity is associated with progression of lung squamous cell premalignant lesions. J Immunother Cancer. 2021 Sep; 9(9). PMID: 34580161.
Published on 2/7/2020
Drizik E, Corbett S, Zheng Y, Vermeulen R, Dai Y, Hu W, Ren D, Duan H, Niu Y, Xu J, Fu W, Meliefste K, Zhou B, Zhang X, Yang J, Bassig B, Liu H, Ye M, Liu G, Jia X, Meng T, Bin P, Zhang J, Silverman D, Spira A, Rothman N, Lenburg ME, Lan Q. Transcriptomic changes in the nasal epithelium associated with diesel engine exhaust exposure. Environ Int. 2020 04; 137:105506. PMID: 32044442.
Published on 6/22/2019
Corbett SE, Nitzberg M, Moses E, Kleerup E, Wang T, Perdomo C, Perdomo C, Liu G, Xiao X, Liu H, Elashoff DA, Brooks DR, O'Connor GT, Dubinett SM, Spira A, Lenburg ME. Gene Expression Alterations in the Bronchial Epithelium of e-Cigarette Users. Chest. 2019 10; 156(4):764-773. PMID: 31233743.
Published on 4/23/2019
Beane JE, Mazzilli SA, Campbell JD, Duclos G, Krysan K, Moy C, Perdomo C, Schaffer M, Liu G, Zhang S, Liu H, Vick J, Dhillon SS, Platero SJ, Dubinett SM, Stevenson C, Reid ME, Lenburg ME, Spira AE. Molecular subtyping reveals immune alterations associated with progression of bronchial premalignant lesions. Nat Commun. 2019 04 23; 10(1):1856. PMID: 31015447.
Published on 5/22/2017
Beane J, Mazzilli SA, Tassinari AM, Liu G, Zhang X, Liu H, Buncio AD, Dhillon SS, Platero SJ, Lenburg ME, Reid ME, Lam S, Spira AE. Detecting the Presence and Progression of Premalignant Lung Lesions via Airway Gene Expression. Clin Cancer Res. 2017 Sep 01; 23(17):5091-5100. PMID: 28533227.
Published on 9/1/2006
Subramanian M, Kuang PP, Wei L, Rishikof DC, Liu H, Goldstein RH. Modulation of amino acid uptake by TGF-beta in lung myofibroblasts. J Cell Biochem. 2006 Sep 1; 99(1):71-8. PMID: 16598748.
Published on 3/1/2004
Rishikof DC, Ricupero DA, Liu H, Goldstein RH. Phenylbutyrate decreases type I collagen production in human lung fibroblasts. J Cell Biochem. 2004 Mar 1; 91(4):740-8. PMID: 14991765.
Published on 1/1/2002
Rishikof DC, Ricupero DA, Kuang PP, Liu H, Goldstein RH. Interleukin-4 regulates connective tissue growth factor expression in human lung fibroblasts. J Cell Biochem. 2002; 85(3):496-504. PMID: 11967989.
View full list of 8 publications.