Hanni Menn-Josephy MD
Assistant Professor, Nephrology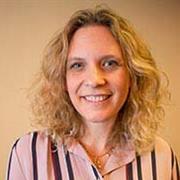 Centers
Amyloidosis Center
Biography
Dr. Menn-Josephy is a board-certified nephrologist with a special interest in Autoimmune Kidney Diseases and Lupus Nephritis. She serves as the Nephrology Director of the Lupus Multidisciplinary Program at Boston Medical Center, that operates as a regional and national referral center for patients that suffer from lupus and lupus nephritis.
As part of her interest in translational research in the field of lupus nephritis, Dr. Menn-Josephy established with her colleagues an autoimmunity clinical registry and patient biobank, with the goal of studying lupus pathogenesis in order to try and identify new therapeutic targets.
Together with her colleagues, Dr. Menn-Josephy developed a unique care model that enables lupus and lupus nephritis patients to enjoy a comprehensive care from rheumatology, nephrology and dermatology disciplines, in order to improve their health and reduce health related disparities. Dr. Menn-Josephy is committed to reducing health disparities in lupus patients, and to identifying better therapeutic targets, since current treatments are non specific, have significant toxicity, and many of the patients do not achieve complete remission and struggle with compliance.
Dr. Menn-Josephy has strong commitment to education and she serves as the Associate Program Director for the Fellowship Program in the nephrology section at Boston Medical Center. Over the past years. she has been involved is establishing educational programs in the field of lupus nephritis on institutional, regional, and national levels.
Education
Medicine, MD, Technion - Israel Institute of Technology, 2003
Medical Sciences & Management, BSc, Ben-Gurion University of the Negev, 1998
Publications
Published on 2/22/2023
Schmidt IM, Shohet M, Serrano M, Yadati P, Menn-Josephy H, Ilori T, Eneanya ND, Cleveland Manchanda EC, Waikar SS. Patients' Perspectives on Race and the Use of Race-Based Algorithms in Clinical Decision-Making: a Qualitative Study. J Gen Intern Med. 2023 Feb 22; 1-7. PMID: 36811702.
Published on 6/23/2022
Nader R, Zhen A, Angel-Korman A, Pavlovich SS, Pogrebinsky A, Doros G, Menn-Josephy H, Stern L, Sanchorawala V, Havasi A. Predictors and outcomes of acute kidney injury during autologous stem cell transplantation in AL amyloidosis. Nephrol Dial Transplant. 2022 Jun 23; 37(7):1281-1288. PMID: 34043009.
Published on 6/15/2021
Li H, Tsokos MG, Bhargava R, Adamopoulos IE, Menn-Josephy H, Stillman IE, Rosenstiel P, Jordan J, Tsokos GC. IL-23 reshapes kidney resident cell metabolism and promotes local kidney inflammation. J Clin Invest. 2021 06 15; 131(12). PMID: 33956666.
Published on 3/9/2020
Angel-Korman A, Stern L, Angel Y, Sarosiek S, Menn-Josephy H, Francis J, Ghai S, Sloan JM, Sanchorawala V, Havasi A. The Role of Kidney Transplantation in Monoclonal Ig Deposition Disease. Kidney Int Rep. 2020 Apr; 5(4):485-493. PMID: 32274452.
Published on 1/4/2019
Bonegio RG, Lin JD, Beaudette-Zlatanova B, York MR, Menn-Josephy H, Yasuda K. Lupus-Associated Immune Complexes Activate Human Neutrophils in an Fc?RIIA-Dependent but TLR-Independent Response. J Immunol. 2019 02 01; 202(3):675-683. PMID: 30610165.
Published on 9/15/2016
Menn-Josephy H, Lee CS, Nolin A, Christov M, Rybin DV, Weinberg JM, Henderson J, Bonegio R, Havasi A. Renal Interstitial Fibrosis: An Imperfect Predictor of Kidney Disease Progression in Some Patient Cohorts. Am J Nephrol. 2016; 44(4):289-299. PMID: 27626625.
Published on 12/1/2015
Duffau P, Menn-Josephy H, Cuda CM, Dominguez S, Aprahamian TR, Watkins AA, Yasuda K, Monach P, Lafyatis R, Rice LM, Kenneth Haines G, Gravallese EM, Baum R, Richez C, Perlman H, Bonegio RG, Rifkin IR. Promotion of Inflammatory Arthritis by Interferon Regulatory Factor 5 in a Mouse Model. Arthritis Rheumatol. 2015 Dec; 67(12):3146-57. PMID: 26315890.
Published on 1/16/2015
Watkins AA, Yasuda K, Wilson GE, Aprahamian T, Xie Y, Maganto-Garcia E, Shukla P, Oberlander L, Laskow B, Menn-Josephy H, Wu Y, Duffau P, Fried SK, Lichtman AH, Bonegio RG, Rifkin IR. IRF5 deficiency ameliorates lupus but promotes atherosclerosis and metabolic dysfunction in a mouse model of lupus-associated atherosclerosis. J Immunol. 2015 Feb 15; 194(4):1467-79. PMID: 25595782.
Published on 1/1/2015
Menn-Josephy H, Beck LH. Recurrent glomerular disease in the kidney allograft. Front Biosci (Elite Ed). 2015; 7:135-48. PMID: 25553369.
Published on 8/21/2014
Toth-Manikowski SM, Menn-Josephy H, Bhatia J. A Case of Chronic Ethylene Glycol Intoxication Presenting without Classic Metabolic Derangements. Case Rep Nephrol. 2014; 2014:128145. PMID: 25215251.
View full list of 12 publications.