Hanni Menn-Josephy MD
Assistant Professor, Nephrology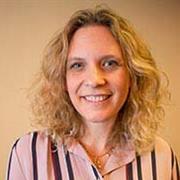 Centers
Amyloidosis Center
Biography
I am an attending physician in the nephrology section at Boston Medical Center, with a special interest in autoimmune kidney diseases in general and lupus nephritis in particular. As a nephrology fellow at Boston University, I worked under the mentorship of Dr. Ian Rifkin and studied IFN regulating pathways in both lupus mice models, as well as in primary human cells.

Since 2011, in collaboration with Drs. Ramon Bonegio (nephrology), Ian Rifkin (nephrology), Michael York (rheumatology), and Christina Lam (dermatology), I helped establish a multidisciplinary lupus and autoimmunity clinic at the Boston Medical Center, where I currently work and treat patients with lupus nephritis. Since we established the Lupus Program, our center participated in four clinical trials involving lupus patients who are refractory to standard therapies. In 2013 we established an autoimmunity registry of patients and sample repository and we have collected and stored renal biopsy samples, samples for genetic testing, serum and peripheral blood mononuclear cells from patients with lupus nephritis both at times of high disease activity and during remission.

As a physician- scientist my research focus is to conduct translational studies utilizing tissue samples from my clinic patients, with the goal of better understanding of the inflammatory pathways that are responsible for the pathogenesis of lupus and lupus nephritis.
I have a strong commitment to try and identify better therapeutic targets for my patients with lupus and lupus nephritis, since current treatments are non specific, have significant toxicity, and most of the patients do not achieve a complete remission.
Education
Medicine, MD, Technion - Israel Institute of Technology, 2003
Medical Sciences & Management, BSc, Ben-Gurion University of the Negev, 1998
Publications
Published on 6/23/2022
Nader R, Zhen A, Angel-Korman A, Pavlovich SS, Pogrebinsky A, Doros G, Menn-Josephy H, Stern L, Sanchorawala V, Havasi A. Predictors and outcomes of acute kidney injury during autologous stem cell transplantation in AL amyloidosis. Nephrol Dial Transplant. 2022 Jun 23; 37(7):1281-1288. PMID: 34043009.
Published on 6/15/2021
Li H, Tsokos MG, Bhargava R, Adamopoulos IE, Menn-Josephy H, Stillman IE, Rosenstiel P, Jordan J, Tsokos GC. IL-23 reshapes kidney resident cell metabolism and promotes local kidney inflammation. J Clin Invest. 2021 06 15; 131(12). PMID: 33956666.
Published on 3/9/2020
Angel-Korman A, Stern L, Angel Y, Sarosiek S, Menn-Josephy H, Francis J, Ghai S, Sloan JM, Sanchorawala V, Havasi A. The Role of Kidney Transplantation in Monoclonal Ig Deposition Disease. Kidney Int Rep. 2020 Apr; 5(4):485-493. PMID: 32274452.
Published on 1/4/2019
Bonegio RG, Lin JD, Beaudette-Zlatanova B, York MR, Menn-Josephy H, Yasuda K. Lupus-Associated Immune Complexes Activate Human Neutrophils in an Fc?RIIA-Dependent but TLR-Independent Response. J Immunol. 2019 02 01; 202(3):675-683. PMID: 30610165.
Published on 9/15/2016
Menn-Josephy H, Lee CS, Nolin A, Christov M, Rybin DV, Weinberg JM, Henderson J, Bonegio R, Havasi A. Renal Interstitial Fibrosis: An Imperfect Predictor of Kidney Disease Progression in Some Patient Cohorts. Am J Nephrol. 2016; 44(4):289-299. PMID: 27626625.
Published on 12/1/2015
Duffau P, Menn-Josephy H, Cuda CM, Dominguez S, Aprahamian TR, Watkins AA, Yasuda K, Monach P, Lafyatis R, Rice LM, Kenneth Haines G, Gravallese EM, Baum R, Richez C, Perlman H, Bonegio RG, Rifkin IR. Promotion of Inflammatory Arthritis by Interferon Regulatory Factor 5 in a Mouse Model. Arthritis Rheumatol. 2015 Dec; 67(12):3146-57. PMID: 26315890.
Published on 1/16/2015
Watkins AA, Yasuda K, Wilson GE, Aprahamian T, Xie Y, Maganto-Garcia E, Shukla P, Oberlander L, Laskow B, Menn-Josephy H, Wu Y, Duffau P, Fried SK, Lichtman AH, Bonegio RG, Rifkin IR. IRF5 deficiency ameliorates lupus but promotes atherosclerosis and metabolic dysfunction in a mouse model of lupus-associated atherosclerosis. J Immunol. 2015 Feb 15; 194(4):1467-79. PMID: 25595782.
Published on 1/1/2015
Menn-Josephy H, Beck LH. Recurrent glomerular disease in the kidney allograft. Front Biosci (Elite Ed). 2015; 7:135-48. PMID: 25553369.
Published on 8/21/2014
Toth-Manikowski SM, Menn-Josephy H, Bhatia J. A Case of Chronic Ethylene Glycol Intoxication Presenting without Classic Metabolic Derangements. Case Rep Nephrol. 2014; 2014:128145. PMID: 25215251.
Published on 1/1/2012
Waisman D, Brod V, Rahat MA, Amit-Cohen BC, Lahat N, Rimar D, Menn-Josephy H, David M, Lavon O, Cavari Y, Bitterman H. Dose-related effects of hyperoxia on the lung inflammatory response in septic rats. Shock. 2012 Jan; 37(1):95-102. PMID: 21921827.
View full list of 11 publications.