Hallie Rozansky MD
Assistant Professor, General Internal Medicine
801 Massachusetts Ave | (617) 414-5951

hrozansk@bu.edu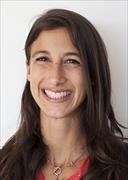 Sections
General Internal Medicine
Biography
Dr.Hallie Rozansky grew up outside of Philadelphia, PA. She attended Yale for college, and afterwards, moved back to Philadelphia, where she attended medical school at the University of Pennsylvania. In 2017, she moved to Boston for her residency training at Brigham and Women's Hospital, in the Division of General Internal Medicine Primary Care Program. She graduated residency in June 2020, and went on to complete a fellowship in Addiction Medicine at Boston Medical Center, which ended in June 2021. She is now serving as one of the Chief Medical Residents for the Brigham and Women's Internal Medicine Residency Program. In this role, Hallie continues to help facilitate BWH physician involvement in programming at CCW. After her chief year, Hallie plans to practice addiction medicine and primary care medicine, and hopes to remain very involved with medical education.
Websites
Publications
Published on 2/7/2023
Rozansky H, Awtry E, Weinstein ZM, Peterkin AF. Grayken lessons: the role of an interdisciplinary endocarditis working group in evaluating and optimizing care for a woman with opioid use disorder requiring a second tricuspid valve replacement. Addict Sci Clin Pract. 2023 Feb 07; 18(1):9. PMID: 36750906.
Published on 3/1/2022
Jawa R, Rozansky H, Clemens D, Fagan M, Walley AY. Rethinking Home-based Outpatient Parenteral Antibiotic Therapy for Persons Who Inject Drugs: An Opportunity for Change in the Time of COVID-19. J Addict Med. 2022 Mar-Apr 01; 16(2):e70-e72. PMID: 33870955.
Published on 10/19/2021
Cetrone E, Rozansky H, Ramani S. Training junior doctors to lead rapid responses. Clin Teach. 2021 12; 18(6):650-655. PMID: 34668319.
Published on 10/29/2019
Eberly LA, Richterman A, Beckett AG, Wispelwey B, Marsh RH, Cleveland Manchanda EC, Chang CY, Glynn RJ, Brooks KC, Boxer R, Kakoza R, Goldsmith J, Loscalzo J, Morse M, Lewis EF, Abel S, Adams A, Anaya J, Andrews EH, Atkinson B, Avutu V, Bachorik A, Badri O, Bailey M, Baird K, Bakshi S, Balaban D, Barshop K, Baumrin E, Bayomy O, Beamesderfer J, Becker N, Berg DD, Berman AN, Blum SM, Boardman AP, Boden K, Bonacci RA, Brown S, Campbell K, Case S, Cetrone E, Charrow A, Chiang D, Clark D, Cohen AJ, Cooper A, Cordova T, Cuneo CN, de Feria AA, Deffenbacher K, DeFilippis EM, DeGregorio G, Deutsch AJ, Diephuis B, Divakaran S, Dorschner P, Downing N, Drescher C, D'Silva KM, Dunbar P, Duong D, Earp S, Eckhardt C, Elman SA, England R, Everett K, Fedotova N, Feingold-Link T, Ferreira M, Fisher H, Foo P, Foote M, Franco I, Gilliland T, Greb J, Greco K, Grewal S, Grin B, Growdon ME, Guercio B, Hahn CK, Hasselfeld B, Haydu EJ, Hermes Z, Hildick-Smith G, Holcomb Z, Holroyd K, Horton L, Huang G, Jablonski S, Jacobs D, Jain N, Japa S, Joseph R, Kalashnikova M, Kalwani N, Kang D, Karan A, Katz JT, Kellner D, Kidia K, Kim JH, Knowles SM, Kolbe L, Kore I, Koullias Y, Kuye I, Lang J, Lawlor M, Lechner MG, Lee K, Lee S, Lee Z, Limaye N, Lin-Beckford S, Lipsyc M, Little J, Loewenthal J, Logaraj R, Lopez DM, Loriaux D, Lu Y, Ma K, Marukian N, Matias W, Mayers JR, McConnell I, McLaughlin M, Meade C, Meador C, Mehta A, Messenger E, Michaelidis C, Mirsky J, Mitten E, Mueller A, Mullur J, Munir A, Murphy E, Nagami E, Natarajan A, Nsahlai M, Nze C, Okwara N, Olds P, Paez R, Pardo M, Patel S, Petersen A, Phelan L, Pimenta E, Pipilas D, Plovanich M, Pong D, Powers BW, Rao A, Ramirez Batlle H, Ramsis M, Reichardt A, Reiger S, Rengarajan M, Rico S, Rome BN, Rosales R, Rotenstein L, Roy A, Royston S, Rozansky H, Rudder M, Ryan CE, Salgado S, Sanchez P, Schulte J, Sekar A, Semenkovich N, Shannon E, Shaw N, Shorten AB, Shrauner W, Sinnenberg L, Smithy JW, Snyder G, Sreekrishnan A, Stabenau H, Stavrou E, Stergachis A, Stern R, Stone A, Tabrizi S, Tanyos S, Thomas C, Thun H, Torres-Lockhart K, Tran A, Treasure C, Tsai FD, Tsaur S, Tschirhart E, Tuwatananurak J, Venkateswaran RV, Vishnevetsky A, Wahl L, Wall A, Wallace F, Walsh E, Wang P, Ward HB, Warner LN, Weeks LD, Weiskopf K, Wengrod J, Williams JN, Winkler M, Wong JL, Worster D, Wright A, Wunsch C, Wynter JS, Yarbrough C, Yau WY, Yazdi D, Yeh J, Yialamas MA, Yozamp N, Zambrotta M, Zon R. Identification of Racial Inequities in Access to Specialized Inpatient Heart Failure Care at an Academic Medical Center. Circ Heart Fail. 2019 11; 12(11):e006214. PMID: 31658831.
Published on 6/24/2019
Lazar N, Rozansky H, Ely B, Ford CA, Dowshen N. Using Chart-Stimulated Recall to Identify Barriers and Facilitators to Routine HIV Testing Among Pediatric Primary Care Providers. J Adolesc Health. 2019 09; 65(3):410-416. PMID: 31248806.
Published on 8/1/2012
Wingfield C, Syed J, Lessem E, Harrington M, Daniels C, Bendlin B, Brigden G, Casenghi M, Clayden P, McNeely D, Rozansky H (Treatment Action Group, New York City, NY). Tuberculosis medicines technology landscape. Final report. World Health Organization (acting as the host organization for the Secretariat of UNITAID). Geneva, Switzerland. 2012.
Published on 1/18/2011
Shieh AC, Rozansky HA, Hinz B, Swartz MA. Tumor cell invasion is promoted by interstitial flow-induced matrix priming by stromal fibroblasts. Cancer Res. 2011 Feb 01; 71(3):790-800. PMID: 21245098.
View full list of 7 publications.