Haihua Zhang MD, PhD
Assistant Professor, General Internal Medicine
801 Massachusetts Ave | (617) 414-7399

hzhang20@bu.edu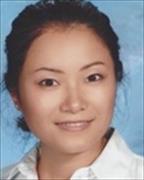 Sections
General Internal Medicine
Education
Medicine, MD, SUNY Downstate Medical Center, 2017
Molecular Biology, PhD, Tufts University, 2007
Genetics, BS, Fudan University, 2000
Publications
Published on 1/30/2018
Zhao J, Wang G, Del Mundo IM, McKinney JA, Lu X, Bacolla A, Boulware SB, Zhang C, Zhang H, Ren P, Freudenreich CH, Vasquez KM. Distinct Mechanisms of Nuclease-Directed DNA-Structure-Induced Genetic Instability in Cancer Genomes. Cell Rep. 2018 01 30; 22(5):1200-1210. PMID: 29386108.
Published on 1/28/2016
Ernande L, Stanford KI, Thoonen R, Zhang H, Clerte M, Hirshman MF, Goodyear LJ, Bloch KD, Buys ES, Scherrer-Crosbie M. Relationship of brown adipose tissue perfusion and function: a study through ß2-adrenoreceptor stimulation. J Appl Physiol (1985). 2016 Apr 15; 120(8):825-32. PMID: 26823340.
Published on 11/18/2015
Zhang H, Thoonen R, Yao V, Buys ES, Popovich J, Su YR, Wang TJ, Scherrer-Crosbie M. Regulation of B-type natriuretic peptide synthesis by insulin in obesity in male mice. Exp Physiol. 2016 Jan; 101(1):113-23. PMID: 26446173.
Published on 1/1/2014
Jung DY, Ha H, Lee E, Hu X, Tran DA, Tsitsilianos N, Garvin AC, Hsu K, Binny MH, Zhang H, et al. BNP is a novel cardiomyokine that regulates hepatic insulin action in diet induced obese mice. Diabetes. 2014; 63((Suppl. 1)).
Published on 9/1/2012
Baron D, Clerte M, Brouckaert P, Raher M, Flynn A, Zhang H, Carter E, Picard M, Bloch K, Buys E, Scherrer-Crosbie M. Non-invasive Assessment of Brown Adipose Tissue Blood Flow by Contrast Ultrasound in Mice: Mechanistic Insights. Circ Cardiovasc Imaging. 2012; 5(5):652-9.
Published on 7/9/2012
Baron DM, Clerte M, Brouckaert P, Raher MJ, Flynn AW, Zhang H, Carter EA, Picard MH, Bloch KD, Buys ES, Scherrer-Crosbie M. In vivo noninvasive characterization of brown adipose tissue blood flow by contrast ultrasound in mice. Circ Cardiovasc Imaging. 2012 Sep 01; 5(5):652-9. PMID: 22776888.
Published on 6/1/2011
Thoonen R, Zhang H, Abe Y, Mendelsohn M. Smooth muscle cell specific deletion of the PKGI target RGS1 induced vascular dysfunction and hypertension. BMC Pharmacology. 2011; 11((suppl.)):1-2.
Published on 8/3/2007
Zhang H, Freudenreich CH. An AT-rich sequence in human common fragile site FRA16D causes fork stalling and chromosome breakage in S. cerevisiae. Mol Cell. 2007 Aug 03; 27(3):367-79. PMID: 17679088.
Published on 5/1/2004
Liu Y, Zhang H, Veeraraghavan J, Bambara RA, Freudenreich CH. Saccharomyces cerevisiae flap endonuclease 1 uses flap equilibration to maintain triplet repeat stability. Mol Cell Biol. 2004 May; 24(9):4049-64. PMID: 15082797.
Published on 3/1/2001
Lu H, Zhang H, Wang Q, Yuan H, He W, Zhao Z, Li Y. Purification, refolding of hybrid hIFNgamma-kringle 5 expressed in Escherichia coli. Curr Microbiol. 2001 Mar; 42(3):211-6. PMID: 11270657.
View full list of 17 publications.