Gyungah Jun PhD
Associate Professor, Biomedical Genetics
Assistant Professor, Ophthalmology
72 East Concord Street | (617) 842-7998

gyungah@bu.edu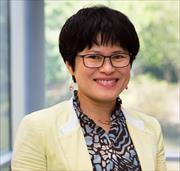 Sections
Biomedical Genetics
Centers
Evans Center for Interdisciplinary Biomedical Research
Biography
Biography:

Dr. Jun is a globally renowned Alzheimer's disease (AD) geneticist and an expert in analysis of "big data". Her innovative contributions to the Alzheimer's Disease Genetics Consortium (ADGC) and the International Genomics of Alzheimer's Project (IGAP) has fundamentally changed the approach to identify AD risk genes within APOE genotype subgroups. Dr. Jun is currently the Chair of three working groups in these consortia and has served as a Session Chair on multiple occasions at national and international conferences. Dr. Jun is currently a Director and Head of Neurogenetics and Integrated Genomics at the Andover Innovative Medicines (AiM) Institute, Eisai Inc., while maintaining a research program at BUSM that is independent of her role in the company. Since starting her current position in private industry in August 2015, Dr. Jun has developed an innovative and novel therapeutic concept for AD based on the well-established protective effect of the APOE ε2 allele. Currently, Dr. Jun is involved in several researches focusing on integrated genomics and innovative medicine for AD.

Understanding APOE Mediated Mechanism and Brain Omics Research:

APOE is the major risk gene for late onset Alzheimer's disease. In US and international genetics consortium, Dr. Jun led and conducted innovative analysis approaches to identify distinct genetic signatures contributing to Alzheimer's disease risk in APOE4-positive vs. APOE4-negative subgroups. This effort has reported one of the most striking discoveries in the Alzheimer's disease genetics field that genetic variants in the MAPT/KANSL1 locus are strongly associated with Alzheimer's disease among subjects who do not carry the APOE4 allele of the APOE gene (Jun et al. 2015). This is an important breakthrough in Alzheimer's disease genetics, because for the first time APOE genotypes modulate effects of MAPT locus on Alzheimer's disease risk. The follow-up analysis of the initial report (Jun et al. 2016) using APOE2-carrier subjects by separating from the APOE4-negative subgroup has discovered genetic variants in PPP2CB with strong genetic interaction with the APOE2 allele, where PPP2CB encodes a catalytic subunit of protein phosphatase 2A that is responsible about 71% of tau phosphatase activities in human brain (reducing tau phosphorylation). After the first report of APOE as the major genetic risk factor for Alzheimer's disease in 1993, therapeutic concepts targeting APOE primarily involve in correcting or inhibiting the APOE4 effect, the risk factor for Alzheimer's disease. For the first time, beyond APOE4, Dr. Jun has developed a novel therapeutic concept for Alzheimer's disease that mimics the APOE2 protective mechanism. A five-year grant proposal based on this innovative idea was funded by the NIH/NIA starting in 2017 (RF1-AG057519; Multiple PIs: Farrer and Jun). In this project, we will perform functional experiments for connecting APOE2 protective mechanism to tau and conduct in vitro proof-of-concept experiments for developing new drugs for Alzheimer's disease based on APOE-mediated protective mechanisms. After these findings, Dr. Jun published 5 papers deciphering APOE related disease mechanisms including one as last author (Reiman et al. Nature Communications 2020) and four as co-author (Ma et al. JAMA Neurology 2019; Choi et al. Journal of Clinical Medicine 2019; Arboleda-Velasquez et al. Nature Medicine 2019; Friedberg et al. Scientific Reports 2020).

Drug Discovery and Repurposing in Alzheimer's Disease Therapeutics:

From 2015 to 2018, Dr. Jun served as a Director and Head of Neurogenetics and Integrated Genomics for Andover Innovative Medicines (AiM) Institute which is the Eisai company's R&D unit for neurology and oncology in the US. Her role in the company was to identify Alzheimer's disease drug targets by creating novel therapeutic concepts derived from human genetics and genomics data and help design proof-of-mechanism studies based on disease associated genetic variants and brain omics data collaborating with biologists and chemists. During her tenure with Eisai, she maintained my academic position at BUSM as an Adjunct Faculty in order to continue academic research programs. Dr. Jun developed a novel therapeutic concept predicated on the idea that Alzheimer's disease could be delayed or prevented by elucidating and mimicking the protective mechanism of the APOE ε2 allele. Translational research for AD therapeutics remains her main focus and will occupy the majority of her effort. Dr. Jun has contributed to development of a large coordinated national initiative for AD therapeutics empowered by transformative Artificial Intelligence (AI) approaches using high throughput human big data, collaborating with national profit and non-profit institutes. Dr. Jun will serve as the Director of a 'Genome-Guided Drug Discovery Core' that will lead efforts on innovative drug discovery for AD, repurposing existing drugs, and developing a platform for open collaboration between academia and industry.

Ethnic Diversity Research in Alzheimer's Disease:

Dr. Jun has directed the genetic analyses for several projects aimed at identifying Alzheimer's disease genetic risk variants for Alzheimer's disease in multi-ethnic cohorts, which led to 4 publications including co-first author on papers focused on European ancestry (Naj, Jun et al. Nature Genetics 2011) and Asian (Miyashita, Koike, Jun et al. PLos One 2013) populations, second author on a paper focused on African Americans (Reitz, Jun et al. JAMA 2013), and first author of a trans-ethnic study (Jun et al. Alzheimers & Dementia 2017). These studies emphasized shared and/or unique genetic signatures in different ethnic populations. These publications have significantly improved our understandings in effect sizes and frequencies of genetic risk variants for Alzheimer's disease in multi-ethnic populations. Dr. Jun has been a project leader at the Alzheimer's Disease Genetics Consortium to understand ethnic similarities and differences on genetic risk profiles for Alzheimer's disease and influence of APOE in a transethnic approach. In January 2017, she has published the first report on trans-ethnic genetics for Alzheimer's disease using the large number of multi-ethnic subjects. She has also contributed to the identification of a genetic modifier for the effect size of APOE4 homozygotes in Koreans. This report demonstrates the importance of investigating effect sizes of known Alzheimer's disease genetic risk factors (i.e., APOE) as well as trans-ethnic profiles of genetic risk factors for Alzheimer's disease using multi-ethnic datasets. Dr. Jun established an international collaborative network to share resources of Asian populations and coordinate research programs for Alzheimer's disease using Asian populations. In addition, Dr. Jun initiated a collaboration between our research team at BUSM and a group at Chosun University in South Korea and will contribute to a funded project that will perform whole genome sequencing in a sample of 4,000 Korean Alzheimer's disease cases and controls. Dr. Jun is a founding member of a large Asian Cohort for Alzheimer's Disease (ACAD) Consortium that will recruit and study genetic and non-genetic risk factors for AD using Korean, Chinese, and Vietnamese Americans in US and Canada. In this consortium, she will lead the Analysis Core and recruit Korean American AD cases and controls in collaboration with investigators at the University of Massachusetts in Boston.

Innovative Genetic Studies in the Framingham Heart Study:

Dr. Jun has extensive worked on analyzing family-based genetic data in the Framingham Heart Study (FHS) leading to discoveries of two novel genes for Alzheimer's disease, CTNND2 and PLXNA4. These findings were bolstered by functional studies performed in eye and brain tissue, respectively, by our BUSM collaborators. Claims for diagnostic and therapeutic applications of PLXNA4 have been filed at US Patent and Trademark Office (USSN: 14/889,565) and Patent Cooperation Treaty (PCT/US2014/037479). These discoveries also contributed to the basis of a newly funded U19 grant to NIH to establish a FHS Brain Aging Program (FHS-BAP). In this program, Dr. Jun will co-lead a project in the proposed program that will continue surveillance and examination of FHS participants for cognitive decline and dementia and the FHS brain donation program. This large program will also conduct research related to themes of identification of genetic factors and biomarkers for Alzheimer's disease risk and resilience, and vascular/inflammatory precursors of Alzheimer's disease.

US and International Alzheimer's Disease Consortium Activities:

Dr. Jun helped build an outstanding research program of genetics and genomics for Alzheimer's disease using large datasets from national and international consortia including the Alzheimer's Disease Genetics Consortium (ADGC) and the International Genomics of Alzheimer's Project (IGAP). For the past 10 years working, Dr. Jun is a key faculty to establish one of the strongest genetic and genomic data science teams studying Alzheimer's disease genetics worldwide. She has been a core member of these large consortium teams evidenced by leading primary analysis and data management activities, many high profile papers including ones as lead or senior author, designing and writing large sections of grant applications to support the work of these and other Alzheimer's disease genetic consortia, and reviewing applications from investigators worldwide who request access to ADGC datasets containing genetic and phenotypic information from tens of thousands of research subjects.
Other Positions
Websites
Education
Genetics & Genomics, PhD, Case Western Reserve University, 2008
Microbiology, MS, Seoul National University, 1999
Publications
Published on 5/11/2023
Chung J, Sahelijo N, Maruyama T, Hu J, Panitch R, Xia W, Mez J, Stein TD, Saykin AJ, Takeyama H, Farrer LA, Crane PK, Nho K, Jun GR. Alzheimer's disease heterogeneity explained by polygenic risk scores derived from brain transcriptomic profiles. Alzheimers Dement. 2023 May 11. PMID: 37166019.
Published on 12/22/2022
Sherva R, Zhang R, Sahelijo N, Jun G, Anglin T, Chanfreau C, Cho K, Fonda JR, Gaziano JM, Harrington KM, Ho YL, Kremen WS, Litkowski E, Lynch J, Neale Z, Roussos P, Marra D, Mez J, Miller MW, Salat DH, Tsuang D, Wolf E, Zeng Q, Panizzon MS, Merritt VC, Farrer LA, Hauger RL, Logue MW. African ancestry GWAS of dementia in a large military cohort identifies significant risk loci. Mol Psychiatry. 2023 Mar; 28(3):1293-1302. PMID: 36543923.
Published on 10/21/2022
Morrison MS, Aparicio HJ, Blennow K, Zetterberg H, Ashton NJ, Karikari TK, Tripodis Y, Martin B, Palmisano JN, Sugarman MA, Frank B, Steinberg EG, Turk KW, Budson AE, Au R, Goldstein LE, Jun GR, Kowall NW, Killiany R, Qiu WQ, Stern RA, Mez J, McKee AC, Stein TD, Alosco ML. Ante-mortem plasma phosphorylated tau (181) predicts Alzheimer's disease neuropathology and regional tau at autopsy. Brain. 2022 Oct 21; 145(10):3546-3557. PMID: 35554506.
Published on 6/30/2022
Chung J, Das A, Sun X, Sobreira DR, Leung YY, Igartua C, Mozaffari S, Chou YF, Thiagalingam S, Mez J, Zhang X, Jun GR, Stein TD, Kunkle BW, Martin ER, Pericak-Vance MA, Mayeux R, Haines JL, Schellenberg GD, Nobrega MA, Lunetta KL, Pinto JM, Wang LS, Ober C, Farrer LA. Genome-wide association and multi-omics studies identify MGMT as a novel risk gene for Alzheimer's disease among women. Alzheimers Dement. 2022 Jun 30. PMID: 35770850.
Published on 4/4/2022
Bellenguez C, Küçükali F, Jansen IE, Kleineidam L, Moreno-Grau S, Amin N, Naj AC, Campos-Martin R, Grenier-Boley B, Andrade V, Holmans PA, Boland A, Damotte V, van der Lee SJ, Costa MR, Kuulasmaa T, Yang Q, de Rojas I, Bis JC, Yaqub A, Prokic I, Chapuis J, Ahmad S, Giedraitis V, Aarsland D, Garcia-Gonzalez P, Abdelnour C, Alarcón-Martín E, Alcolea D, Alegret M, Alvarez I, Álvarez V, Armstrong NJ, Tsolaki A, Antúnez C, Appollonio I, Arcaro M, Archetti S, Pastor AA, Arosio B, Athanasiu L, Bailly H, Banaj N, Baquero M, Barral S, Beiser A, Pastor AB, Below JE, Benchek P, Benussi L, Berr C, Besse C, Bessi V, Binetti G, Bizarro A, Blesa R, Boada M, Boerwinkle E, Borroni B, Boschi S, Bossù P, Bråthen G, Bressler J, Bresner C, Brodaty H, Brookes KJ, Brusco LI, Buiza-Rueda D, Bûrger K, Burholt V, Bush WS, Calero M, Cantwell LB, Chene G, Chung J, Cuccaro ML, Carracedo Á, Cecchetti R, Cervera-Carles L, Charbonnier C, Chen HH, Chillotti C, Ciccone S, Claassen JAHR, Clark C, Conti E, Corma-Gómez A, Costantini E, Custodero C, Daian D, Dalmasso MC, Daniele A, Dardiotis E, Dartigues JF, de Deyn PP, de Paiva Lopes K, de Witte LD, Debette S, Deckert J, Del Ser T, Denning N, DeStefano A, Dichgans M, Diehl-Schmid J, Diez-Fairen M, Rossi PD, Djurovic S, Duron E, Düzel E, Dufouil C, Eiriksdottir G, Engelborghs S, Escott-Price V, Espinosa A, Ewers M, Faber KM, Fabrizio T, Nielsen SF, Fardo DW, Farotti L, Fenoglio C, Fernández-Fuertes M, Ferrari R, Ferreira CB, Ferri E, Fin B, Fischer P, Fladby T, Fließbach K, Fongang B, Fornage M, Fortea J, Foroud TM, Fostinelli S, Fox NC, Franco-Macías E, Bullido MJ, Frank-García A, Froelich L, Fulton-Howard B, Galimberti D, García-Alberca JM, García-González P, Garcia-Madrona S, Garcia-Ribas G, Ghidoni R, Giegling I, Giorgio G, Goate AM, Goldhardt O, Gomez-Fonseca D, González-Pérez A, Graff C, Grande G, Green E, Grimmer T, Grünblatt E, Grunin M, Gudnason V, Guetta-Baranes T, Haapasalo A, Hadjigeorgiou G, Haines JL, Hamilton-Nelson KL, Hampel H, Hanon O, Hardy J, Hartmann AM, Hausner L, Harwood J, Heilmann-Heimbach S, Helisalmi S, Heneka MT, Hernández I, Herrmann MJ, Hoffmann P, Holmes C, Holstege H, Vilas RH, Hulsman M, Humphrey J, Biessels GJ, Jian X, Johansson C, Jun GR, Kastumata Y, Kauwe J, Kehoe PG, Kilander L, Ståhlbom AK, Kivipelto M, Koivisto A, Kornhuber J, Kosmidis MH, Kukull WA, Kuksa PP, Kunkle BW, Kuzma AB, Lage C, Laukka EJ, Launer L, Lauria A, Lee CY, Lehtisalo J, Lerch O, Lleó A, Longstreth W, Lopez O, de Munain AL, Love S, Löwemark M, Luckcuck L, Lunetta KL, Ma Y, Macías J, MacLeod CA, Maier W, Mangialasche F, Spallazzi M, Marquié M, Marshall R, Martin ER, Montes AM, Rodríguez CM, Masullo C, Mayeux R, Mead S, Mecocci P, Medina M, Meggy A, Mehrabian S, Mendoza S, Menéndez-González M, Mir P, Moebus S, Mol M, Molina-Porcel L, Montrreal L, Morelli L, Moreno F, Morgan K, Mosley T, Nöthen MM, Muchnik C, Mukherjee S, Nacmias B, Ngandu T, Nicolas G, Nordestgaard BG, Olaso R, Orellana A, Orsini M, Ortega G, Padovani A, Paolo C, Papenberg G, Parnetti L, Pasquier F, Pastor P, Peloso G, Pérez-Cordón A, Pérez-Tur J, Pericard P, Peters O, Pijnenburg YAL, Pineda JA, Piñol-Ripoll G, Pisanu C, Polak T, Popp J, Posthuma D, Priller J, Puerta R, Quenez O, Quintela I, Thomassen JQ, Rábano A, Rainero I, Rajabli F, Ramakers I, Real LM, Reinders MJT, Reitz C, Reyes-Dumeyer D, Ridge P, Riedel-Heller S, Riederer P, Roberto N, Rodriguez-Rodriguez E, Rongve A, Allende IR, Rosende-Roca M, Royo JL, Rubino E, Rujescu D, Sáez ME, Sakka P, Saltvedt I, Sanabria Á, Sánchez-Arjona MB, Sanchez-Garcia F, Juan PS, Sánchez-Valle R, Sando SB, Sarnowski C, Satizabal CL, Scamosci M, Scarmeas N, Scarpini E, Scheltens P, Scherbaum N, Scherer M, Schmid M, Schneider A, Schott JM, Selbæk G, Seripa D, Serrano M, Sha J, Shadrin AA, Skrobot O, Slifer S, Snijders GJL, Soininen H, Solfrizzi V, Solomon A, Song Y, Sorbi S, Sotolongo-Grau O, Spalletta G, Spottke A, Squassina A, Stordal E, Tartan JP, Tárraga L, Tesí N, Thalamuthu A, Thomas T, et al. New insights into the genetic etiology of Alzheimer's disease and related dementias. Nat Genet. 2022 Apr; 54(4):412-436. PMID: 35379992.
Published on 2/9/2022
Jun GR, You Y, Zhu C, Meng G, Chung J, Panitch R, Hu J, Xia W, Bennett DA, Foroud TM, Wang LS, Haines JL, Mayeux R, Pericak-Vance MA, Schellenberg GD, Au R, Lunetta KL, Ikezu T, Stein TD, Farrer LA. Protein phosphatase 2A and complement component 4 are linked to the protective effect of APOE ?2 for Alzheimer's disease. Alzheimers Dement. 2022 Nov; 18(11):2042-2054. PMID: 35142023.
Published on 2/9/2022
Panitch R, Hu J, Xia W, Bennett DA, Stein TD, Farrer LA, Jun GR. Blood and brain transcriptome analysis reveals APOE genotype-mediated and immune-related pathways involved in Alzheimer disease. Alzheimers Res Ther. 2022 02 09; 14(1):30. PMID: 35139885.
Published on 12/2/2021
Frank B, Ally M, Brekke B, Zetterberg H, Blennow K, Sugarman MA, Ashton NJ, Karikari TK, Tripodis Y, Martin B, Palmisano JN, Steinberg EG, Simkina I, Turk KW, Budson AE, O'Connor MK, Au R, Goldstein LE, Jun GR, Kowall NW, Stein TD, McKee AC, Killiany R, Qiu WQ, Stern RA, Mez J, Alosco ML. Plasma p-tau181 shows stronger network association to Alzheimer's disease dementia than neurofilament light and total tau. Alzheimers Dement. 2022 Aug; 18(8):1523-1536. PMID: 34854549.
Published on 11/16/2021
Park JY, Lee D, Lee JJ, Gim J, Gunasekaran TI, Choi KY, Kang S, Do AR, Jo J, Park J, Park K, Li D, Lee S, Kim H, Dhanasingh I, Ghosh S, Keum S, Choi JH, Song GJ, Sael L, Rhee S, Lovestone S, Kim E, Moon SH, Kim BC, Kim S, Saykin AJ, Nho K, Lee SH, Farrer LA, Jun GR, Won S, Lee KH. A missense variant in SHARPIN mediates Alzheimer's disease-specific brain damages. Transl Psychiatry. 2021 11 16; 11(1):590. PMID: 34785643.
Published on 9/3/2021
Panitch R, Hu J, Chung J, Zhu C, Meng G, Xia W, Bennett DA, Lunetta KL, Ikezu T, Au R, Stein TD, Farrer LA, Jun GR. Integrative brain transcriptome analysis links complement component 4 and HSPA2 to the APOE e2 protective effect in Alzheimer disease. Mol Psychiatry. 2021 10; 26(10):6054-6064. PMID: 34480088.
View full list of 83 publications.