Gwynneth D. Offner PhD
Assistant Dean, Admissions
Associate Professor, Gastroenterology
72 E. Concord Street | (617) 358-9541

goffner@bu.edu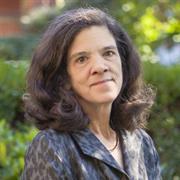 Biography
Gwynneth D. Offner, Ph.D. is the Director of the M.S. in Medical Sciences Program, an Associate Professor in the Department of Medicine and an Assistant Dean for Admissions at BUSM. While her primary focus is teaching, advising and mentoring students, Dr. Offner also directed an NIH-funded research program for over 25 years. She is currently a member of the leadership team for PRiSM, an integrated course for first year medical students and the director of the PRiSM GI and Nutrition module. She also teaches in and directs the Biochemistry course for M.S. in Medical Sciences students. Her research interests include curriculum development and assessment.
Other Positions
Websites
Education
PhD, Boston University, 1984
BA, Wellesley College, 1976
Publications
Published on 4/28/2016
Gallan AJ, Offner GD, Symes K. Vertical integration of biochemistry and clinical medicine using a near-peer learning model. Biochem Mol Biol Educ. 2016 Nov 12; 44(6):507-516. PMID: 27123831.
Published on 12/12/2012
Oppenheim FG, Helmerhorst EJ, Lendenmann U, Offner GD. Anti-candidal activity of genetically engineered histatin variants with multiple functional domains. PLoS One. 2012; 7(12):e51479. PMID: 23251551.
Published on 5/3/2011
Soares RV, Offner GD, Assis MA, Silva KC, Zenóbio EG. An unusual glycoform of human salivary mucin MG2. Clin Oral Investig. 2012 Jun; 16(3):761-6. PMID: 21538073.
Published on 12/6/2010
Komatsu T, Salih E, Helmerhorst EJ, Offner GD, Oppenheim FG. Influence of histatin 5 on Candida albicans mitochondrial protein expression assessed by quantitative mass spectrometry. J Proteome Res. 2011 Feb 4; 10(2):646-55. PMID: 21080726.
Published on 2/23/2010
Nunes D, Fleming C, Offner G, Craven D, Fix O, Heeren T, Koziel MJ, Graham C, Tumilty S, Skolnik P, Stuver S, Horsburgh CR, Cotton D. Noninvasive markers of liver fibrosis are highly predictive of liver-related death in a cohort of HCV-infected individuals with and without HIV infection. Am J Gastroenterol. 2010 Jun; 105(6):1346-53. PMID: 20179698.
Published on 12/15/2005
Nunes D, Fleming C, Offner G, O'Brien M, Tumilty S, Fix O, Heeren T, Koziel M, Graham C, Craven DE, Stuver S, Horsburgh CR. HIV infection does not affect the performance of noninvasive markers of fibrosis for the diagnosis of hepatitis C virus-related liver disease. J Acquir Immune Defic Syndr. 2005 Dec 15; 40(5):538-44. PMID: 16284529.
Published on 11/15/2005
Chen ZY, Wang X, Zhou Y, Offner G, Tseng CC. Destabilization of Krüppel-like factor 4 protein in response to serum stimulation involves the ubiquitin-proteasome pathway. Cancer Res. 2005 Nov 15; 65(22):10394-400. PMID: 16288030.
Published on 9/16/2005
Bruno LS, Li X, Wang L, Soares RV, Siqueira CC, Oppenheim FG, Troxler RF, Offner GD. Two-hybrid analysis of human salivary mucin MUC7 interactions. Biochim Biophys Acta. 2005 Oct 30; 1746(1):65-72. PMID: 16203048.
Published on 9/13/2005
Li X, Wang L, Nunes DP, Troxler RF, Offner GD. Suppression of MUC1 synthesis downregulates expression of the epidermal growth factor receptor. Cancer Biol Ther. 2005 Sep; 4(9):968-73. PMID: 16082192.
Published on 5/1/2004
Soares RV, Lin T, Siqueira CC, Bruno LS, Li X, Oppenheim FG, Offner G, Troxler RF. Salivary micelles: identification of complexes containing MG2, sIgA, lactoferrin, amylase, glycosylated proline-rich protein and lysozyme. Arch Oral Biol. 2004 May; 49(5):337-43. PMID: 15041480.
View full list of 72 publications.