Guneet Kaur Jasuja PhD
Assistant Professor, General Internal Medicine
801 Massachusetts Ave | (617) 414-7399

guneetk@bu.edu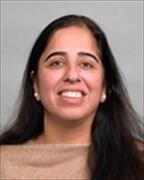 Sections
General Internal Medicine
Biography
Guneet K. Jasuja, PhD, MPH, is a behavioral epidemiologist. She is a Research Investigator with the Center for Healthcare Organization and Implementation Research (CHOIR) at the VA Bedford Healthcare System and an Assistant Professor in the Department of General Medicine at Chobanian and Avedisian School of Medicine.

Dr. Jasuja's research focuses on medication prescribing, quality of care, and LGBTQ+ health and healthcare. She has led several VA and NIH funded studies to examine these research areas, including a VA Health Services and Research Development Career Development Award. She uses a variety of methods to accomplish her research, including large database analyses, qualitative, survey development and analyses. She also collaborates on multiple projects ranging from evaluation of pharmacist-provided patient care in the VA to identification of patients with Alzheimer's Disease from clinical notes in electronic health record.
Education
Health Behavior, PhD, University of Southern California, 2008
Biostatistics, MPH, University of Southern California, 2005
Health Policy Management, MA, University of Delaware, 1999
Publications
Published on 5/19/2023
Streed CG, King D, Grasso C, Reisner SL, Mayer KH, Jasuja GK, Poteat T, Mukherjee M, Shapira-Daniels A, Cabral H, Tangpricha V, Paasche-Orlow MK, Benjamin EJ. Validation of an administrative algorithm for transgender and gender diverse persons against self-report data in electronic health records. J Am Med Inform Assoc. 2023 May 19; 30(6):1047-1055. PMID: 36921287.
Published on 4/28/2023
Dinesh D, Shao Q, Palnati M, McDannold S, Zhang Q, Monfared AAT, Jasuja GK, Davila H, Xia W, Moo LR, Miller DR, Palacios N. The epidemiology of mild cognitive impairment, Alzheimer's disease and related dementia in U.S. veterans. Alzheimers Dement. 2023 Apr 28. PMID: 37114952.
Published on 3/31/2023
Rose AJ, Hughto JMW, Dunbar MS, Quinn EK, Deutsch M, Feldman J, Radix A, Safer JD, Shipherd JC, Thompson J, Jasuja GK. Trends in Feminizing Hormone Therapy for Transgender Patients, 2006-2017. Transgend Health. 2023 Apr; 8(2):188-194. PMID: 37013092.
Published on 2/28/2023
LoBrutto LR, Elwy AR, Miano D, Ann Petrakis B, Kyrish A, Javier S, Erhardt T, Midboe AM, Carbonaro R, Jasuja GK, McInnes DK, Maguire EM, Asch SM, Gifford AL, Clayman ML. Antecedents to COVID-19 vaccine uptake among patients and employees in the Veterans Health Administration. Transl Behav Med. 2023 Feb 28; 13(2):73-84. PMID: 36448882.
Published on 2/8/2023
Pagadala MS, Lynch J, Karunamuni R, Alba PR, Lee KM, Agiri FY, Anglin T, Carter H, Gaziano JM, Jasuja GK, Deka R, Rose BS, Panizzon MS, Hauger RL, Seibert TM. Polygenic risk of any, metastatic, and fatal prostate cancer in the Million Veteran Program. J Natl Cancer Inst. 2023 Feb 08; 115(2):190-199. PMID: 36305680.
Published on 11/29/2022
Jasuja GK, Reisman JI, Rao SR, Wolfe HL, Hughto JMW, Reisner SL, Shipherd JC. Social Stressors and Health Among Older Transgender and Gender Diverse Veterans. LGBT Health. 2023; 10(2):148-157. PMID: 36454239.
Published on 10/10/2022
Engle RL, Bokhour BG, Rose AJ, Reisman JI, Jasuja GK. Characterizing patient attitudes and beliefs towards testosterone therapy in Veterans Affairs: A qualitative study. Patient Educ Couns. 2023 Jan; 106:201-207. PMID: 36253229.
Published on 9/15/2022
Dolsen EA, Byers AL, Flentje A, Goulet JL, Jasuja GK, Lynch KE, Maguen S, Neylan TC. Sleep disturbance and suicide risk among sexual and gender minority people. Neurobiol Stress. 2022 Nov; 21:100488. PMID: 36164391.
Published on 8/30/2022
Gibson CJ, Li Y, Jasuja GK, Keyhani S, Byers AL. Long-term Psychoactive Medications, Polypharmacy, and Risk of Suicide and Unintended Overdose Death Among Midlife and Older Women Veterans. J Gen Intern Med. 2022 Sep; 37(Suppl 3):770-777. PMID: 36042093.
Published on 3/30/2022
Dunbar MS, Hughto JMW, Jasuja GK, Quinn EK, Deutsch M, Radix A, Feldman J, Abbott J, Safer JD, Thompson J, Rose AJ. Considering Quality Measures for the Care of Transgender Patients: Preliminary Findings from a Technical Expert Panel. LGBT Health. 2022 May-Jun; 9(4):264-275. PMID: 35363052.
View full list of 55 publications.